Posted by Active Baby- Canada's Baby Store on 2021 Jun 25th
So, you've been researching baby strollers and think that the UPPABaby Vista is the one. Great choice! It's worth taking a moment to review why you're looking to buy an UPPABaby Vista and what makes it such a great stroller.
The UPPABaby Vista is one of the all-time best-selling strollers, beloved by parents and babies. The Vista is a stroller that can adjust to meet your needs as your family grows, serving as a single or converting to a double with the use of the Rumble Seat. As the years go by and new additions to the family arrive, it can even carry a 3rd child, with the eldest riding along on the Piggyback Ride-Along Board. The Vista is a perfect choice whether you have a single child, twins, or two or three kids of differing ages.
The Vista officially became the Vista Vs in 2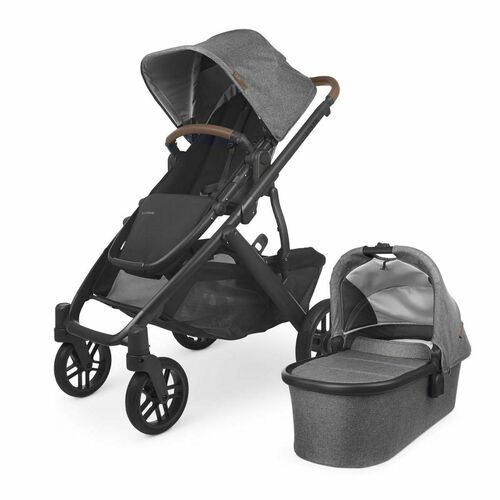 020 when it received an update. Changes included the addition of several new colours (with two more arriving for 2021), upgraded wheels for improved manoeuvrability, a lock indicator on the front wheels, an easier-to-use harness, and more spacious toddler seats.
Additionally, the canopy was redesigned for greater ventilation and sun protection. The result of these changes? One of the best got even better.
UPPABaby Vista V2 Features
Compatibility
The Vista is nothing if not accommodating. It can handle two infant car seats, bassinets, or toddler seats, in any combination that you need, making it ideal for twins or little ones of different ages.
It works with the UPPABaby Mesa car seat without an adapter, but adding the adapter makes it compatible with several other seats, including:
Chicco KeyFit, KeyFit30, Fit2
Nuna PIPA, PIPA Lite, PIPA Lite LX
Peg-Perego Prime Viaggio 4-35 and 4-35 Nido
In addition to being compatible with these seats and others, it also continues to be compatible with car seats, rumble seats, and other components from 2015 to 2020.
UppababyVista Bassinet
The Vista comes with its own bassinet that can be used virtually anywhere, even for overnight sleeping when used with the bassinet stand (sold separately). The mattress has a removable, breathable pad, and the base of the bassinet is vented for airflow. The bassinet also features a UPF 50+ sun canopy.
Uppababy Vista Seating Versatility
One of the strongest selling points of the Vista is the number of seating configurations. Need one seat? Two? How about one seat and the bassinet? Whatever you need, the Vista has you covered.
The main seat will take your child from 3 months up to 22 kg (50 lbs) and is reversible, meaning your baby can face forward or face you. It is easily adjustable to any of six positions using just one hand. The rumble seat is also suitable from 3 months but has an upper weight limit of 16 kg (35 lbs). It comes with a bumper bar, bug shield, and a removable canopy with a UPF 50+ sunshade. Don't forget, if you need to bring a third child with you, there is also the Piggyback Ride-Along Board, suitable for older kids.
How to Store your Uppababy Stroller?
The Vista's storage was improved for the V2. Sleeker than the original, it is large and wide, giving you plenty of room for all you need to bring with you. It is easily accessible and comes with a storage pocket to keep smaller items closer at hand.
Uppababy Stroller Sun Canop
Another improvement on the Vista V2, the canopies have been redesigned on the toddler seat and rumble seat, with superior airflow and sun coverage. Three large panels offer shade to the seats, with two of the panels being able to unzip to reveal mesh peekaboo windows. Your little ones will benefit from the additional ventilation, while you get to keep a closer eye on them.
Handlebar
Taller parents will appreciate the telescoping handle, while parents of all sizes will love its leather covering.
Stroller Foot Brake
The foot-operated brake on the UPPABaby Vista is convenient and easy to use, even with flip-flops and other summer shoes. One simple tap engages it, and a second tap releases it.
Is the Uppababy Stroller easy to fold up?
Many parents appreciate a simple, one-step fold, and that is what you get with the Vista, even with the second seat attached. It stands on its own, allowing it to be easily tucked aside, out of your way.
Highlights
Included bassinet
Toddler seat included
Large, accessible storage with a 13 kg (30 lb) limit
Excellent sun canopy
Upgraded wheels and suspension
180-degree one-hand recline
Extendable SPF 50+ sunshade
Where to Buy Vista
There are many strollers on the market, but there is a reason why the UPPABaby Vista has remained so popular. It is an attractive, high-quality stroller with excellent 4-wheel suspension and smooth handling, which will be a pleasure for parents and their little ones alike.
When you are looking for where to buy Vista, just think Active Baby. We have everything you need for your little ones. Whether you come into our store or choose to shop or contact us online, we'll be happy to answer your questions and help you find everything you are looking for.