Here at Active Baby we are dedicated to offering our customers the widest variety of top baby products, specialized outdoor gear for kids and locally made items combined with a special customer service experience.
Our Mission: To support and nurture our community by providing the right products, sharing our expertise, and offering exceptional services. We strive to create a welcoming environment that promotes the well-being of families and supports your journey of raising a healthy, happy baby
Everything for your active, outdoor, eco baby!
As parents ourselves, we know first-hand what's the best for our children. We not only test drive the products ourselves, but also talk to thousands of parents each year for their feedback, comments and recommendations on their likes and dislikes .
What makes Active Baby unique is that we focus on the BEST of all the options out there. At Active Baby you will find a selection of hand-picked baby gear and nursery essentials that reflects our emphasis on local, active, eco and outdoor products.
From creating your nursery, gearing up for your outdoor activities to building your baby's wardrobe, we've got you covered with the brands and products we trust and have been proven to make your job as parents easier.
We will assist you with all our in-depth knowledge for baby products from Bugaboo, Uppababy, Thule, Diono, Clek, Baby Jogger, Maxi Cosi, Nuna, Yumbox, and lots more whenever you choose to shop baby gear from us. Our stroller and car seat selection includes: Diono Radian RXT, current models of the bugaboo stroller, UPPAbaby Vista stroller, Baby Jogger City Select, Clek Fllo.
We are Local!
It is our passion to support local businesses in the Lower Mainland by bringing in their products and helping contribute to a better economy and brighter future! Keep checking back regularly to see what new local products and brands we are bringing into our stores and carry.
Not only are many of our brands local, but we are too! July and Chen, the Active Baby owners are raising their family in the Lower Mainland and growing up alongside the stores. When you shop at Active Baby, that allows us to buy more Canadian made baby products!
We support Environmentally Friendly Companies
Environmentally friendly products are so important to us! Sustainability is the key to creating a better and brighter future for our children. Providing the best variety of environmentally friendly baby products in Vancouver, as well as accurate information and a smooth shopping experience, are the pillars of our mission. You can make a difference to the health of our environment and we want to make it easy for you! In addition to our environmental focus, we carry products with the highest safety ratings and quality standards because offering premium products with everyone's health in mind is always our number one priority.
Join our In-Store Rewards Program
We appreciate you supporting our business and always try our best to make your Active Baby experience a happy one. As a way to thank our community, we have our in-store rewards program! At no additional cost, you can earn 3% store credit every time you shop with us. Simply shop in store, do a quick sign-up with our employees in store, and earn loyalty credit to use towards future purchases! Come into store and see how you can join our rewards program today!
Learn about our baby stores locations or our online baby store for shipping available across Canada. Learn how to start a baby registry or see the newborn checklist.
Our Story
Active Baby is a local family business owned by North Vancouver residents Chen and July, parents of 3 young girls. Being active parents themselves, they were inspired by the idea of bringing high quality outdoor baby products under one roof to serve the local community. In 2009, when their first daughter was 18 months old, Active Baby was born.
Created with the concept of connecting, supporting and growing a green and active community; the store was filled with a unique selection of outdoor and eco-friendly baby products. It was born to fit into an active and green-living lifestyle that many families embrace on the North Shore.
In the Spring of 2014, during its 5th year of business, the store moved from its original location at Capilano mall to the popular upper Lonsdale area. This move allowed for growth, and they now carry a wide selection of strollers, car seats, child carriers, travel gear, feeding and nursing products, furniture, health and safety gear, toys and organic child clothing. Being a unique local baby store, Active Baby also carries numerous hand-picked locally made baby products designed and/or made in Canada.
In Summer 2015, when Chen and July's youngest daughter was just turning 1, the store added to their family, opening a new location in Langley, a young and fast growing city in Metro Vancouver. Conveniently located in the Langley Crossing Shopping Centre, Active Baby continues to deliver high quality baby products and in-store services to local parents.
Their latest addition opened in the Summer of 2019. Chen and July opened up a new location in Kitsilano. This has quickly become Active Baby's flagship location, filled with beautiful, high quality products.
---
2009: Active Baby was born

Here is how Active Baby started at its original location at Capilano Mall, North Vancouver in 2009.
The store has evolved from an outdoor baby store to a lifestyle baby boutique to help fulfill parents' daily needs for their young children with a curated selection of innovative, trendy and stylish children's products.
---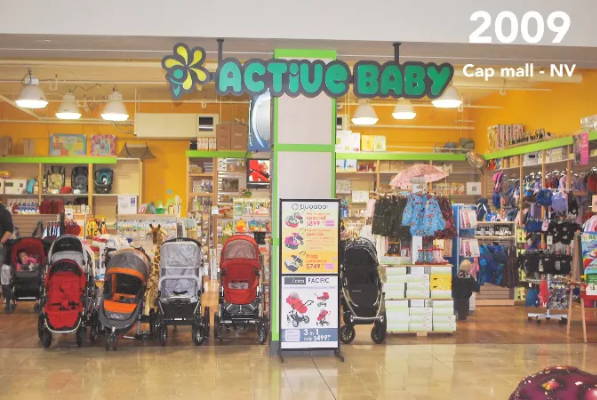 ---
2015: Opening of the Langley Store
Pictured are Chen and July on the Grand Opening of the Langley store in 2015!
The store has been welcomed by the local Langley community through its unique selection of products and warm personable customer service. A lot of beloved local brands have been introduced to the store since the store opened in Langley.
---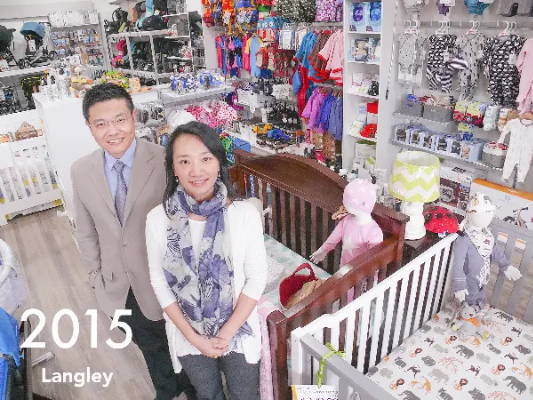 ---
May 2019: 10th Anniversary

Here is the North Vancouver location during its 10th Anniversary event in May 2019. It was an amazing event to celebrate this great 10 Year milestone with all staff members and the many customers who joined us. Thank you for your continued support over the years!
---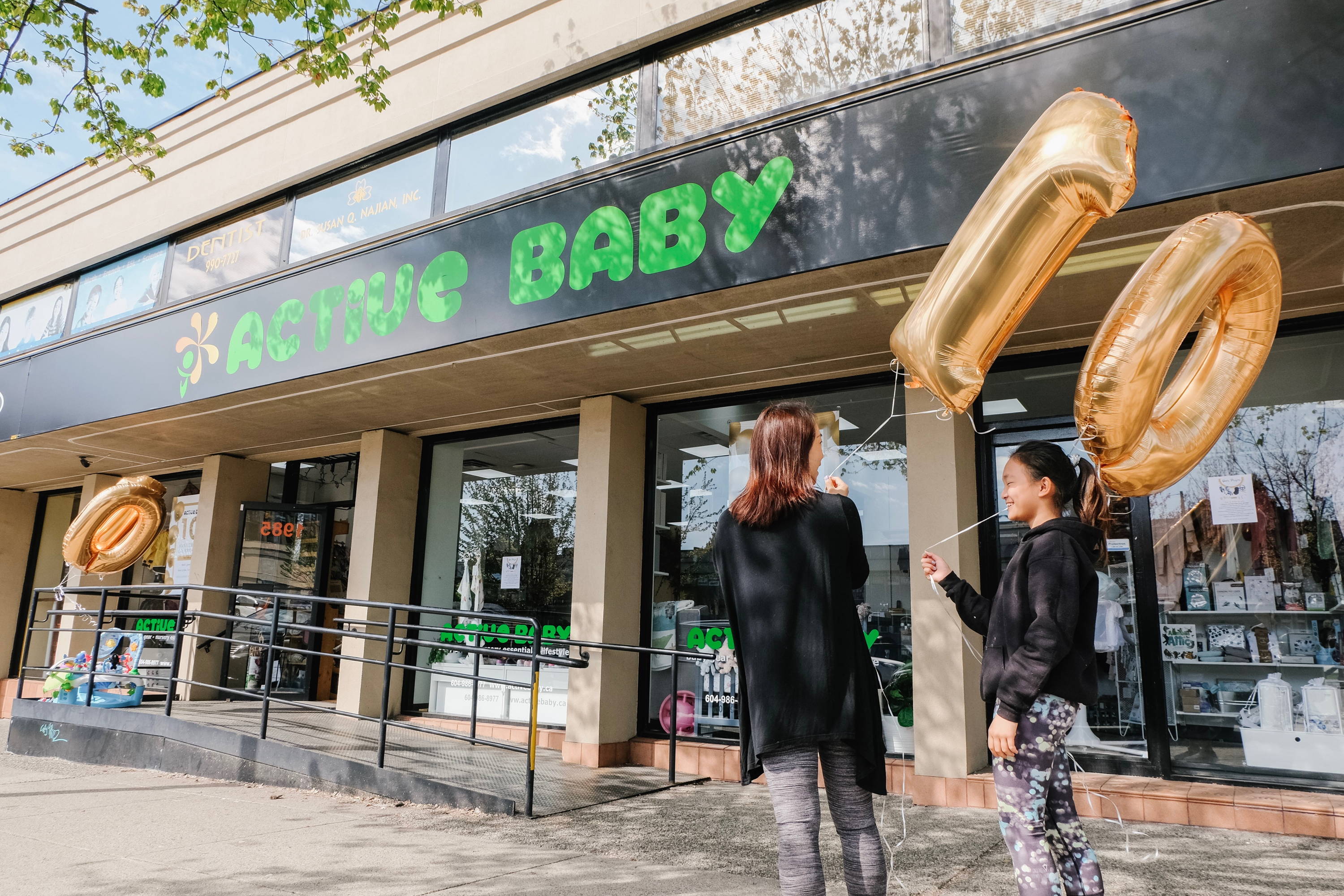 ---
June 2019: Opening of the Kitsilano Store

A new chapter began in June 2019. We found a new location for Active Baby at Kitsilano on West Broadway, Vancouver. Now our quality product lines are conveniently available to our downtown customers too. We are so excited to be part of Kitsilano community.
It's been a dream of ours for a long time. From the early beginning in North Vancouver 10 years ago, our goal has always been to reach parents all over the Lower Mainland, offering great products, service, and advice.
---