Posted by Active Baby Canadian Online Baby Store on 2019 Nov 4th
As 2019 draws to a close, we look forward to not only a brand-new year, but a whole new decade, providing us with the perfect opportunity to make some changes and improvements. So, what does 2020 hold for UPPABaby Vista strollers? The Vista is already a well-loved, awesome stroller, so how can it be made even better?
Keep reading!
From UPPABaby Vista 2019 to UPPABaby Vista V2 2020: What is New?
Whenever a new version rolls out, we always want to see what updates have been made, and how it compares to previous models. Sometimes changes are merely cosmetic or don't really add too much value. In the case of the UPPABaby Vista, however, there are some changes that make it better than ever, resulting in it now being known as the UPPABaby Vista V2!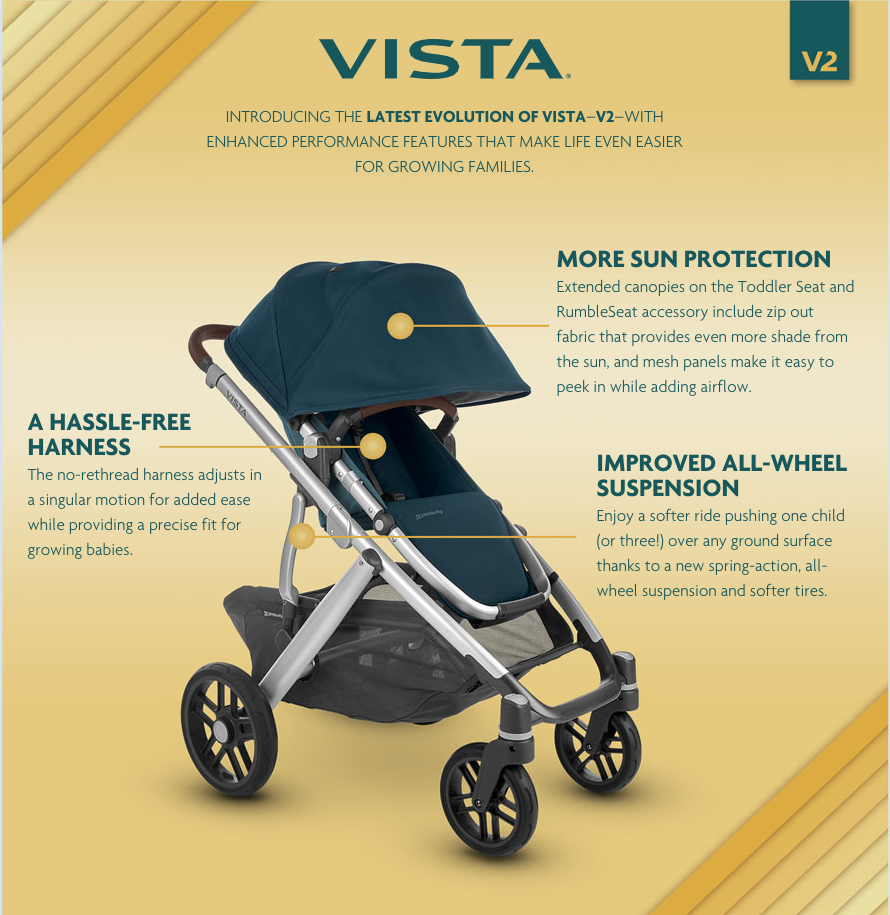 Here's some of the updates to the UPPABaby Vista that we can look forward to in the UPPABaby Vista V2.
UPPABaby Vista V2: Seating
It is immediately clear that the 2020 Vista has had an upgrade to seating. The Vista V2 features a stroller seat with a higher back and a deeper footrest. This will provide your child with much greater comfort, not to mention some room to grow.
The V2 also features a 5-point no re-thread harness, meaning that the constant adjustments you'll make as your baby grows are now made super easy. The UPPABaby Vista V2 also offers protection from the elements in the form of an extra-large zipper-extendable canopy.
UPPABaby Vista V2: Wheels and Push
The 2020 V2 model comes with new, soft tires and improved all-wheel suspension. This means you will have an easier push while your little one stays extra comfortable. Expect a smooth stroll even when crossing uneven and bumpy terrain.
For additional safety, the front wheels now feature visual indicators that let you know when the stroller is locked and secure, giving you extra confidence and peace of mind.
UPPABaby Vista V2: Colours and Fabrics
New colours are coming! Starting in 2020, four new colours will be available for your Vista stroller. These colours are Alice, Finn, Hazel, and Sierra.
UPPABaby Vista V2: Under-seat Basket
Even the large under-seat basket has been improved, with built-in pockets to hold the stroller's Rain Shield. It will also be available in a new palette of colours.
UPPABaby Vista V2 2020 Coming Soon!
With the new Vista stroller coming soon, you may be wondering which is the right choice for you and your family? As always, it depends on your needs.
The Vista V2 comes with a number of improvements, so you may wish to wait for its release in early 2020. If, however, you are in need of a stroller now, then you are certainly not going to be disappointed with the current model. After all, the UPPABaby Vista 2019 is tried and true, having already won the trust and affection of countless parents