Posted by Active Baby Canadian Online Baby Store on 2020 Mar 31st
Decisions, decisions. Moms and dads are faced with a ton of them everyday. While some are more difficult than others, choosing between two of the most popular strollers on the market can be a major head-scratcher—even for the most stroller-savvy parent! Wondering how the UPPAbaby Vista V2 and UPPAbaby Cruz V2 stand up to each other? We'll help clear up the confusion.
UPPAbaby Vista V2 vs Cruz V2: Sizes
If size is what you are after, the Vista's got it in spades. Compared to the Cruz's 31" L x 22.5" W x 40" H, the Vista comes in at 32.8" L x 25.7" W x 39.5" H, making it a lengthier and broader option. When bigger means better for you and your family, the Vista wins this round. In terms of weight, they both are pretty darn close, with the Vista weighing 27 lbs and the Cruz coming in second at 25.5 lbs.
UPPAbaby Vista V2 vs Cruz V2: Seating Choices
While both strollers now come with the exact same reversable toddler seat and canopy, the Vista can be converted into a double stroller—capable of handling double the seating. The Vista also comes with a bassinet. For those older children that want to ride along, the Cruz and the Vista can accommodate the piggyback, making strolling around the neighbourhood a breeze for you and the kids.
UPPAbaby Vista V2 vs Cruz V2: Wheels
The Cruz has gotten a major boost in the wheel size department this year, including 7" foam-filled front wheels and 10" foam-filled rear wheels. But when it comes to whose wheels boast the bigger sizes, the Vista comes out on top with 8" foam-filled front wheels and 11.5" foam-filled rear wheels. Both models come with an amazing all-wheel suspension, offering up a smooth, comfy ride.
UPPAbaby Vista V2 vs Cruz V2: Fashion
For great looks and style, you won't have to compromise choosing between these two models. The Vista and the Cruz feature 100% full-grain leather detail. And for those eye-catching colour options, both models are available in the same full range of stunning shades, including hazel, sierra, and Emmett, to name only a few.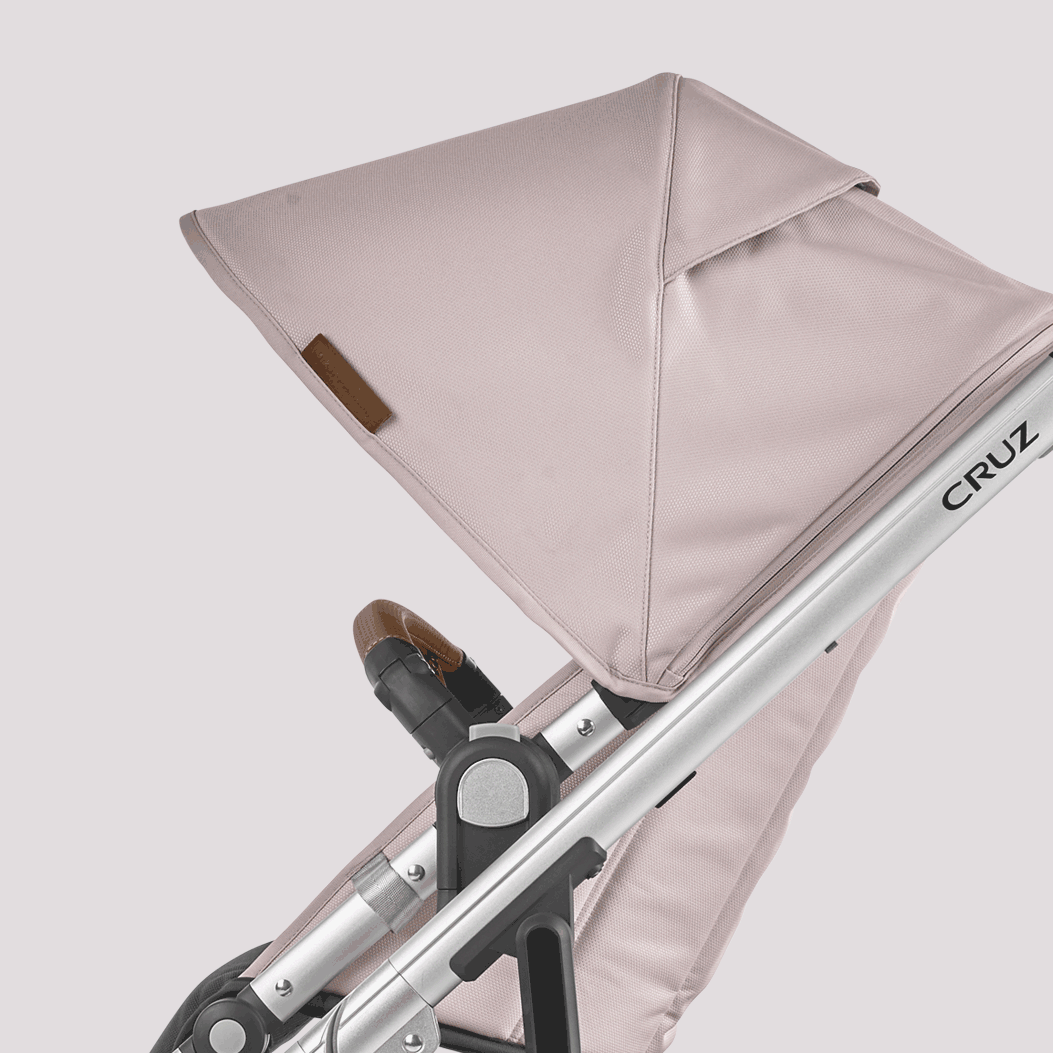 UPPAbaby Vista V2 vs Cruz 2020 V2: Fold
Deciding on the right stroller means picking the one that's lightweight, sturdy, and easily foldable. With both the Vista and Cruz, you get a convenient two-hand, one-step fold feature, perfect for on-the-go parents out and about on errands.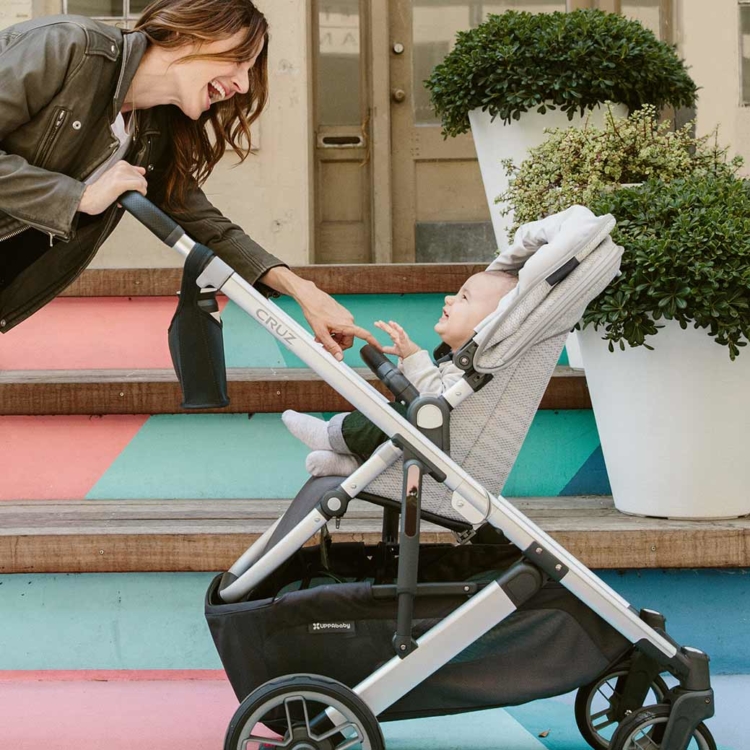 UPPAbaby Vista V2 vs Cruz 2020 V2: The Bottom Line
There's no doubt about it, choosing between these two strollers is no easy task. But, ultimately, it might all boil down to you and your family needs—now and in the future. If you plan on expanding your family, consider picking up the Vista V2 for its double stroller feature. But if you haven't made that decision quite yet, the Cruz might be the one to go with.
Still on the fence? Active Baby has the knowhow—and all the best strollers in the business—to help you make the right choice.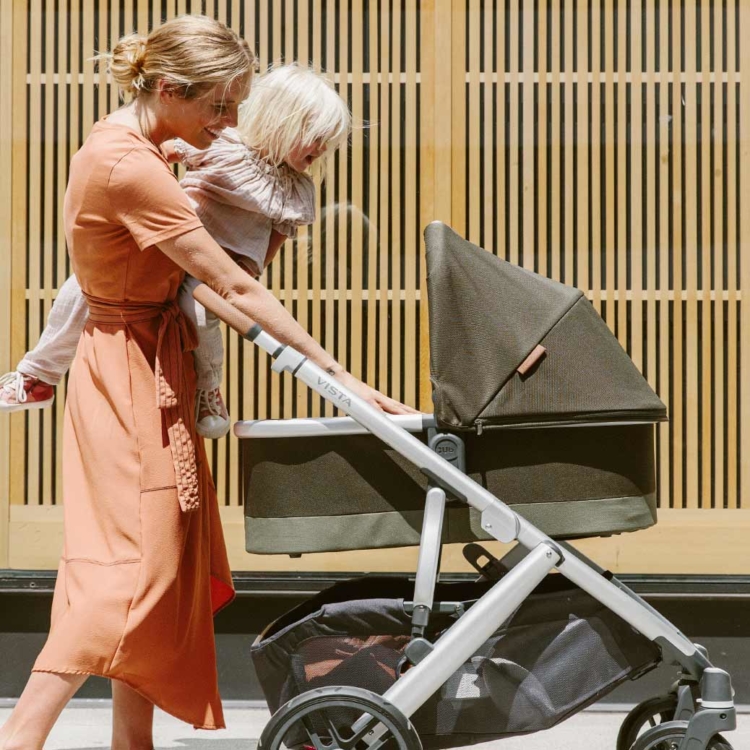 About Active Baby
Active Baby has a variety of baby items in the baby store online Canada! Brands and baby products include: When it comes to babies, you will quickly learn that babies need a lot of gear to keep them safe and comfortable. View the variety of baby gear below like car seats, convertible car seats, cloth diapers, bouncers, or go directly to Uppababy strollers, Uppababy vista, Uppababy accessories, and Uppababy car seats, a large variety of Uppababy vista stroller options, compact strollers like yoyo strollers, Clek car seats, Clek Foonf car seats, Bugaboo Cameleon, Diono car seat, Bugaboo accessories, Uppababy accessories, Thule Accessories, the Diono RXT strollers, Britax car seats, Stokke high chairs, Thule strollers like Thule spring stroller.
Baby Brands and essentials like: Bugaboo Bee Plus, Bugaboo strollers and Bugaboo accessories, Muddy Buddy, Sleeping sacs, co sleeping cribs, travel cribs, pack and play crib, Stokke chairs, Diono Radian RXT, as so much more baby gear from Canada's Favourite Canadian baby stores!

Convenient shopping at our 3 locations and visit us at our new Vancouver baby store or for added convenience on the online baby store.