Posted by Active Baby Canadian Online Baby Store on 2019 Dec 16th
Chances are quite good that if you are in the market for a stroller, you have heard about UPPAbaby strollers. Chances are also quite good that UPPAbaby has not just been mentioned to you, but actively recommended. So, what makes UPPAbaby so great? Let's run through just a few of the reasons why UPPAbaby should be on your radar:
UPPAbaby Vista
Let's consider the UPPAbaby Vista. There is a reason why this stroller is so popular; in fact, there are many reasons:
Smooth handling.
The UPPAbaby Vista offers a smooth, comfortable ride for your little one and an easy push for parents. It rolls easily, maneuvers through crowds effortlessly, and can take rough terrain in stride. You will be impressed with just how light and agile the UPPAbaby Vista is, whether you are shopping, strolling along crowded sidewalks, or out exploring trails in your local park.
Compact storage.
When bringing your UPPAbaby Vista along in your car, you will appreciate how easily it fits even in smaller trunks.
The dual-purpose bassinet. Not only is the bassinet great for taking the baby out and about, it also performs double duty when combined with a bassinet stand. Whether it's time to head out for a stroll or to the bedroom for a quick nap, the bassinet has you covered.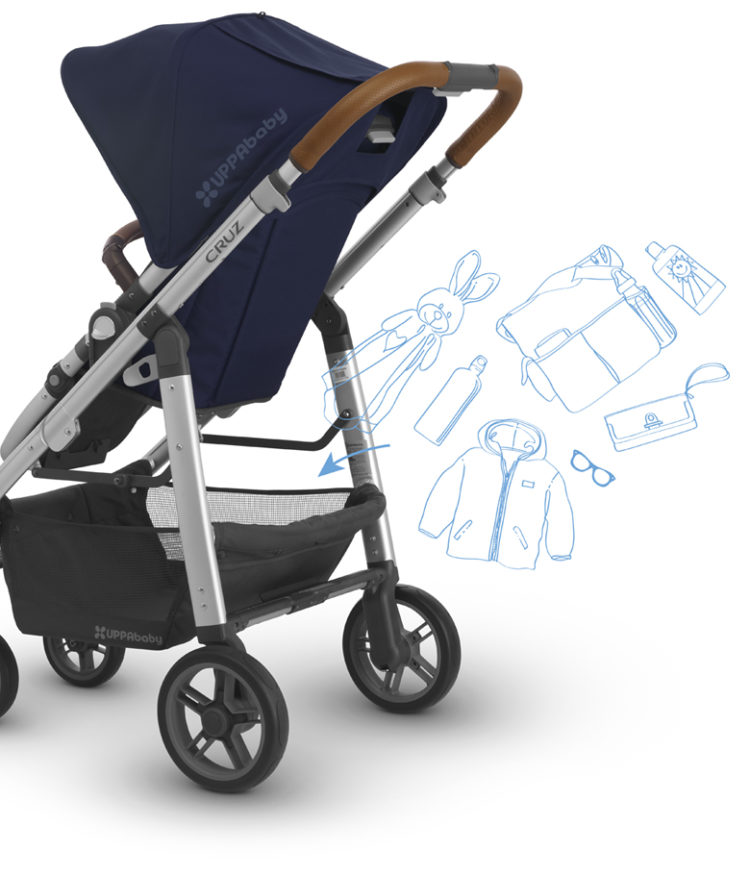 It's adaptable.
One of the truly great features of the UPPAbaby Vista is that it grows with your child. Starting with the bassinet and then the MESA infant car seat, the Vista sees your child through to the toddler years with a seat that can be positioned to face forward or backward. What's more, your UPPAbaby Vista can convert easily into a double, or even take a third child with the addition of the PiggyBack board.
Convenience.
UPPAbaby Vista has a generous storage basket that gives you plenty of room to carry everything you need and more. It also has many accessories that are available for a multitude of needs, and the MESA car seat attaches without the need for adapters. Move your sleeping little one from car to stroller without disturbing their dreams.
Practical and attractive. The UPPAbaby Vista doesn't sacrifice looks for functionality. The Vista is a gorgeous stroller that still performs like a dream.
UPPAbaby Cruz
Let's not overlook the UPPAbaby Cruz. Another popular choice, the UPPAbaby Cruz is more compact than the Vista, but still offers many great features. Like the UPPAbaby Vista, it offers a smooth, comfortable ride, and it allows for the toddler seat to face forward or backward. When paired with the Mesa infant car seat, the Cruz becomes a high-performing travel system. Some other features include:
A simple, two-step fold/unfold
One of the largest available storage bins
A large SPF 50+ sunshade with a peekaboo window
An easy-to-adjust 5-point harness
Adjustable leg/footrest
Range of accessories
The UPPAbaby Cruz, like the Vista, is beautiful and functional and is a great choice for any family.
Other UPPAbaby Choices
In addition to the full-size strollers, UPPAbaby also offers lightweight strollers like the Minu, G-Link 2, and the UPPAbaby G-Luxe, designed to be lighter, while still sturdy and reliable, and each offering tremendous value and versatility.
UPPABaby Minu Stroller - Ryan (Teal Melange/silver/saddle Leather)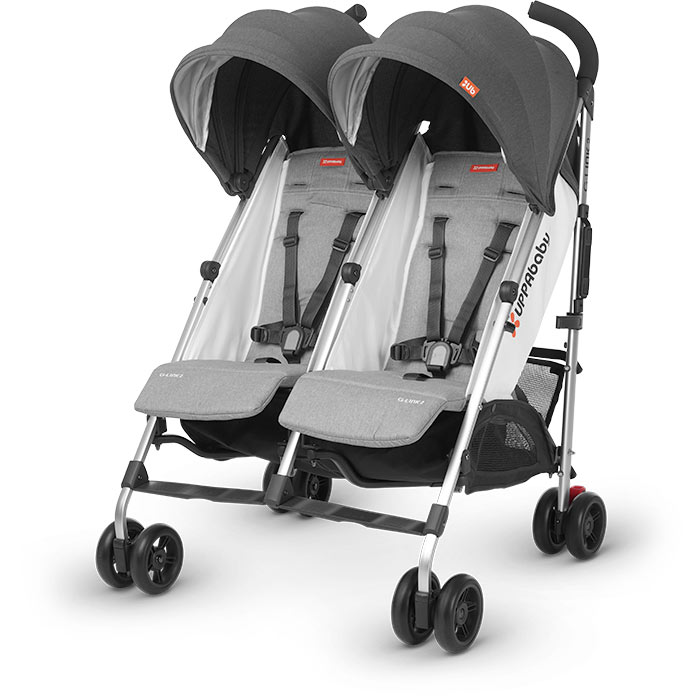 G-Link 2
UPPABaby G-Luxe Umbrella Stroller 2018 - Jordan (Charcoal Melange)
Ultimately, UPPAbaby strollers have earned their place in the hearts of parents everywhere by offering high-quality products that meet or exceed expectations, while pleasing the eye. UPPAbaby strollers for you and your baby. Nothing could be better.

Active Baby is your Vancouver Baby Store with store locations in Langley, North Vancouver & Vancouver
The brands we love: Bugaboo, Uppababy, Clek, Diono, Babybjorn, Baby Jogger, Beaba, Thule, ERGObaby, Mountain Buggy, Peg Perego, Maxi Cosi, Chicco, 4moms, SkipHop, Vonbon, Little & Lively, Minimoc, North Face, Sorel, Stonz, Mymayu, Bogs, Yumbox, Nuna and more.