Posted by Active Baby Canadian Online Baby Store on 2022 Oct 9th
Anyone with a child knows how exhausting they can be. When they first come into your life, they are fairly easy to manage due to the number of hours they sleep each day. Sure, waking up multiple times during the night takes a toll, but it pales in comparison to the workout you get once they start gaining some mobility. Suddenly, you find yourself chasing them all over your home. Trying to get things done while also keeping an eye on them can leave you drained by the end of the day, if not long before.
No wonder parents have always loved playards.
Sometimes referred to as a playpen, a playard is an enclosed play area where your child can play safely without you having to constantly worry about what they are getting into. You can keep an eye on them while doing the things you want to do, but without the constant running around attempting to catch them.
Both playards, the UPPABaby REMI and the Nuna SENA, are great options if you are looking for an enclosed play area. Both feature a bassinet option and a changing accessory, and both fold to a convenient, compact size to bring with you. You can also relax knowing that both have been tested to exacting standards to ensure your child's safety and have been Greenguard Gold certified.
This may lead you to wonder what there is to differentiate the two, or if one might be more suitable for your own needs. To help you decide which is the right one for you, let's see how they compare.
UPPABaby REMI and Nuna SENA Features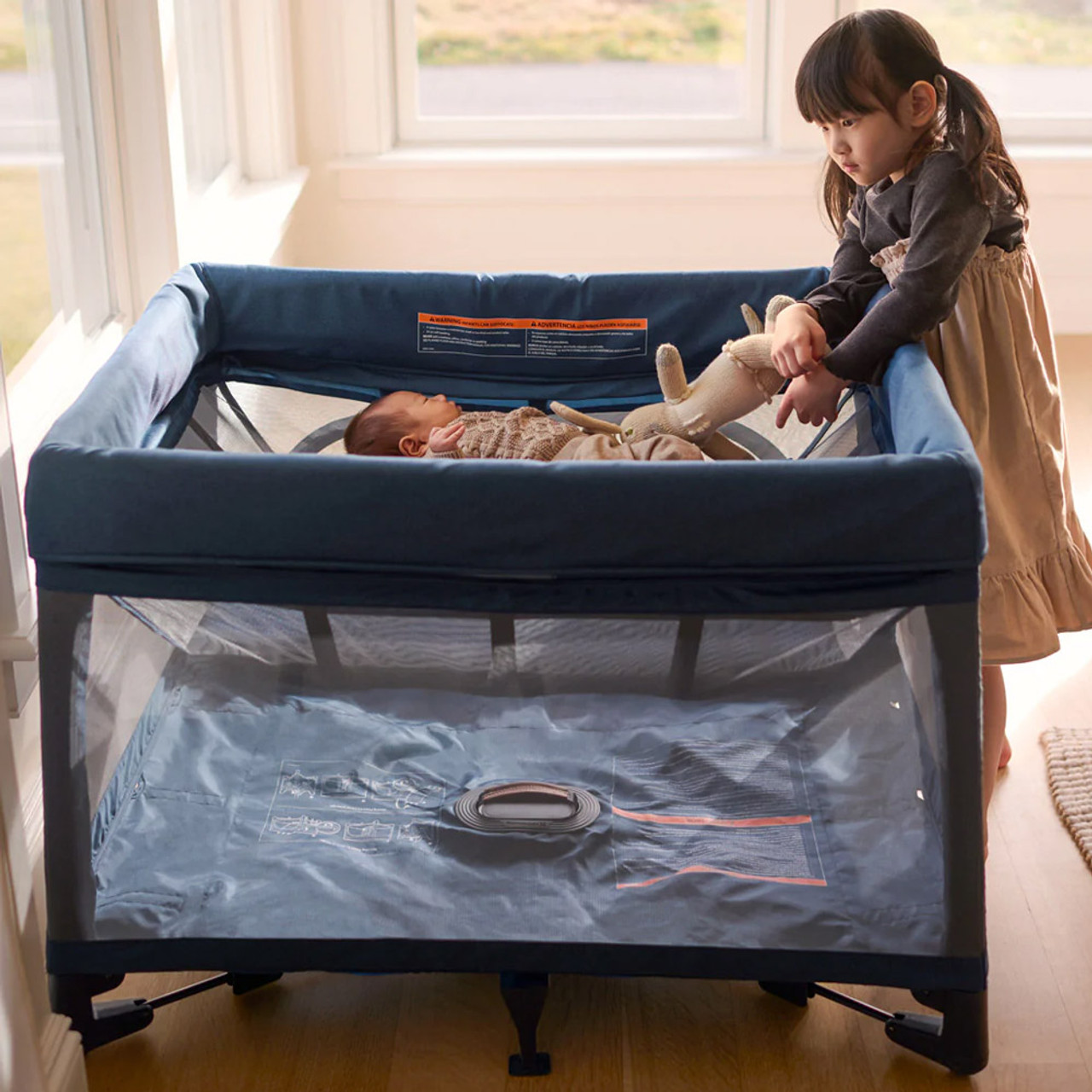 We've established already that both are built to high standards, Greenguard gold certified, and compact enough for travel. Whichever one you choose, you will be able to use it from birth with the included bassinet attachments that attach over the playard, making baby easier to reach for parents and caregivers. The SENA has a larger bassinet mattress, staying the same size in bassinet or playard mode. The REMI's mattress, on the other hand, adjusts to a smaller size when used in the bassinet.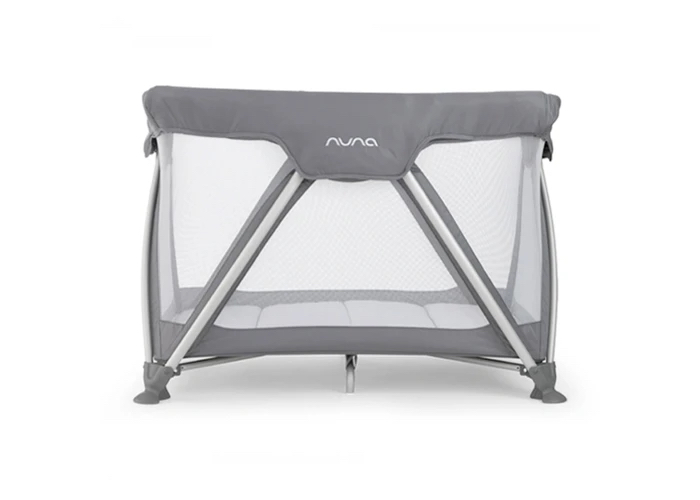 The REMI and the SENA both offer excellent ventilation with mesh windows on all four sides. The SENA's V-shaped supports reach from the bottom corners to the top of each side, giving visibility on each side as well as each corner. The REMI, meanwhile, has mesh windows on all four sides, with vertical posts offering support in each corner, but also uniquely offers a zippered opening to let you interact with your little one at their level, rather than leaning over the side.
UPPABaby REMI and Nuna SENA Accessories
Similar accessories are available for both the REMI and SENA, including spare mattress covers and a changing station. The SENA comes with one organic cotton sheet and a travel bag for easy transportation. The changer is sold separately, but useful to have.
The REMI's accessories include a UPF 50+ canopy with a mesh window that fits over the top of the playard offering protection from sun and bugs while still providing visibility and airflow. The changing station is designed to collapse to easily store when not in use. Other available accessories include a waterproof mattress cover and a diaper organizer that attaches conveniently to the REMI's side. Like the SENA, it comes with a storage bag.
All accessories are sold separately.
Available Colours
The Nuna SENA comes in three colours:
Caviar Black
Granite Grey
Champagne Beige
The UPPABaby REMI playard has a slight edge with 4 colours to choose from:
Jake (Charcoal Black)
Stella (Brushed Grey Melange)
Charlie (Sand Melange)
Noa (Navy Melange
Head-to-Head: Advantages and Disadvantages
Both the SENA and the REMI have great points to recommend them, but both also have some drawbacks.
SENA Advantages
Mesh panels on all sides and the four corners
A larger mattress area in bassinet mode
Can be folded with the bassinet attached
SENA Disadvantages
The bassinet is longer to attach and remove with 4 buckles and 4 snaps at the sides and corners
Slightly heavier than the REMI
REMI Advantages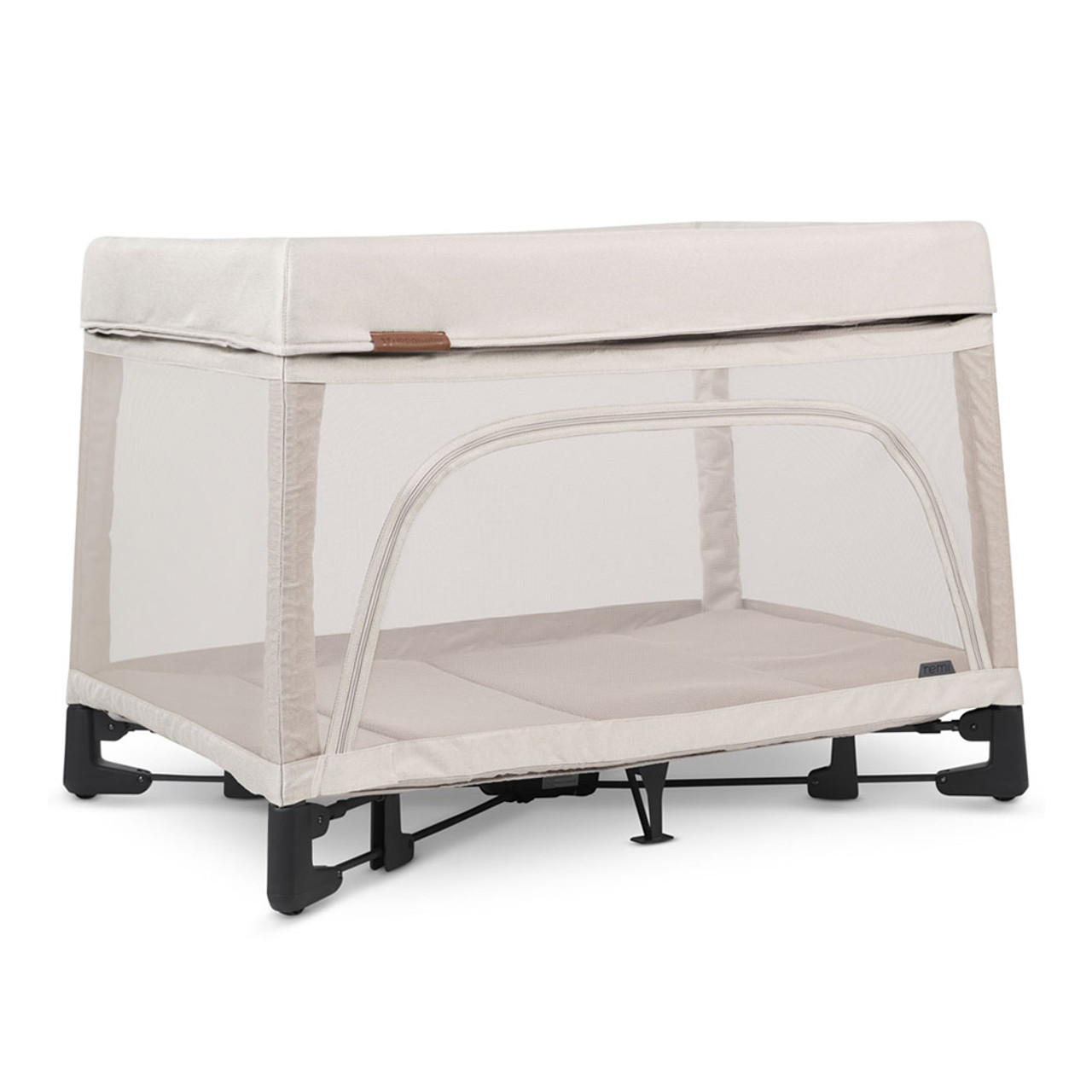 The convenient side zip panel gives easy access
The zip-on mesh bassinet is quick to attach or remove
Lighter than the SENA and more compact
REMI Disadvantages
Has a smaller bassinet mattress area
Cannot fold with the bassinet attached
Which to Choose?
The fact is that both playards the UPPABaby REMI and the Nuna SENA are excellent products that keep your child safe and comfortable. Both provide a secure play area, but the two offer some mild differences which may appeal to you based on your personal needs.
For more information about the playards UPPABaby REMI or the Nuna SENA, contact us today!
Active Baby is your top Canadian Online Baby Store with store locations in Langley and North Vancouver.
The brands we love: Bugaboo, Uppababy, Clek, Diono, Babybjorn, Baby Jogger, Beaba, Thule, ERGObaby, Mountain Buggy, Peg Perego, Maxi Cosi, Chicco, 4moms, SkipHop, Vonbon, Little & Lively, Minimoc, North Face, Sorel, Stonz, Mymayu, Bogs, Yumbox, and more.