Posted by Active Baby Canadian Online Baby Store on 2020 Oct 30th
Looking for a high-back booster seat (HBB) but not sure which on is the right one for you? Wondering if they are all the same or if there are significant differences between them? Here's a quick rundown of three popular models that you may be considering helping you decide.
UPPABaby ALTA Back Booster Seat
Booster seats come into use when your child outgrows their forward-facing car seat. This typically happens somewhere around age 5 or 6, when your child weighs at least 18 kg (40 lbs). The UPPABaby Alta can support your child up until 45 kg (100 lbs). This means it will be the only booster your child will need. By the time they outgrow it around age 10, they will no longer need a booster of any kind.
The UPPABaby Alta's wide design and 7-position adjustable headrest means that it can grow with your child, providing comfort and security from the first day used until the last. Adjusting the headrest also adjusts the neck and chest portion of the seat belt. Once adjusted to your child's height, it is easy for your child to buckle up on their own, and the SECUREfit belt routing path means that your child will always put the belt on right. This is critical because in the event of an accident, proper seat belt positioning will prevent abdominal and neck injuries.
A rigid LATCH system adds to the safety by keeping the seat securely and properly positioned. A green indicator lets you know that the seat is installed correctly.
The UPPAbaby Alta features a seat backing made from memory foam and expanded polypropylene (EPP), making it comfortable for your little one and absorbing some energy from impact if there is ever an accident.
The UPPAbaby Alta is a sleek, attractive booster that offers comfort, safety, and ease-of-use, making it an excellent choice for virtually any parent.
Clek Oobr Highback Booster Car Seat
Canadian brand Clek offers the Oobr, which also accommodates a child up until 45kg. A bonus of the Oobr is that it can switch from high back mode to backless as your child grows. The seat is also capable of reclining by 12 degrees, which is great for your child if they fall asleep in the car.
Other features include a wide seat to provide greater comfort, and a headrest that operates like those in your vehicle. Installing the Clek Oobr takes only a few seconds thanks to the Rigid-LATCH system, which works with your car's seat belt.
Safety measures include multiple layers of foam that absorb energy from impacts, a headrest with padded side wings that are deep enough to provide side impact protection and keep your child's head and neck stable. Belt guides ensure the proper placement of the seat belt to provide greater safety. The Clek Oobr can be installed using either your vehicles seat belt or LATCH system.
The Clek Oobr is available in a variety of colours and stain-resistant fabrics, and the seat cushion is removable for hand washing.
Peg Perego Viaggio 120 High Back Booster Seat
The Peg Perego High Back Booster Seat 120 differs from the other two in a way that is mentioned right in its name: it can accommodate a child up to 120 lbs, whereas the others go to 100. This booster seat also has integrated cup holders and is available in fabric or leatherette.
The Peg Perego is narrower that the other models, which may be a pro or con depending on your needs. It doesn't offer quite as much room to your child, but it can fit in tighter spots. Like the Clek Oobr, it can be used in highback or backless mode. It comes with lower latch anchors that are easy to operate. A simple button push gives slack to the connectors to facilitate installation, followed by pulling the front strap to tighten the seat and secure it into place.
The back on the seat is easily adjustable, allowing it to be set to the correct height setting even when your child is sitting in the seat. Like the Clek Oobr, it has some recline capability to making your sleeping child more comfortable.
The Peg Perego High Back Booster Seat has well-padded head wings and EPS foam to absorb inpact. Although narrower than the other models, the Peg Perego has plush padding and microfiber fabric that is breathable and moisture absorbing to keep your little one comfortable.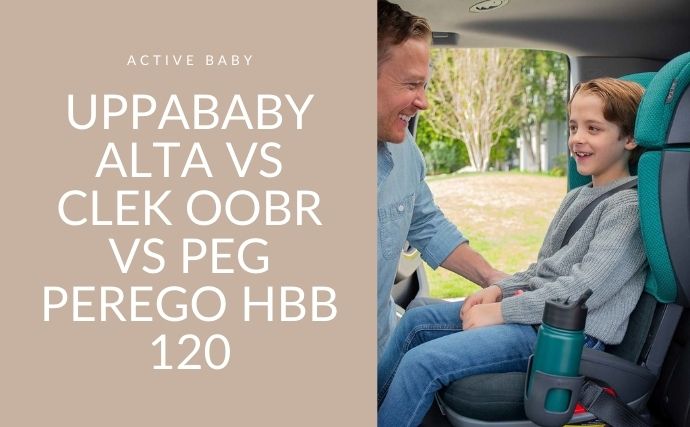 All three HBB seats offer great value for the money, but with their own twists. Do you want a seat with a higher weight capacity or to fit a smaller space? The Peg Perego may be your best bet. A wider seat with the ability to go backless? That's the Clek Oobr. Ease of use mixed with style and comfort? Check out the UPPABaby ALTA Back Booster Seat.
No matter what your needs may be, there is a seat right for you and our expert staff will be happy to help you find it! Contact us today!