Posted by Active Baby Canadian Baby Store on 2021 Mar 2nd
If you live an active lifestyle and you have a little one that you want to bring along to places that a stroller just can't reach, then you may want to consider a backpack carrier. As the name implies, a backpack carrier is a backpack that has a frame typically made of aluminum or an aluminum alloy, along with a waist or hip belt to help distribute the weight of your child as you carry them piggy-back style. This lets you bring them along virtually anywhere you go, reaching places that would be inconceivable with a stroller.
The Thule Sapling Elite is one such backpack carrier. Thule previously offered both the Elite and the original , but as of August 2020, the Sapling has been discontinued. Both are quite similar, and we will focus on the Sapling Elite for obvious reasons. Both the Sapling and the Sapling Elite use the same frame and there are really only a few differences. If you are a fan of the original, the Elite maintains the quality you are familiar with while adding a few things, such as extra roomy hip belt pockets and a pocket mirror useful for seeing what your child is up to behind your back.Thule creates products that are typically for those engaged in an active lifestyle for whom typical carriers may not be appropriate. The Sapling Elite is a high-end baby backpack ideal for a child between 16 and 48 lbs (7.2 to 21.7 kg). The Thule Sapling is ideal for:
Smaller Kids.

Although it is rated to a maximum of 48 lbs/ 21.7 kg, taller kids who have not yet reached that weight may start to feel slightly cramped, though certainly not uncomfortable. This may actually be helpful for heavier kids as it keeps them closer to you and your centre of gravity.
Average-Sized Parents.

Although adjustable to accommodate parents of different sizes, those who are above or below average may find the fit less than ideal.
All-day Adventures.

Sturdy, comfortable, and with plenty of storage, the Thule Sapling Elite is great for a full day on the trails.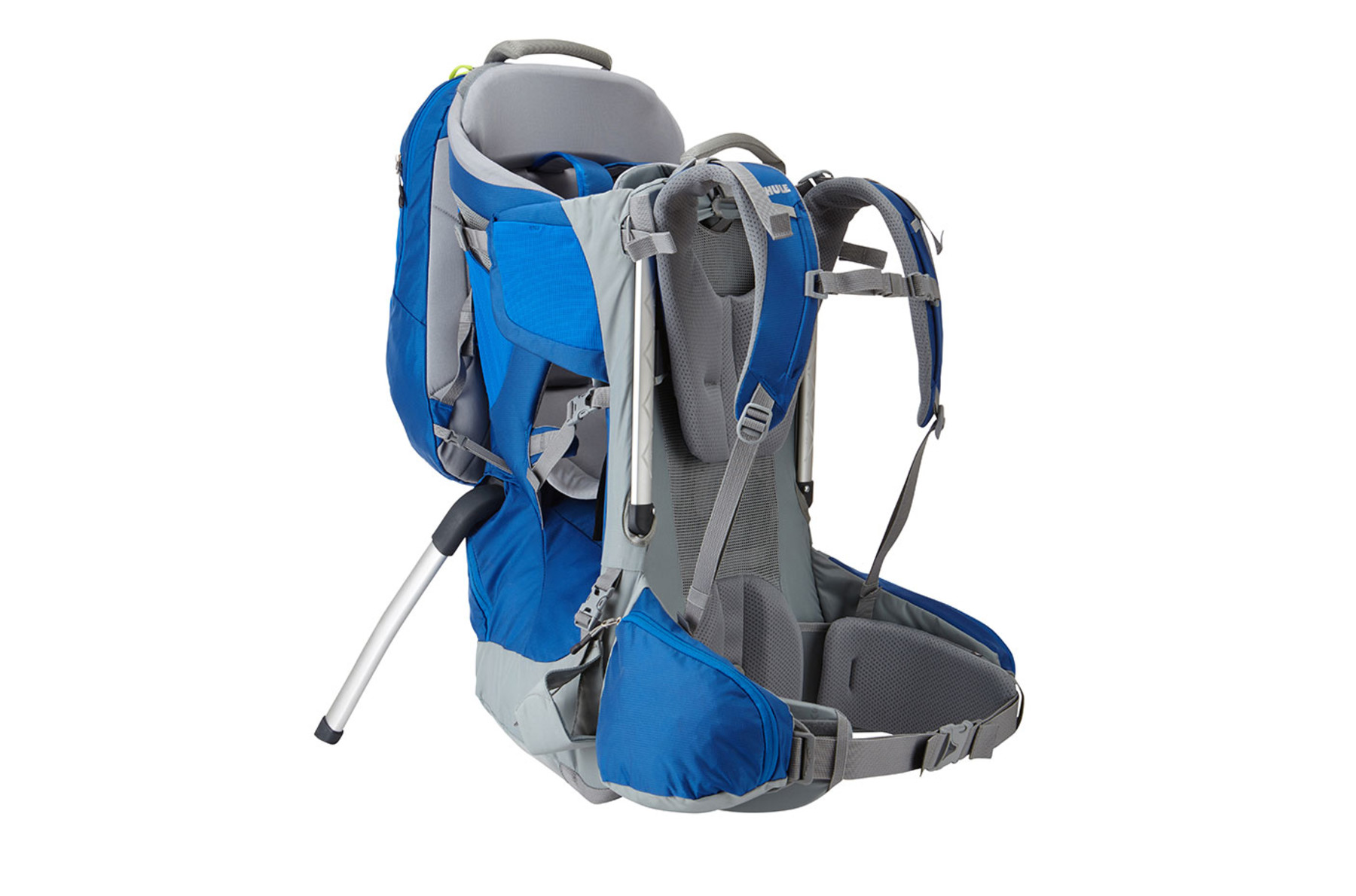 Parent Comfort
While you are naturally going to be mostly concerned about your child's comfort (which we will address below), you will want to be comfortable yourself as well. After all, a backpack carrier that is uncomfortable is one that you won't want to wear for extended periods. Fortunately, the Sapling Elite surpasses other carriers when it comes to parent comfort.
The Elite is easily adjustable, meaning that you can quickly make changes as needed, even if switching between users. The torso adjustment strap has four adjustment options over 6 inches. The waistband fits just over the hips for the average user and is adjusted with pulls inward, making it easy and natural to do so.
Shoulder straps are somewhat stiff, adding extra support, and they can be adjusted on the go. A chest clip helps with weight distribution and offers more adjustability. The Elite also has a breathable, padded back that offers support while allowing for airflow to keep you cool.
Child Comfort
The Sapling Elite has a variety of features to help ensure the comfort of your little one. It is even stable enough to allow light jogging without too much jostling for the passenger who is held secure with supportive side straps that can be tightened, even with the child in place.
Passenger shoulder straps are soft and comfy, adjustable between the frame and headrest. The seat is firm and secure, but with plenty of padding to ensure comfort and there is a front face rest/drool pad in addition to the back-head rest. Stirrups are included for your child's feet and can be adjusted for height.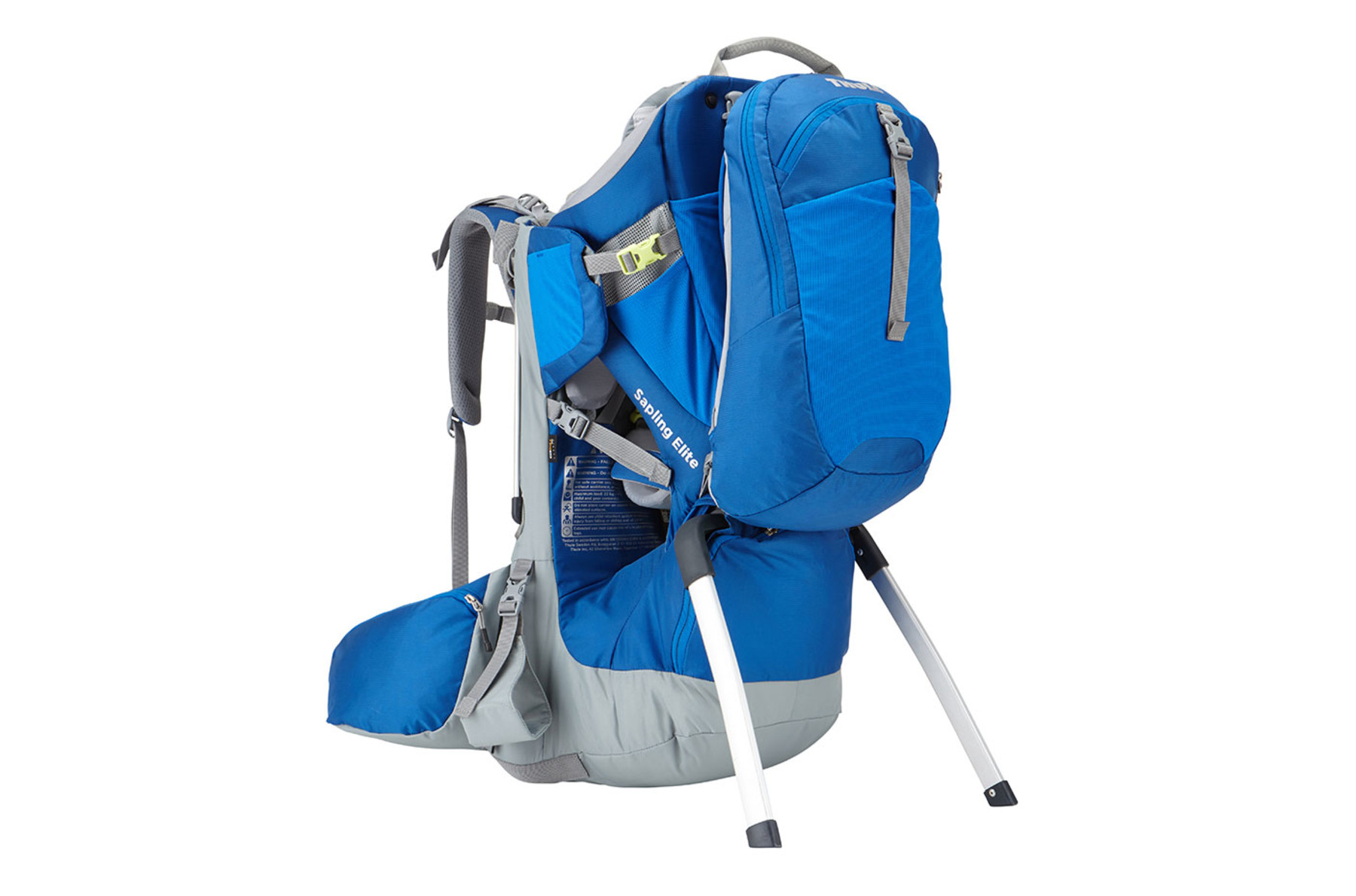 Storage
There is a ton of storage, allowing you to bring everything you need and keep it all organized and easily retrievable. A great feature is the inclusion of a removable nylon pack and roomy hip pockets that let you keep essentials like your phone, snacks, and keys close at hand. Compartments are zippered and large enough to pack just about anything you need, including a change of clothes.
Ease of Use
The Sapling Elite also scores well for ease of use. It is very easy for the wearer to adjust. The waistband, for example, has a forward pull adjustment which allows you to make changes as necessary while walking. The seat height adjustment is simple and can be used while the child is in the carrier. The included canopy can be folded down quite easily and is stored in its own pocket behind your child.
The Sapling Elite is a great choice for active parents who like to stay on the go while bringing their little one with them. It has all the features you would want and need in a hiking carrier.
Pros
Comfortable and easy to wear for the wearer

Equally comfortable for the passenger, even with prolonged use

Easily adjustable

Ergonomic child seat gives thigh support

Stabilizer straps to help with balance and centre of gravity

Mirror included to keep an eye on your child

Plenty of storage to bring all the essentials and more

Included sunshade
Cons
Sunshade can be a bit tricky to stow

Does not come with a rain cover (though one is available to purchase separately)

May be difficult to strap the child into the seat if they are being fidgety
For all your backpack carrier needs, reach out to Active Baby.