Posted by Active Baby Canadian Online Baby Store on 2022 Jul 14th
There are many great options available when parents of a little one want to get out to do a little shopping, visit friends and family, or simply go for a stroll or jog in the park. There are many types of strollers available, ranging from ultra-light umbrella strollers to full-sized ones with all the bells and whistles, but sometimes you want to hop on your bike, rather than walk or jog. In cases such as this, you'll be looking for a bike trailer.
Thule, the Swedish company known for making everything from car roof boxes to backpacks, has you covered with their high-quality, dependable trailers. We'll look at the Thule Courier and Thule Coaster XT, two popular models, to see which is best for you.
Thule Courier
Designed for active families, the Thule Courier is more than just a bike trailer. It converts easily to different modes depending on your needs, which means that it will see far more use than a typical bike trailer.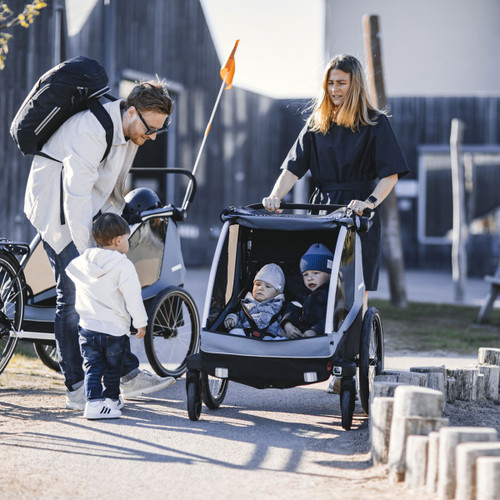 As a bike trailer, it allows you to bring your kids with you, as you make your way around town. Spacious seats and ample leg- and headroom keep them comfortable, and 5-point padded harnesses keep them safe. Additional protection is provided by the included rain and mesh cover, keeping them dry on rainy days.
While it features two seats, it is also weight balanced, allowing it to be used with a single child. When you want to ditch the bike and walk a bit, the trailer converts to a stroller in about 2 minutes. Your kids won't even have to move around.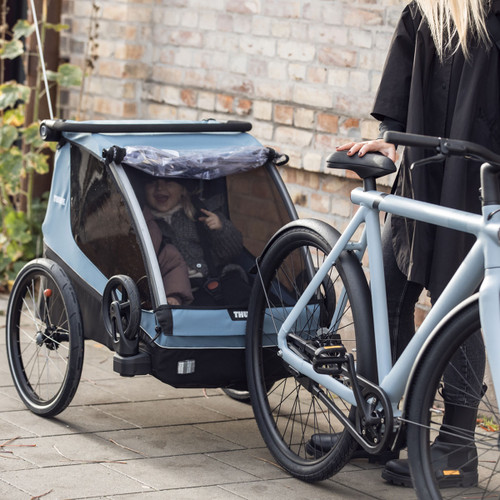 If you are running errands without the kids, perhaps after dropping them off at daycare, the Courier is usable as a cargo trailer. The reinforced floor and generous cargo space mean that you can load it up without worry. It even features onboard storage for trailer/stroller hardware for when it is not in use.
If this isn't quite enough for you, there's another mode for those who have "kids" of the four-legged variety. The Thule Courier Dog Trailer Kit is sold separately, but the option is there for those who want to bring their fur babies out for a ride or walk. This can be especially useful for older pets suffering from decreased mobility, letting them get some fresh air and sunshine without too much strain on their part.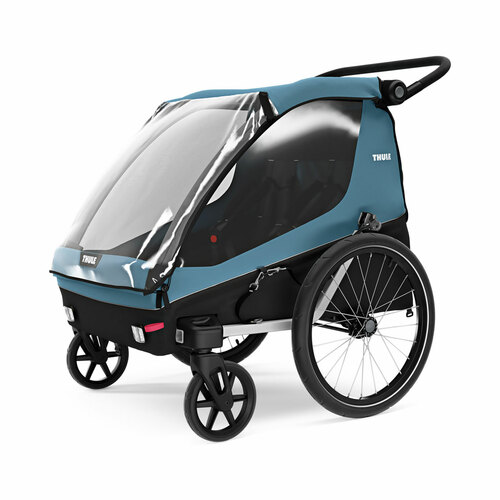 Summary of the Thule Courier highlights:
FlipFlat technology allows you to change easily from trailer to stroller and back again
An adjustable handlebar that ensures parents of various heights can stroll and push comfortably
Spacious seats to keep your little ones comfortable
5-point safety harnesses to offer excellent protection
Adjustable mesh and rain cover for protection and comfort
Large storage area, easily accessed from the rear
Usable by children from 0 to 5 years of age (Infant Sling accessory required for newborns)
Reflective wheels for greater visibility and safety
Can fold flat for storage and transport
Reinforced cargo floor and built-in attachment points to keep your gear secure
Optional dog trailer kit
Thule Coaster XT
If you are looking for a great bike trailer, but don't necessarily need or want some of the options available with the Courier, then the Thule Coaster XT may be the right choice for you. It still offers the high quality associated with the name Thule, but because it is a more basic model that offers fewer options, it is available at a lower price.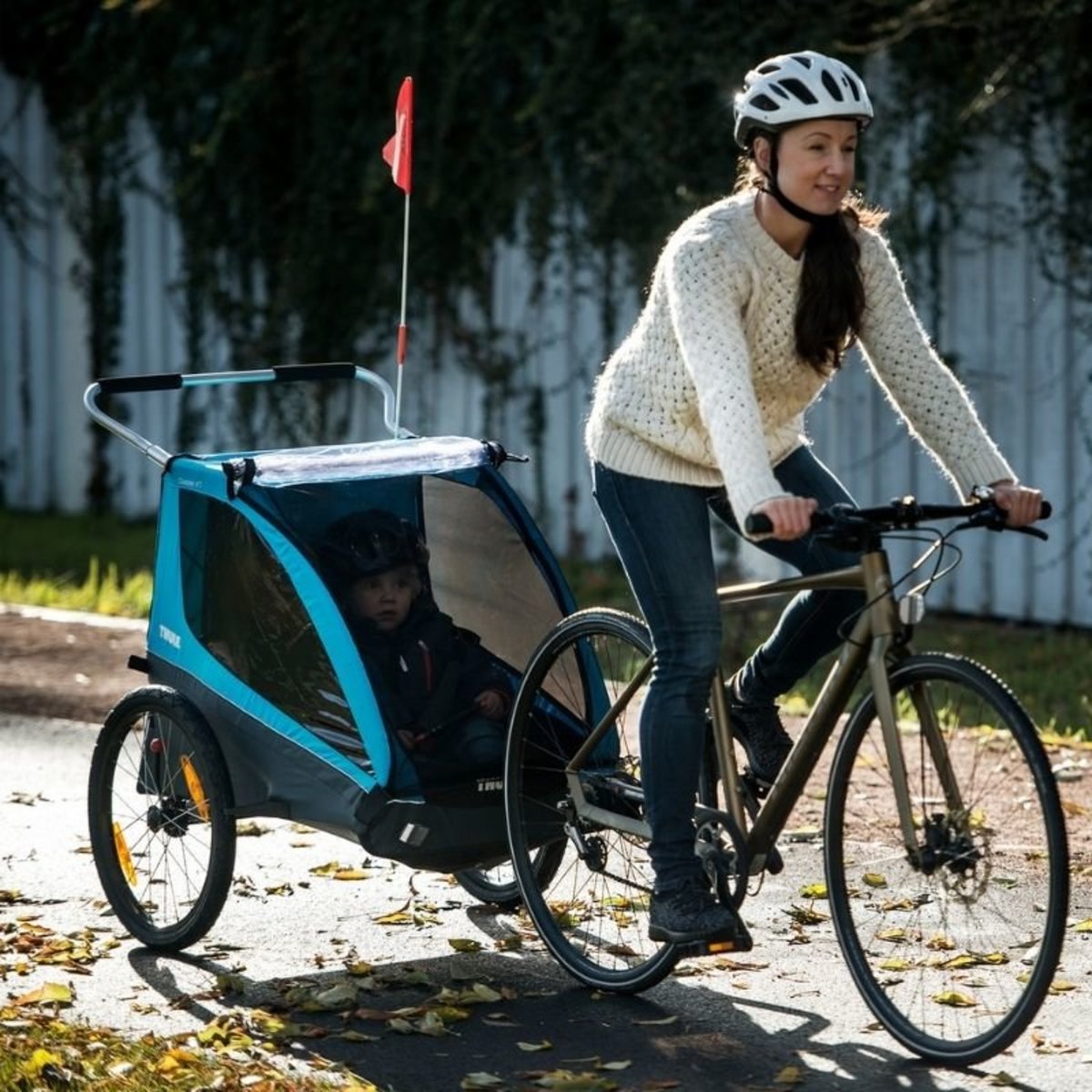 Like the Courier, the Coaster serves both as a bike trailer and a stroller, in this case, a three-wheeled stroller. When used as a trailer, it offers a remarkably smooth ride. Combined with the comfortable padded seats and harnesses, this ensures that your little ones will enjoy their time exploring the world as they ride along with you. It is also the only trailer at this price point to offer a sunshade.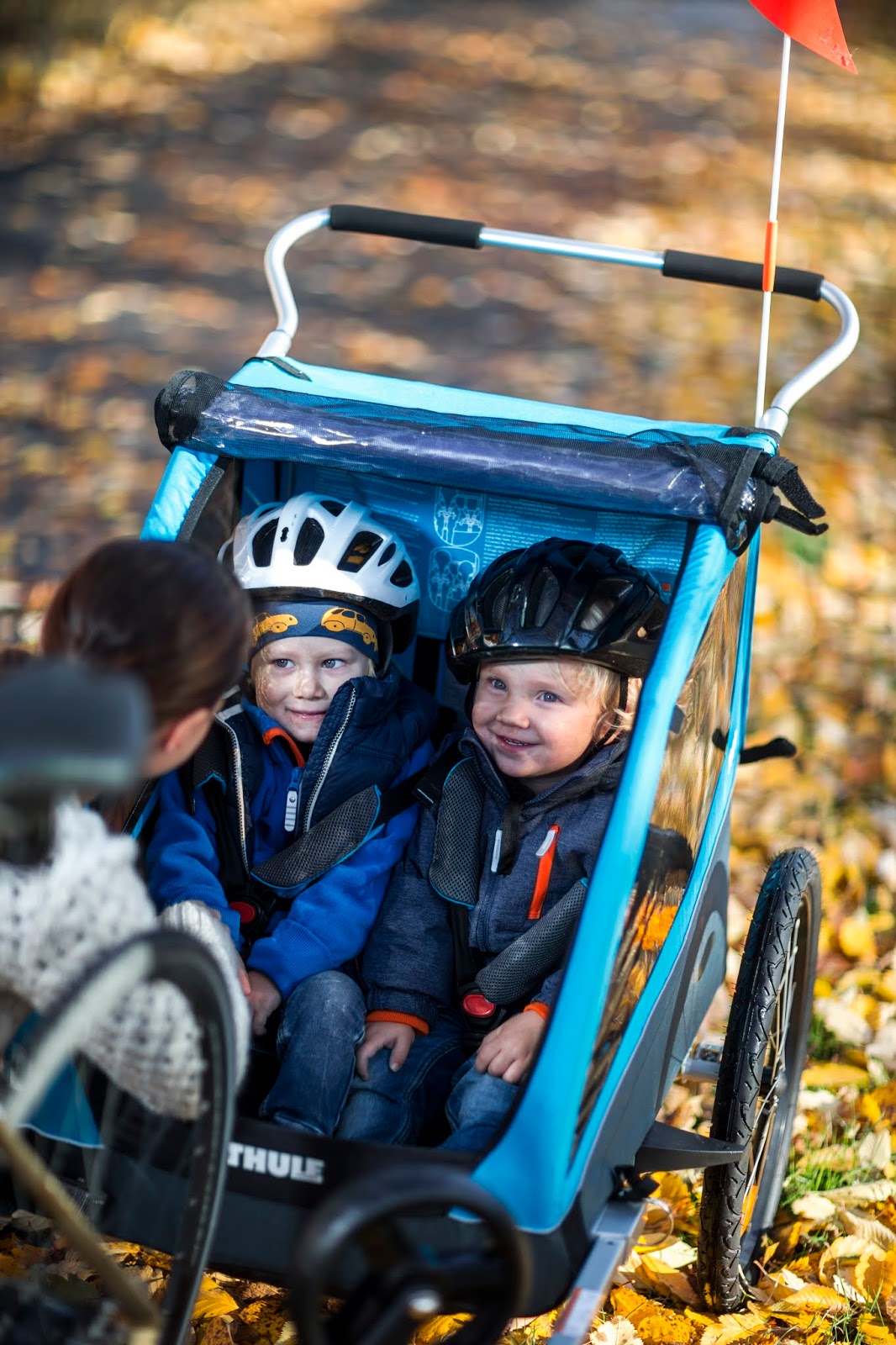 With no suspension, the Coaster offers a smoother ride on less-bumpy surfaces, though that is not to say it can't handle other types of terrain.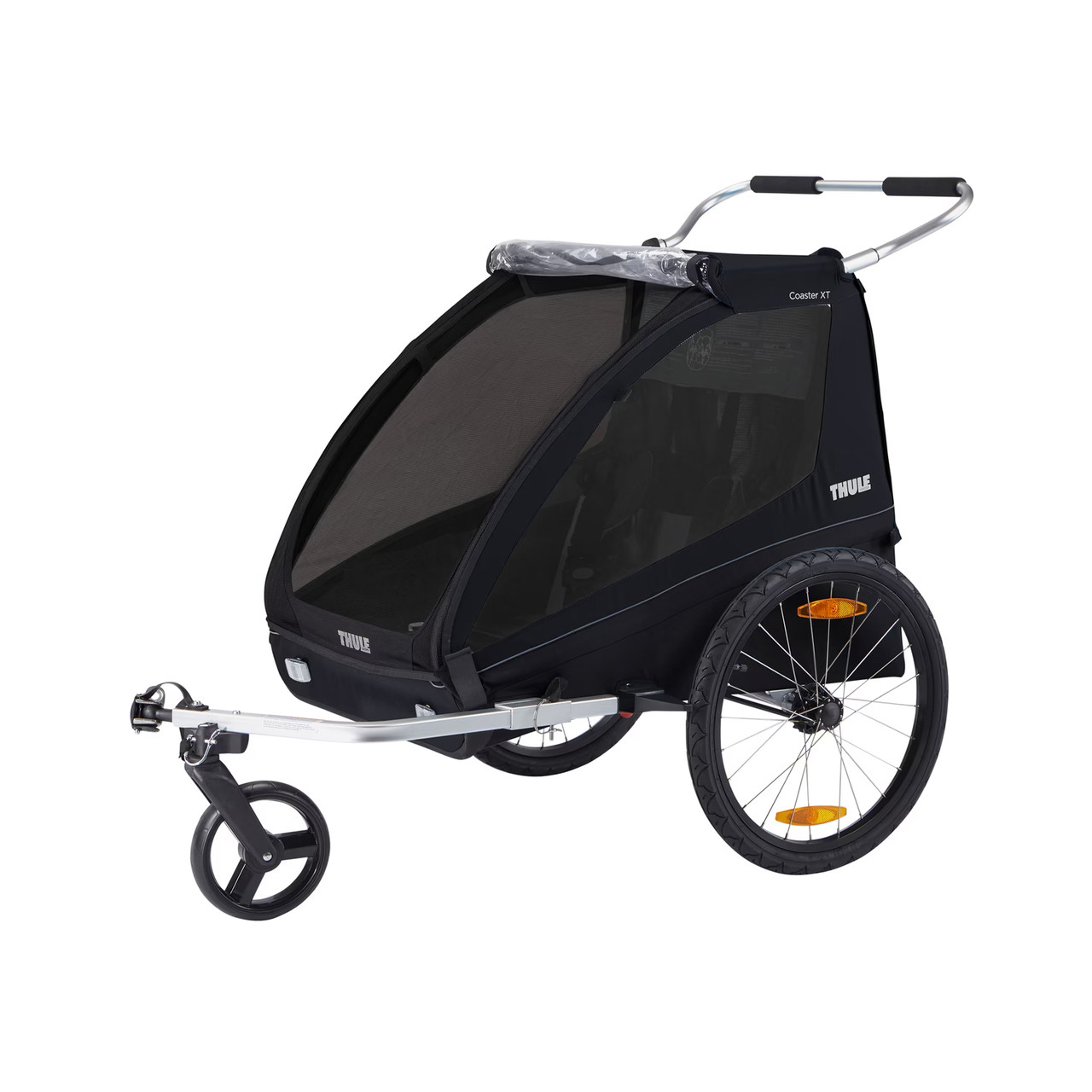 Key differences between the Courier and Coaster include three wheels on the Coaster instead of four and no ability to convert into a cargo trailer or pet stroller.
Coaster highlights include:
Very smooth ride for biking
Padded seats and shoulder pads
Sunshade
Rear canvas that folds up to provide more ventilation
Easy-to-use ball and joint hitch system
Compact, flat fold
Adjustable handlebar
Both the Thule Courier and the Thule Coaster offer you the opportunity to bring your kids with you for a walk or bike ride in safety and comfort. The Coaster has fewer options, though that may not be an issue, especially if the lower price point appeals to you.