Posted by Active Baby on 2017 Oct 20th
When it comes to baby seats, there are a dozen of brand names that you can go with. We have seen convertible car seat designs and functionality thankfully evolve over the years.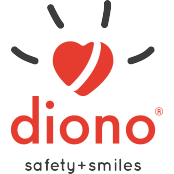 A tried and true brand name that you can trust in baby equipment is Diono. Diono carrys a full line of baby equipment from strollers to car seats. The Diono convertible car seats are comfortable and safe to carry your baby in.
The Diono Radian RXT is the most popular convertible car seat because it was designed to have a narrow frame. Did you know that you can fit 3 Diono car seats across the back of a mini van? Impressed, well you should be. Because not all car seats are designed with your needs in mind. Parents with more than one child have come to appreciate the narrow design features of the Diono Radian RXT car seat. Learn more about the Diono Radian RXT car seat.
Diono understands that parents want the safety of a car seat as their number one priority in the purchasing decisions and Diono also knows that design aspects to help parents easily to move the car seat around from car to car or seat to seat is part of an overall good product design.
Diono Rainer car seat is also a popular choice for parents that are looking for wider protection around their baby. If you travel a lot on the highway or long commutes this is an excellent choice to ensure safety at higher speeds. Learn more about the Diono Rainer car seat.
The Diono R120 or 100 models are the minimalist style with no padding and just a seat. When you don't need all the bells and whistlers, just a solid safe car seat to get your baby from here to there than this is also an excellent choice. Learn about the Diono R120 car seat and Diono 100 car seat details.
The versatile natures of the Diono car seats offer all the choices that you need to secure your baby while your ride from place to place.
The Diono Monterey high back booster seat is the perfect choice when your child out grows the infant car seat. By the age of 5 normally you child would be ready for the high back booster seat. Learn more about the Diono Monterey car seat.
Diono designs make them easier to move around from car to car. Active Baby strives to meet the concerns of parents and provide you with the best car seats on the market today. Customers continue to rave about the Diono RXT flexibility and safety standards.
Active Baby are parents as well as business owners. There well stocked online baby store offers Diono car seat accessories to help organize and keep the car clean while transporting your child. Feel free to visit our baby stores or connect with Active Baby to answer all your questions about the best car seat for your baby and your needs.