Posted by Active Baby on 2017 Feb 24th
Here are our top picks for ensuring your baby's best and most comfortable sleep. We also recommend contacting your local sleep consultant if you are having troubles to set up a program tailor made for you.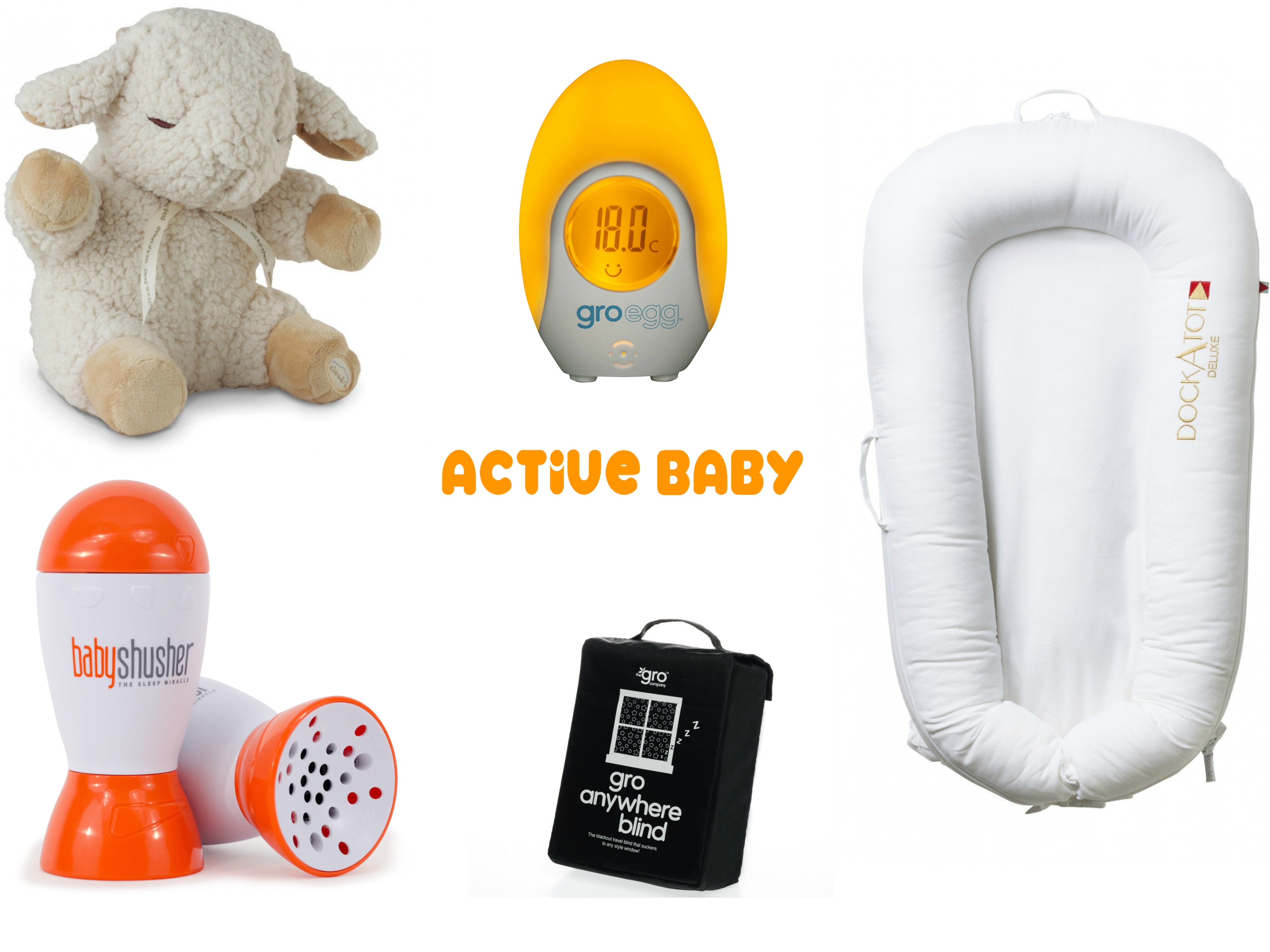 This is a doctor-approved and thoroughly tested technique designed to break a baby's cry spell and engage their natural calming reflex. The rhythmic shush reminds baby of being inside mom, where they were inundated 24 hours a day with loud sounds of blood flow and other in utero noises. Because we know that babies will cry anywhere, your Baby Shusher is small, compact, and easy to keep clean, meaning that you can use it in the car, when visiting friends and family, or when doing the everyday important things like grocery shopping or catching up with friends.
The ergoCocoon 'no origami' baby Swaddle Sleep Bags are designed to be both easy to use and difficult to escape from. The simple zip up design will keep baby snug and securely swaddled without the need for complicated wrapping. The 1.0 TOG ergoCocoon Swaddle Sleep Bag is designed for Autumn/Spring Temperatures and is made from a beautiful Organic Cotton and Bamboo mix.
Designed for babies and adults, Sleep Sheep is the perfect nighttime companion to help soothe the whole family to sleep in a safe, calming and effortless way. A sound box tucked safely inside of Sleep Sheep lulls you to sleep with soft sounds from nature and the reassuring sound of a mother's heartbeat. Sleep Sheep soothing sounds are an audio pacifier that can calm even the fussiest babies to sleep. When babies sleep better, parents sleep better. Sleep Sheep is also ideal for traveling and in unfamiliar environments. Sleep Sheep features 4 soothing sounds: Mother's Heartbeat, Spring Showers, Ocean Surf, and Whale Songs. Velcro tab to secure Sleep Sheep to the outside of a crib.
Groblinds, designed by the Gro Company, are a portable blackout blind for when it's still too light to say night. Anyone who has stayed away from home with little ones will know that it can be tricky to create a snoozy sleeping environment when there is too much light flooding in. The versatile Gro Anywhere Blind has been designed to go anywhere with you and can be put in place in minutes. Attaches directly to the glass using suction cups, ensuring a close fit that really does block light properly.
Glo Night Light by the Gro Company:
These multi-coloured, interactive nightlight has removable, illuminated "Glo balls" that stay lit up for up to 30 minutes. There is nothing electronic in them, so they don't get warm and they won't break! This is a great and fun solution for your little one who isn't the biggest fan of the dark.
DockATot has been designed to offer a safe, snug and soothing environment for babies. Your baby can rest, play and lounge without the restrictions of buckles or the distraction of bells and whistles and also allows parents to safely co sleep with their babies.The DockATot is also the ideal spot to let your little one get their tummy time in; the rounded bumper helps to prop up your awake baby when placed under his/her arms. Tummy time can help babies develop neck strength and motor skills. DockATot is hypoallergenic and made with the most nurturing and hygienic fabrics that also have excellent air-permeability, creating a "microclimate" perfect for your little one.The DockATot is lightweight and simple to travel with.