Posted by Active Baby Canadian Online Baby Store on 2018 Nov 8th
If you were like most kids, you probably enjoyed running and jumping in puddles on rainy days. The bigger, the deeper, and the muddier they were, the better. It seems to be an almost universal experience, with some kids actively looking forward to the rain in order to go splash around outside—though strangely enough, some of these same kids dread bath time...
We somehow believed that rain boots and a rain coat or umbrella were somehow enough to keep us dry, even as the splashing water soaked our pants and ran into our boots.
Now, as parents, we don't seek to jump in puddles anymore. In fact, most of us cringe when we see our kids do so, knowing that wet, muddy laundry is now in our future. Wouldn't it be great if there was a full-body rain suit that could keep kids clean and dry?
Oh, wait... there is!
If you have never heard of a Muddy Buddy, or the Calikids waterproof Splash Suit keep reading.
Tuffo Muddy Buddy
The Tuffo Muddy Buddy, aside from having a great name, is an awesome full-body rain suit and hood designed to keep your little ones warm, clean, and dry, ever on the rainiest days. Your kids will be able to face the biggest puddles without fear of getting wet.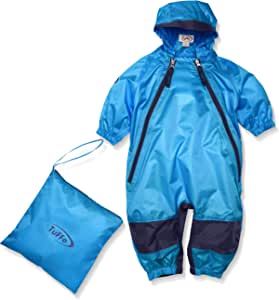 The Muddy Buddy offers protection against the rain and the elements, but even if your child isn't one for going out in the rain, it can be used indoor for some of those messy rainy-day arts and crafts. No need for a painting smock anymore!
The Muddy Buddy is lightweight but warm and features reinforced extra-heavyweight nylon to protect the knees and seat. All seams are sealed and are completely waterproof, and the wrists and ankles are elasticized to give a snug fit over boots and mittens.
The Muddy Buddy has a generous fit so that your child can wear layers of clothing and still move comfortably, and dual front zippers allow for it to be put on and removed quickly and easily. Made of 100% polyester, the suit is 70-denier and coated in polyurethane. Easy to clean, it is machine wash (cold) and hang to dry.
Calikids Waterproof Splash Suit
Very similar to the Muddy Buddy, the Calikids Splash Suit is another awesome product that will protect your little ones from the rain and cold. The heat-sealed seams are water tight allowing your kids to play outdoors without fear of getting wet.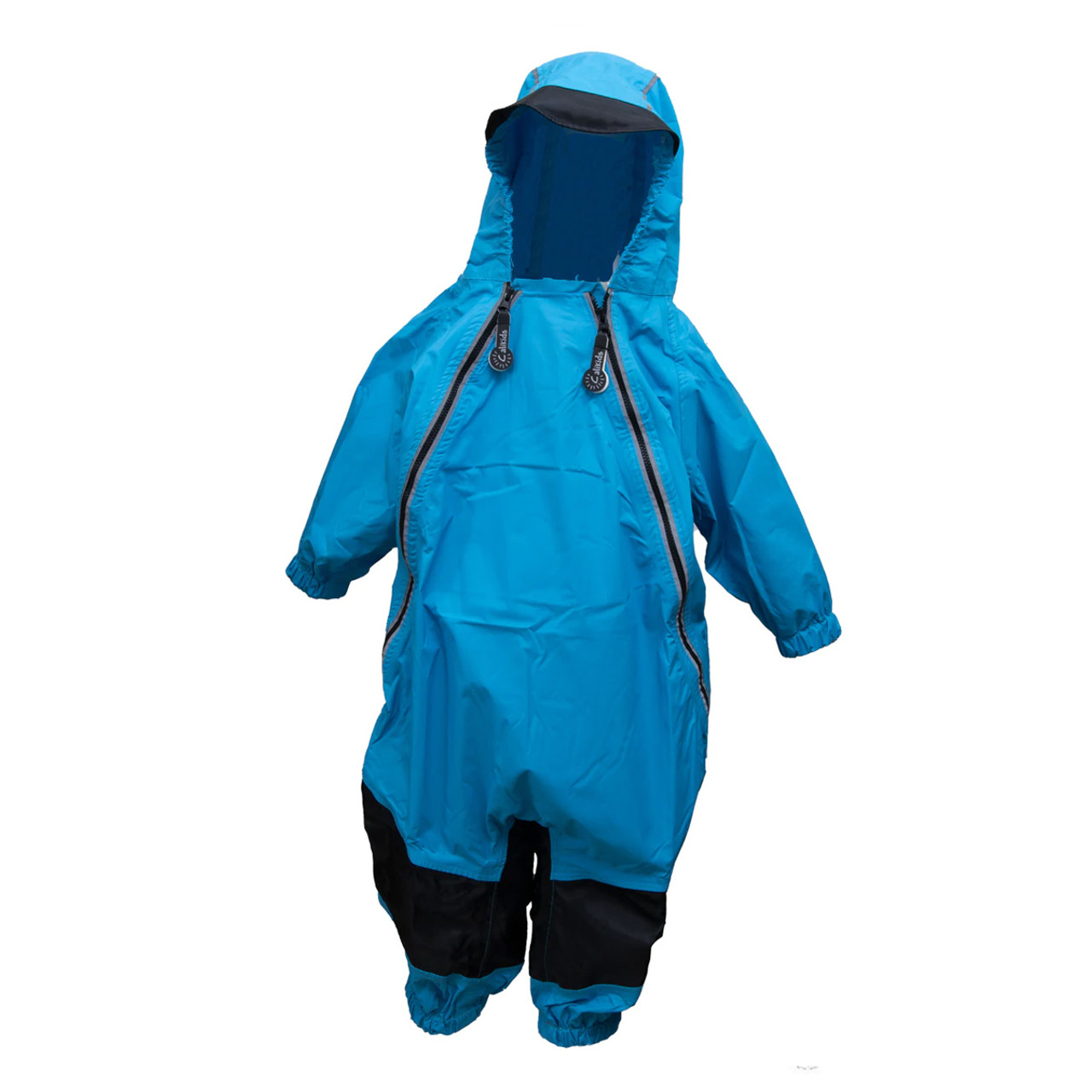 Featuring a similar design to the Muddy Buddy, the Calikids Splash Suit also features reflective trim to help ensure your child's safety when visibility is not at its best.
Rainy days needn't be a source of dread. Kids need more time outdoors and both the Muddy Buddy and the Calikids Rain Suit allow them to head out and play, even when it's raining cats and dogs.
Active Baby is your top Canadian Online Baby Store with store locations in Langley and North Vancouver.
The brands we love: Bugaboo, Uppababy, Clek, Diono, Babybjorn, Baby Jogger, Beaba, Thule, ERGObaby, Mountain Buggy, Peg Perego, Maxi Cosi, Chicco, 4moms, SkipHop, Vonbon, Little & Lively, Minimoc, North Face, Sorel, Stonz, Mymayu, Bogs, Yumbox and more.