Posted by Active Baby on 2016 Oct 12th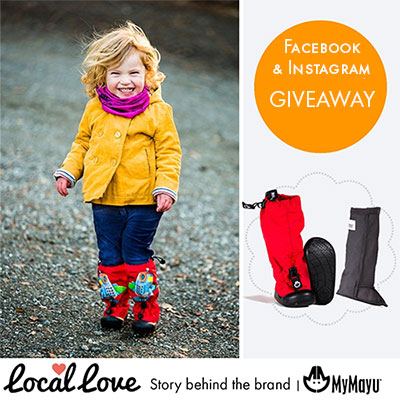 As a local community baby store, we are very passionate about bringing in well made local products that serve the community and local economy better.
We particularly love local products that were madewith the environment in mind, as well as designed to fit Canadian parents' lifestyle. In most cases, successful local brands were created by parents who were seeking out quality products for their own children. With unique designs and high-level of quality, they quickly gain popularity and reputation among local customers.
Starting in October, we are featuring one brand every month on our blog and social media platforms, sharing their stories and their products' unique features with all our customers. We are teamed up with the featured local brands to give away an amazing product to one of our lucky customer.
Make sure you go visit our Facebook Page and Instagram Page to enter to win!
Local Love Featured Brand - Mymayu - Interview with the founder & CEO of Mymayu, Suzanne Solsona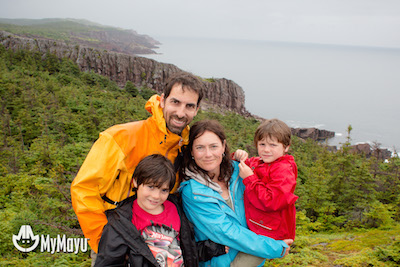 1.What's the story behind Mymayu? What inspired you to create this brand?
MyMayu was created out of necessity: a little boy without proper boots wanted to follow his big brother in the rain. Too many puddle jumping sessions had been cut short by face-plants in the water because of clunky rubber boots that were too heavy and made him trip. There had to be a better rain boot. So we designed one and MyMayu was born. Now all kids can play in real boots, not just soft booties.
We believe kids need to play outside and get mucky- in a carefree yet purposeful way. The proper gear means the freedom to wander and get dirty. Dirty kids are happy kids and happy kids mean a happy family. The proper gear also means easier clean-up and easier clean-up means happier parents. We want to make parents' lives easier and more relaxed by making quality products that are multi-functional, ethical and reasonably priced. Outdoor gear for kids needs to fit well so that adventures are not cut short. It also needs to be easily cared for so that parents are not spending precious time cleaning up. MyMayu designs products with all of this in mind. With our gear, parents can focus on the experience of playing outside with and being a part of nature with their kids.
Childhood is fleeting and our mission is to outfit kids in quality gear so that the whole family can be nurtured by nature and explore the wonders of the outdoors. No child left inside!
2.Where do you call home, and what is your favourite thing about that city/town?
North Vancouver is where we call home these days. I grew up in Southern Alberta and spent many hours playing outside and hiking the Canadian Rockies. My business partner and husband, Javier, grew up skiing in Patagonia and loves the outdoors just as much as I do. We have a hard time thinking of another place we'd rather live because being in North Vancouver allows us to kiteboard, ski, hike and camp with our kids. This is the life we love!
3.Why are Mymayu boots different from the other boots? What are the unique features of them?
MyMayu boots are different from other outdoor rain and snow boots currently on the market in several ways.
●They come in sizes to fit even the earliest walker. This was intentional, as we believe all kids should be free to roam outside in the muck and water. The smallest size should fit a 9 to 12 month old child.
●The rubber sole is ultra-lightweight, yet flexible so that kids can feel the earth beneath them while being protected from the elements.
●Whereas many conventional rubber boots are only mid-calf, the upper on MyMayu boots extends up to the knee for maximum protection from muck and water, meaning cleaner, drier clothes and fewer stains.
●The dual toggle system and lightweight upper material make the boots extremely customizable to the size and shape of your child's feet and legs. It also ensures that these boots stay on!
●The elastics at the knee and ankle are encased with upper material to prevent snags while your child is playing.
●Conventional rubber boots don't close at the top, making them prone to leaking water from the top. Not MyMayu boots! The dual elastic system provides maximum protection from water ingress from the top. If they do get wet inside, they dry in minutes over a heating vent. Conventional rubber boots stay wet for days.
●The durable, yet pliable, upper was designed to fit neatly into the sole when the boots are not being worn, minimizing storage space and maximizing portability. Fold them up and tuck them in a bag or pocket and your child has boots whenever she or he needs them!
●Layered up or down with our optional fleece liners (and or a good wool sock), MyMayu boots can be worn year-round. This means parents can buy fewer pairs of shoes for their child, making MyMayu boots a great value!
4.Why is shopping local important to you and your family?
Shopping locally designed or made products in smaller stores is important to us because it supports our local economy and reduces the environmental footprint of our purchases. Smaller stores and brands are more customer-oriented and provide a sense of connection to the overall impact that the products have on the world and our lives as individuals.
5.How many sizes Mymayu boots have and what are the age range for children?
Currently, our boots are made for kids aged approximately 9 months to 7 years. Our smallest size is Toddler 1/2 and our largest size is Youth 2.
6.Is there anything new we can expect to have from Mymayu in the future?
We will be launching a new style of boots in a few months that range from size Toddler 3/4 to Youth 3. They have a wider toe-box and different sole, but the same unique features of our Muddy Munchkins and Explorer boots. We can't wait for you to see them! We are also developing adult boots, so stay tuned! You will soon be able to take the "mommy (or daddy!) and me look to a whole new level of cool!
7.Aside from Mymayu, what is another local brand/company/product that you love?
I love Wee Woolies base layers! I sure wish they made my size! I am also careful about what goes on my family's skin, so I love Neitra body products. And of course, for all the best outdoor kid gear, Active Baby!
Active Baby offers competitive pricing on:



Active Baby has a variety of baby items at the baby stores like the Vancouver baby store and the online baby store.
Shop our Mymayu boots product range.