Posted by Active Baby Canadian Online Baby Store on 2018 Sep 20th
When choosing a convertible car seat for your child, the number one thing that is on your mind is safety. The whole point of having a car seat is to make sure your little one is secure, so it only makes sense that you would want the most secure seat available.
Diono Convertible Car Seats lead the way in safety, with a full steel frame and a proven record of surviving severe crash conditions. Diono offers unmatched safety for your child. But Diono doesn't stop there.
Diono Convertible Car Seats start out as you might expect: as a rear-facing seat with a secure 5-point harness, then it adapts to be a forward-facing seat, still with the 5-point harness. After that, it is used with a seat belt as a booster. What's more, these car seats are FAA approved for travel. Even better, they can fold for your convenience, which is something that is nearly impossible to find in other convertible car seats.
These are high-quality seats built to last you several years, from your child's birth up to 100 or even 120 pounds, so you should check carefully to determine which is the right fit for you. Your child will spend years in this seat, so it's worth taking a bit of time to review each one. And don't worry about the expiry date; Diono seats come with an expiry date ten years from the time of purchase! That's up to 4 times longer than some other brands of seat!
Each of these seats is sturdy and secure— something you will notice when you pick one up. While they may be on the heavy side, that is simply an indicator of how well they will protect your little one. All Diono seats have a steel alloy frame, with aluminum reinforced sides to offer excellent side impact protection. Your baby will ride in unparalleled comfort and safety. A heavier seat is a fair trade-off for that kind of safety.
To determine which seat is the right one for you, there are a variety of factors to consider, such as your child's size and weight, their age, and the number of children using car seats at the same time. Let's take a look at the different models!
Diono Rainier Convertible Car Seat
Of the three models, the Rainier is the one with the greatest side impact protection and is the most appropriate for a newborn. The side walls are extra deep and are lined with energy-absorbing foam for greater protection.
The extra side protection makes the Rainier a little wider than the others, meaning that at 18" wide, you will not be able to fit three across in the back seat.
Weight Range: 5-50 lbs (rear-facing), 20-65 lbs (front-facing), 50-120 lbs (as a booster)
Diono Rainier Convertible Car Seat
Diono Radian RXT Convertible Car Seat
The Radian RXT is your choice when you need to fit three seats across. Perfect for triplets, the Radian is 17" wide, allowing you to transport up to three little ones at once. It is just as comfortable as the Rainier, so you can relax knowing that your smallest passengers are comfy as well as secure.
Like the Rainier, the Radian includes an infant insert, allowing you to skip the infant car seat phase if you wish.
Weight Range: 5- 45 lbs (rear-facing), 20- 65 lbs (forward-facing), 50- 120 lbs as a booster.
Diono Radian RXT Convertible Car Seat


Diono Radian R100 Convertible Car Seat
Finally, we have the Radian R100, which is essentially a lighter-weight version of the Radian RXT.
The most significant difference with the R100 is that it does not have the second level of side impact protection that the Radian RXT does. This is not to say that it is less secure. Both seats are NCAP crash tested.
The R100 may be your best bet if you have an older child who is already using a forward-facing seat and is almost ready to transition to a booster, but still requiring the 5-point harness. Being the lightest model, it is also handy for use in another family member's car.
Weight Range: 5- 40 lbs (rear-facing), 20- 65 lbs (forward-facing), 50- 100 lbs (as a booster).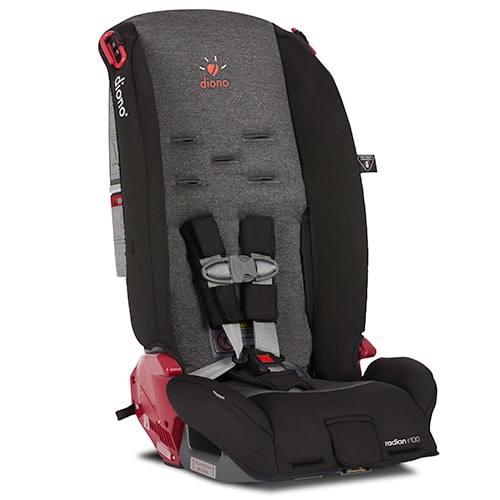 Regardless of your specific needs, you will find that the Diono Convertible Car Seats will provide your child with the comfort that they want, while giving you the ease of mind that one of the most secure car seats available can provide.
Active Baby is your top Canadian Online Baby Store with store locations in Langley and North Vancouver.
The brands we love: Bugaboo, Uppababy, Clek, Diono, Babybjorn, Baby Jogger, Beaba, Thule, ERGObaby, Mountain Buggy, Peg Perego, Maxi Cosi, Chicco, 4moms, SkipHop, Vonbon, Little & Lively, Minimoc, North Face, Sorel, Stonz, Mymayu, Bogs, Yumbox and more.
Active Baby Canadian Online Baby Store