Posted by Active Baby Canadian Online Baby Store on 2019 Aug 21st
Diono Car SeatsThe time has come to buy a new car seat for your little one. After looking at all your options (and there are many) you have finally decided on a Diono.
Good choice!
Diono may not yet be quite as popular as some other brands, but they are known for their high-quality car seats and the safety they provide to the littlest passengers. But even though you have narrowed down your search, there are still a variety of Diono models available. Which one is right for you?
Now is the time to consult the experts in Diono car seats. At Active Baby, we are here to help you with all your car seat buying needs.
About Diono Car Seats
Based in Sumner, Washington, Diono is an American company founded in 1999 under the name Sunshine Kids Juvenile Products. In 2006, Diono's Radian was the first steel-framed folding car seat. Today, they have a lineup that includes the Radian 3R, Radian 3RX, Radian 3RXT, and the Rainier 2AX and 2AXT.
Let's take a look at the Radian 3RXT and Rainier 2AX to compare the two.
Both the Radian and Rainier are excellent examples of what Diono has to offer. The two may look similar, but the Radian has a weight limit of 120 lbs, almost double that of the Rainier (65 lbs). When the seat is positioned rear facing, the Rainier is usable up to 50 lbs, while the Radian is good up to 45 lbs.
Both seats are made to be slim, with the Radian being slim enough that you may be able to fit 3 in your back seat, and both feature infant insert pillows and cushions made from memory foam. Both also share the SuperLatch system that gives an audible click when installed correctly.
With this much in common, you might wonder what makes one worth choosing over the other, but there are some differences to take note of.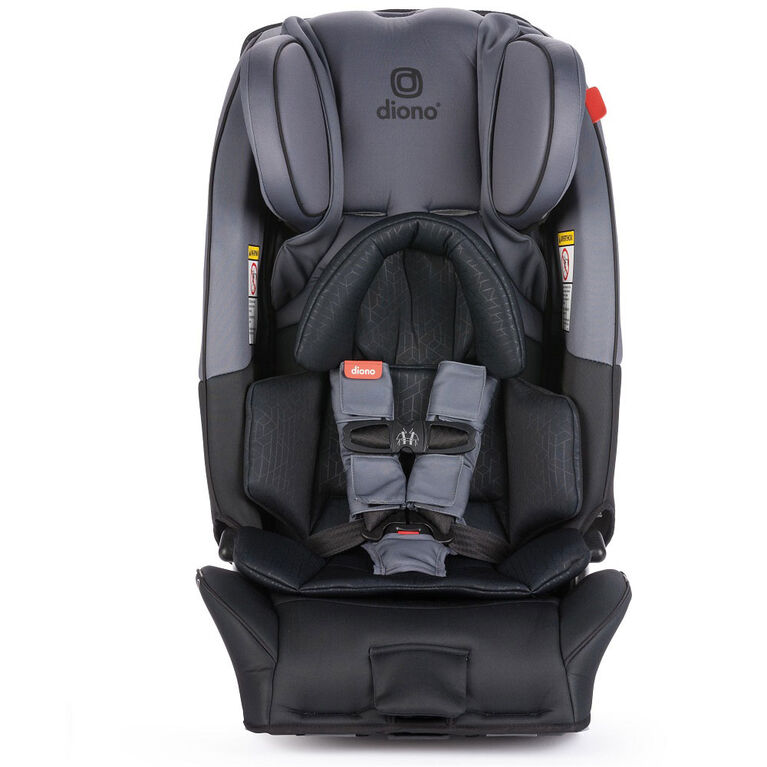 Differences Between the Radian 3RXT and Rainier 2AX
Aside from the differences in rear-facing weight limits mentioned above, other differences include:
The Rainier has a maximum forward-facing weight of 90 lbs, whereas the Radian goes up to 80 lbs
The Rainier is slightly wider at the top of the seat, reaching 18.5 inches in width
The Rainier has additional padding on the sides, which is the reason for the wider top
Some of the features of the Radian include a dual spine of high-strength steel and aluminum reinforcement that improves side impact protection. It also has 12 different positions to keep your little one comfortable as they grow.
Pros for the Diono Radian 3 RXT Convertible Car Seat
Can fit 3 across the back seat of most cars
With a weight limit of 120 lbs, it may be the only car seat you will need
Fairly easy to install or move from car to car
Folds flat for ease of travel and can be used on airplanes
Many safety reinforcements to keep your child safe
Cons for the Diono Radian 3 RXT Convertible Car Seat
Despite being able to travel with it, you may find it a bit too heavy
The harness may prove difficult to adjust
Pros for the Diono Rainier 2 AXT Convertible Car Seat
Great safety features including side impact protection, energy-absorbing foam, and a reinforced frame
Soft, comfy cushion cover that is easy to wash in the washing machine
Can keep your child rear-facing longer than most other car seats
Built-in memory foam and an infant insert for newborns
Deep side walls can keep your little one from tossing things out of the car
Cons for the Diono Rainier 2 AXT Convertible Car Seat
Lower weight limits than the Radian, maxing out at 65 lbs
Cannot fit three across your backseat
So Much More to Learn
This is just a quick idea of the differences between two of the models put out by Diono. Each one has something to recommend it, and each one may prove to be the perfect fit for your needs.
At Active Baby, we know that finding the right seat can be tricky, and that is why we are experts in Diono car seats (and many others, as well). We are here to help you make the right decision, so when it comes time to choose your car seat, come in and see us. We'll make your shopping experience easy and informative!