Posted by Active Baby Online Baby Store on 2020 May 7th
In the market for a convertible car seat for your child? The Britax Boulevard ClickTight and the Nuna Rava are two of the safest and most popular brands available right now. Both offer excellent quality and have several features in common, but there are differences that we will explore below.
Convertible Car Seat Installation
If you have any experience with car seats you will likely have noticed that there are different methods of installation. Certain brands and models will make use of UAS adapters, which are the latches that are built into your vehicle. Others are secured into place with a seat belt. Both have their advantages and disadvantages:
Seat belt systems
Seat belt systems can be a bit tricky to use. Older models were sometimes difficult to secure, as parents struggled to get the seat belt as tight as was necessary.
UAS system
UAS system latches might be hard to reach or might not be located where you want to put your seat. They also typically have a weight limit of 65 lbs, which includes both the seat and child. See your car manual for details. When your child passes the weight limit, you will need to switch to using the seat belt.
While one system might appeal to you over the other, it should be noted that both are secure and will keep your child safe if the installation is done correctly. Both convertible car ceats, Britax and Nuna aim to make the installation process simple for you. The Nuna Rava Convertible Car Seat uses the True Tension System, while the Britax Convertible Car Seat uses the ClickTight System.
Nuna Rava True Tension System
The Nuna Rava Convertible Car Seat features the True Tension System to install the car seat using a seat belt. Note that the method detailed here is for the Canadian version, which differs from the American. You will need to secure the shoulder belt using the vehicle's Automatic Locking Restraint or a locking clip.
To install, open the doors in the seat, guide your seat belt through the appropriate colour-coded belt path, with the shoulder belt through the blue shoulder belt positioner on the side, if facing the rear. Buckle the belt and press down on the seat while removing all slack. This will require an automatic locking seat belt, also known as a belt retractor. This is activated by pulling the belt all the way out and slowly feeding it back in. If your vehicle does not have an Automatic Lock on the belt, you can contact Nuna and have them send you one. Shut the True Tension doors, and you should now have a tight fit. You can test it to make sure that the seat does not move more than one inch in any direction.
The Rava Convertible Car Seat has two sets of True Tension doors, allowing it to face the rear (blue) or the front (red). When facing the rear, the Rava Convertible Car Seat has a single position, while in the forward-facing orientation, it has 5. Since there is one position facing the rear, it is advisable to have a Child Passenger Safety Technician verify the installation to be certain that you are safely set for the entire duration of your child's rear-facing stages.
Britax ClickTight System
Britax Convertible Car Seat uses a Belt Tensioning plate that allows for the seat to be installed without the struggle you might experience using your vehicle's belt retractor as described above. Simply feed the belt through the appropriate, clearly marked belt path (for either forward- or rear- facing), click the belt into place and remove any slack. Shut the ClickTight door, and check that you have a tight install. If the seat does not move more than an inch back and forth or side to side at the base, you are good to go.
The ClickTight System is unique in its speed and ease of use, making it a great choice for those who may not have much experience with car seats.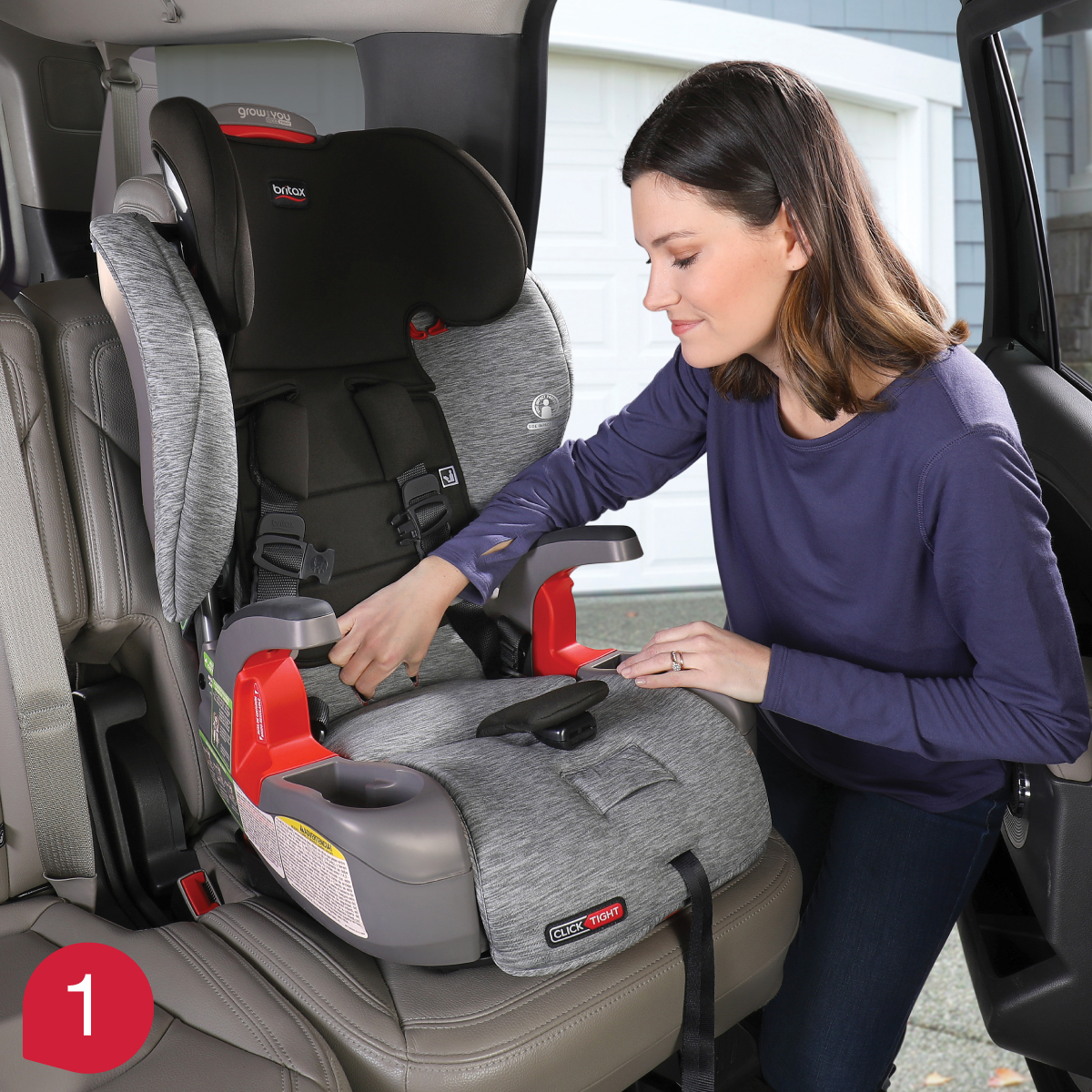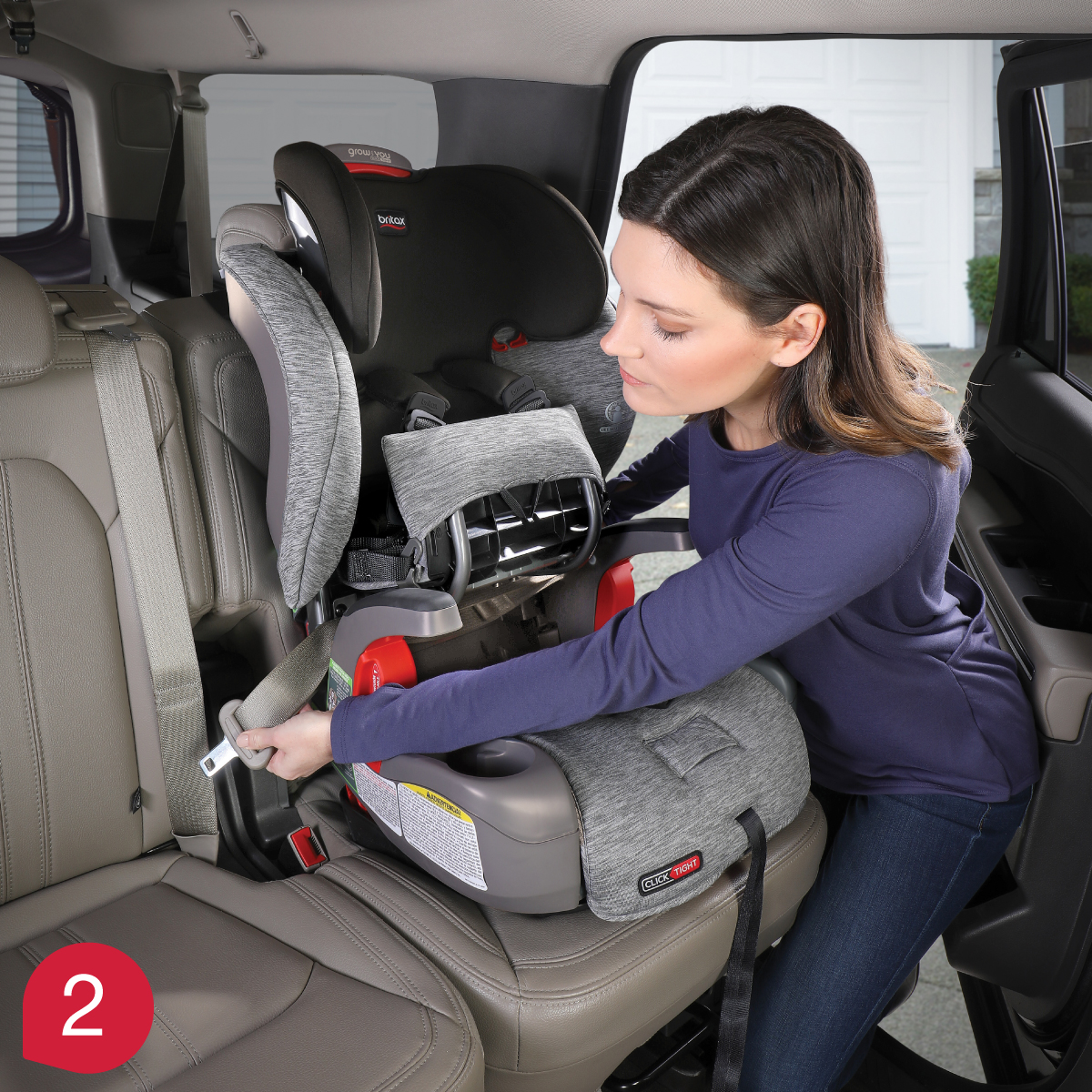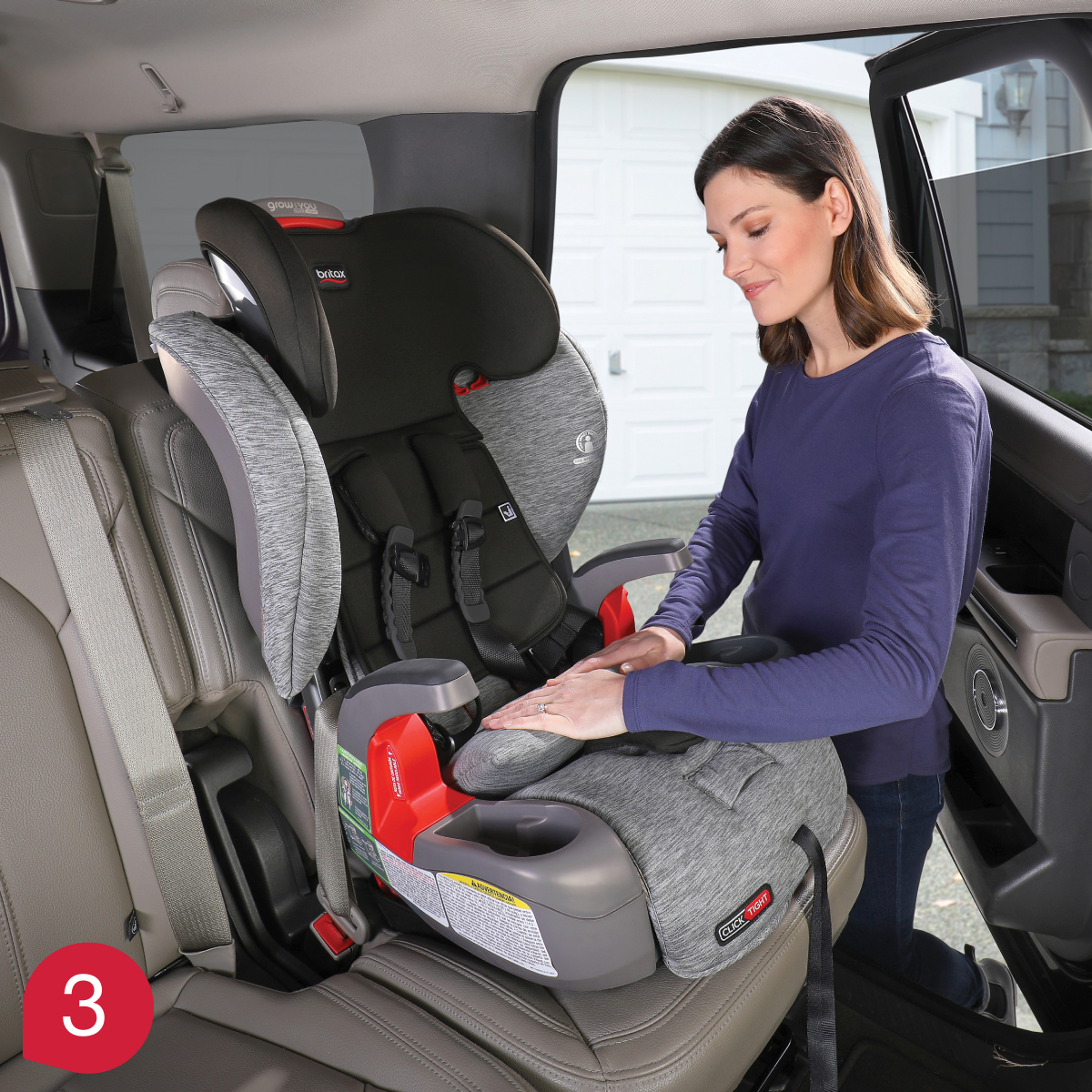 Another useful aspect of the Britax Boulevard ClickTight is the bubble-level indicator on the side. This gives you clear, immediate feedback on how reclined the seat should be. This is important when using the seat for newborns, who lack head control and cannot be too upright.
Comparing the Two
The Britax Convertible Car Seat and the Nuna Convertible Car Seat are usable from 5- 65 lbs, and to a height of 49". The Britax has a harness height of 18.65", compared to 17" on the Nuna. This is important when the seat is used forward facing, as the shoulder straps are required to be at with or above the child's shoulders. This means that even if the child fits within the weight range, they cannot use the seat if the child is tall and the shoulder strap comes from below their shoulder height.
Both seats have steel frames, no re-thread harnesses, anti-rebound bars for rear-facing installation, and 2-position crotch straps. Both also recommend seat belt installation.
While the Nuna Rava and the Britax Boulevard ClickTight have similar installations, designed to be simple and secure, the ClickTight is a bit simpler with fewer steps to install. Whichever seat you choose, however, you can be confident in knowing that your little one is travelling in safety and comfort.
----------
Active Baby Canadian Online Baby Store
Active Baby has a variety of baby items in the baby store online Canada! Brands and baby products include: When it comes to babies, you will quickly learn that babies need a lot of gear to keep them safe and comfortable. View the variety of baby gear below like car seats, convertible car seats, cloth diapers, bouncers, or go directly to Uppababy strollers, Uppababy vista, Uppababy accessories, and Uppababy car seats, a large variety of Uppababy vista stroller options, compact strollers like yoyo strollers, Clek car seats, Clek Foonf car seats, Bugaboo Cameleon, Diono car seat, Bugaboo accessories, Uppababy accessories, Thule Accessories, the Diono RXT strollers, Britax car seats, Stokke high chairs, Thule strollers like Thule spring stroller.
Baby Brands and essentials like: Bugaboo Bee Plus, Bugaboo strollers and Bugaboo accessories, Muddy Buddy,Sleeping sacs, co sleeping cribs, travel cribs, pack and play crib, Stokke chairs, Diono Radian RXT, as so much more baby gear from Canada's Favourite Canadian baby stores!
Convenient shopping at our 3 locations and visit us at our new Vancouver baby store or for added convenience on the online baby store.