Posted by Active Baby Canadian Online Baby Store on 2021 Nov 30th
Looking for a new compact stroller, but not sure which to choose?
Today we will examine four popular models, comparing them and giving you some insight to help you decide. They are: Mountain Buggy Nano, Baby Jogger City Tour, UPPAbaby Minu, and the Babyzen Yoyo.
Car Seat Compatibility
Make sure that your stroller and car seat are a good match because taking trips, heading out for groceries, or spending a day away from home will be a lot easier when they are compatible.
The

Mountain Buggy Nano

is compatible with a number of car seats, including Maxi Cosi, Mountain Buggy Protect, Peg Peregrino Primo Viaggio 4-35, Cybex Aton, Snugride Click Connect 35, Chicco Keyfit 30, Phil and Ted's Alpha, and some Graco Snugride Classic Connect seats. It is not recommended for babies under 6 months old without an attached approved infant car seat carrier.
The

City Tour Lux

will work with the Baby Jogger City GO, Britax/ BOB, Chicco, Cybex, Graco, and Maxi-Cosi when the appropriate adapter is used.
The

UPPAbaby Minu

is compatible with the UPPAbaby Mesa, Maxi-Cosi, Nuna, and Cybex when paired with the correct UPPAbaby adapters.
BabyZen Yoyo

offers only a single type of adapter, which works with the Cybex (excluding Cybex Cloud Q), Maxi-Cosi, and Nuna car seats.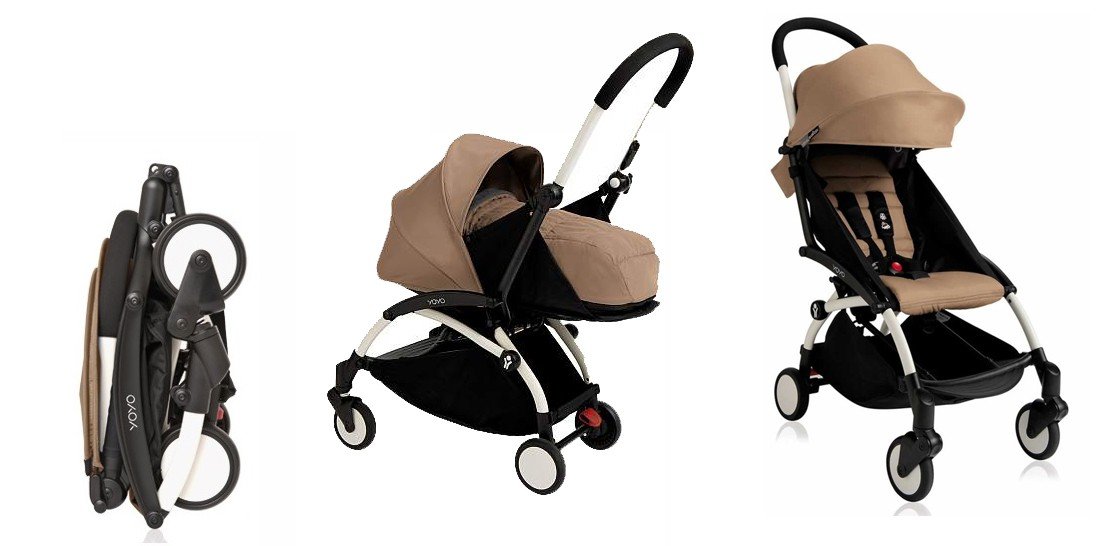 Bassinet Compatibility
Depending on your needs, bassinet compatibility may be as important as car seat compatibility. Perhaps even more so.
The Mountain Buggy Nano is suitable from birth with the purchase of the Cocoon carry cot. This lightweight bassinet is comfortable, easy to attach, and folds flat, making it easy to travel with. This optional addition is a bit short, however, and a longer baby may outgrow it before being old enough to sit in the stroller without it.
The City Tour Lux Foldable Pram is an optional bassinet that can hold a baby from birth to 20 lbs, allowing for from-birth use. It can fold down to half-size either attached to the stroller or on its own.
The UPPAbaby Minu has the optional From Birth Kit, which features a removable, washable mattress that allows baby to lie flat. The kit attaches to the stroller frame in place of the main seat.
The Babyzen Yoyo comes with a newborn nest with a 5-point harness, allowing baby to lie parent-facing. There is an available Newborn Pack, which is a flat carry cot with adjustable strap, 2-position canopy, a foot cover, and headrest.
Price Difference
There is a wide price range between these strollers, with the Mountain Buggy Nano coming in at the low end. At $349.97, the Nano is easily the most affordable, with the City Tour coming closest at $399.97. Moving on from there, the Minu is available at $589.99. Babyzen Yoyo is the most expensive, at $619.96
Other Factors.
For many, stroller weight is an important factor, especially when travel is involved. Mountain Buggy Nano is the lightest of the four, weighing in at 13.3 lbs. Babyzen Yoyo comes next at 13.7 lbs. UPPAbaby Minu is a still-light 14.8 lbs, and City Tour is the heaviest of the bunch at 19.6 lbs.
At this point, the Nano may stand out being inexpensive and light. It is a bare-bones stroller, allowing for the lower price. It features a compact fold, and rather good manoeuvrability, but lacks any real standout features. Although it is the least expensive of the bunch, one could reasonably expect a little more for the price.
The City Tour is practically the same in weight, and also manoeuvres quite well. Despite the light weight, it is made of durable materials and feels solid. It has lockable front wheels, giving more stability on rough terrain, an easy-access storage basket with a capacity of 15 lbs, two additional side pockets, an extendable UV 50+ canopy, and a mesh peek-a-boo window.
The UPPAbaby Minu has a number of features that make it a pleasure to use, including a spacious basket accessible from front and back, a roomy seat that can accommodate older and taller children, and an easy one-hand fold. It manoeuvres well, handling tight corners and crowds with ease.
The Yoyo is known for having a super small fold. It become so compact, in fact, that it fits in the overhead compartment of commercial planes and is recognized as carry-on by most airlines (though it is always worth double-checking). While folding the Yoyo is slightly more involved than some other strollers (though still easy) the incredibly compact size makes it worthwhile, and unfolding it takes a fraction of a second. Its wheels, while small, are puncture-free and both the wheels and chassis are fitted with suspension that offer a smooth ride. It turns well, is easily manoeuvrable, and is an excellent city stroller.
Of course, while each stroller has its own strong points, the one that is right for you will depend on your own personal situation. Regardless of your choice, each one offers value and dependability.
Active Baby is your top Canadian Online Baby Store with store locations in Langley and North Vancouver.
The brands we love: Bugaboo, Uppababy, Clek, Diono, Babybjorn, Baby Jogger, Beaba, Thule, ERGObaby, Mountain Buggy, Peg Perego, Maxi Cosi, Chicco, 4moms, SkipHop, Vonbon, Little & Lively, Minimoc, North Face, Sorel, Stonz, Mymayu, Bogs, Yumbox, BabyZen Yoyo and more.