Posted by Active Baby Canadian Online Baby Store on 2020 Nov 19th
Anyone familiar with Bugaboo (and if you are a parent, that probably means you) will be excited to know that there is a new Bugaboo Bee in town. Already renowned as an amazing and compact stroller, is it even possible for it to get any better?
We are glad to say yes, it can.
The Bugaboo Bee6 is here, and it represents far more than just a few minor tweaks. In fact, the Bee6 is the result of a major makeover that makes it better than ever. Let's review the changes that bring the Bee6 to a whole new level of comfort, style, and performance. They include: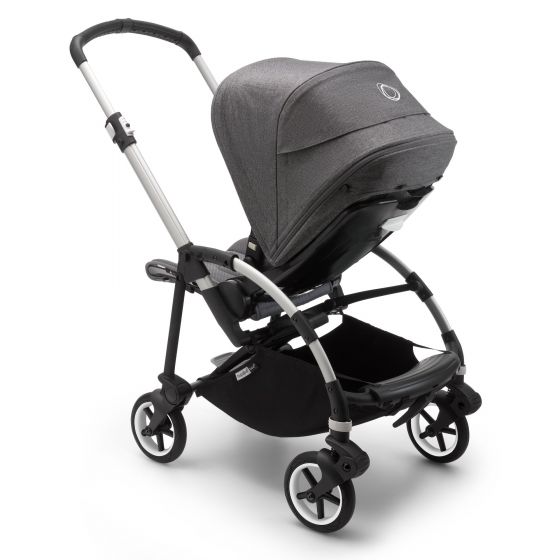 Bigger Wheel Design.
The puncture proof front and back wheels not only look better than ever, but they are also now 7", offering an easier push.
Improved Seat.
The Bee6 has high-performance, fully washable seat fabric that offers extra comfort and reduces heat build-up. The seat is now 17.32 inches wide and combined with the improved weight capacity of 50 lbs, it gives more room to grow and can be used longer. Additionally, a rotating bumper bar has been added for extra safety.
Improved Canopy.
The redesigned canopy is made from a durable canvas fabric and now has a peekaboo window and a breezy panel for greater airflow. Like the Bee5, it offers UPF 50+ protection.
Improved Bassinet.
The optional bassinet has also been upgraded to include a breezy window and higher adapters. It has also been made easier to remove from the base.
Integrated Self Stand.
The Bee5 and Bee6 both feature the convenience of a one-hand fold, but the Bee 6 goes a step further with a self-stand accessory built right in, making storage even easier.
Improved Handlebar Grips.
The new handlebar grips feature integrated bends for greater protection and greater comfort by addressing a consumer pain point.
New Improved Aesthetic.
The Bugaboo Bee6 is a gorgeous stroller that not only performs great, but it also looks great.
The Bugaboo Bee was already a well-loved stroller and these changes are sure to keep it at the head of the class. The Bee6 is built to navigate busy city streets and crowded locations with ease, while keeping your little one safe, secure, and comfortable. Compact enough to hop onto public transportation or into a taxi, the Bee let's you go everywhere you need to go.
Other features:
Usable from birth to 50 lbs
Independent 4-wheel suspension
Reversible seat: baby can face their parent or the world ahead of them
Five-point harness with height-adjustable shoulder straps
Folded dimensions: 35.4" L x 18.3" W x 13.7" H
Unfolded width: 21"
Underseat basket weight: 8.8 lbs
The Bugaboo Bee6 continues in the tradition of its predecessors by offering an easy, nimble push, with comfort and safety all wrapped in an attractive package. Come check it out today and see what all the buzz is about.