Here are our top 10 picks to add to your baby registry! Also check out our newborn checklist for more registry inspiration.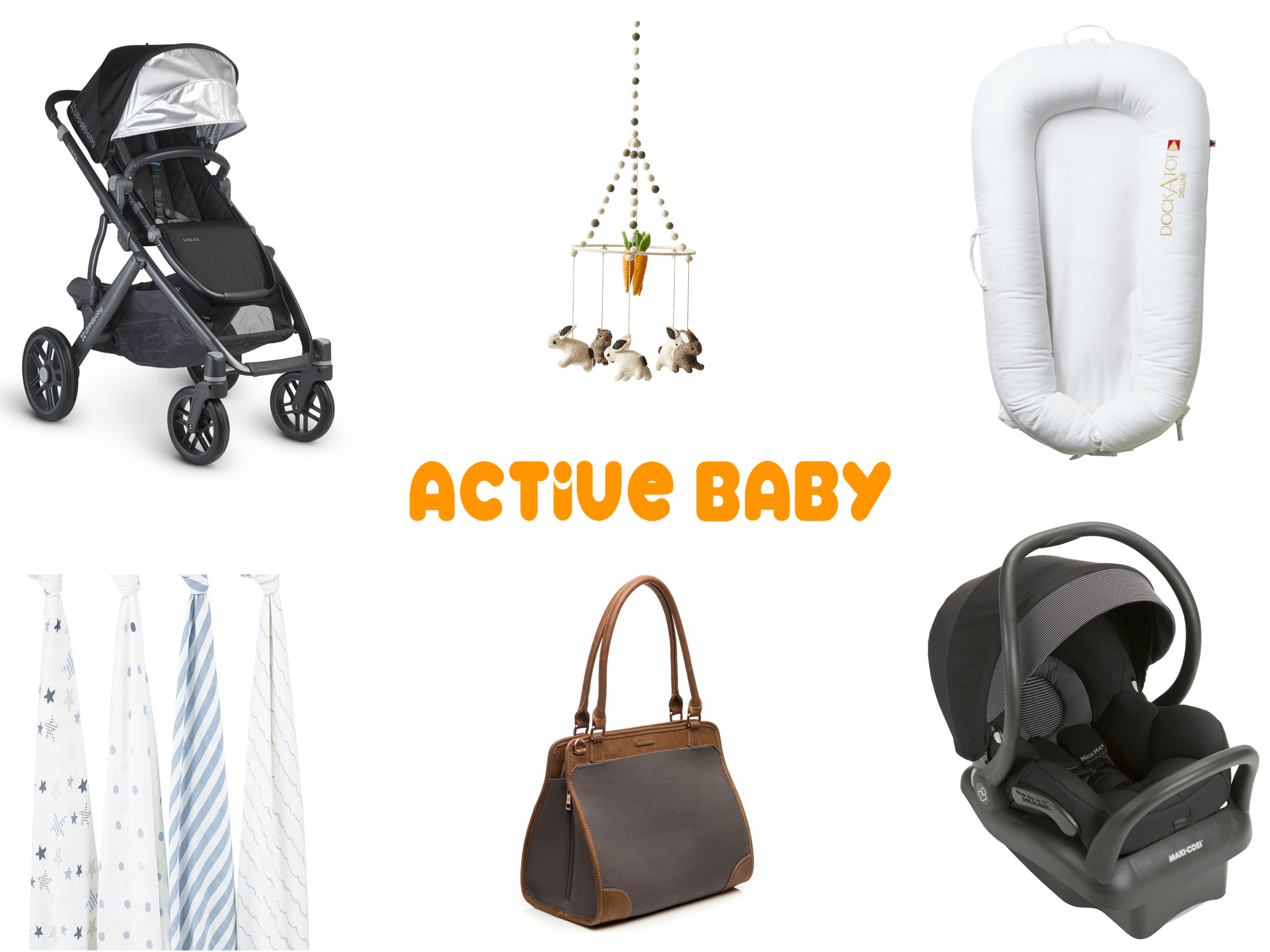 The Deluxe Dock is the ultimate docking station for your baby from 0-8 months old. Multi functional and multitasking, the Dockatot Deluxe offers a safe and comfy spot that lets baby rest, lounge, play, cuddle, do tummy time a get diaper changes. It is lightweight and portable to make travelling easy!
A good baby carrier is a must have for new mums and dads! Here at Active Baby we recommend a Tula baby carrier, as they have options to meet all of your needs. Tula Baby Carriers are made from 100% cotton canvas and quality fabrics and come in a wide range of fun prints and colours. The Tula Baby Carrier is available in two sizes, Standard (Baby) and Toddler and are made to allow for easy breastfeeding.
A car seat is by far one of the most important purchases to make for the little one on the way. Finding the perfect car seat can be such a struggle, but look no further; adding the Max 30 to your registry will put your mind at ease. With all the safety and comfort features you could ask for and the lightest and sleekest design out there, Maxi Cosi's Max 30 is our top recommendation for car seats. Find out more here
Add a touch of comfort and uniqueness to your nursery with a Lolli living fitted sheet. With 100% cotton, your little one will love how soft the Lolli Living fitted sheets feel. With a variety of patterns and themes to choose from, you can mix and match to create the nursery that suits your style best.
The Keekaroo Peanut has a modern look, is easy on the eyes, and doesn't rely on changing pad covers. Your baby can lay down right on this comfortable, but easy-to-clean pad that comes in a variety of bright, modern shades, as well as the ever-so-popular grey colour. Do yourself a favour and add the Keekaroo to your registry so you can simply changing time.
The UPPABaby Vista Stroller is a high-quality baby stroller that is able to easily adapt to the needs of a growing family. This stroller comes available with a one-step fold that is able to compact down for easy transport or storage. With its expandable seat, it allows for you to have two rear or forward facing seats that recline for the toddlers in the family. It comes available with a 50+ sunshade and a ventilated canopy that is able to extend across the top of your child for added protection in the sun. Complete with an aluminium frame, it provides lightweight handling and easy manoeuvrability
All aden + anais swaddling wraps are available in fashion forward prints that are perfect for swaddling a newborn, for loosely covering a stroller or car seat while baby sleeps or as a lightweight blanket for the future! These Pack of three muslin swaddling blankets are made using rayon from bamboo fibers, and are also extra large, so that new and seasoned parents alike can swaddle babies of all sizes with ease.
For both cloth and regular diapers the Ubbi diaper pail will suit whatever decision you make for diapering. Made of stainless steel, it does not absorb odours over time. Also, its sleek design and colours will match any part of your home.
PS: You can use regular trash bags! And Ubbi offers a reusable cloth bag if that suits your lifestyle.
Made with busy mums in mind, these baby books make writing down moments and details as simple as possible. We love how easy the writing prompts are to fill out, it makes remembering those details that much simpler and completely personalized. Pages such as "Big News, Firsts, & A Letter from me to You" are just some of our favourites. You'll love looking back at all of the memories when your little one grows up and reflect on the moments that you captured in your Mushy Book.
We love the Little Unicorn Manifest Weekender because it offers so much packing space! This is great for when you are out all day, toting around on a road trip or even for everyday use. Offering 8 organizational pockets one of which is a tech pocket, a key hook and side zippers the Manifest Weekender makes it easy to stay organized. It's made out of durable cotton canvas and vegan leather so this bag will hold up to the abuse we often put our diaper bags through. Plus it looks stylish and comes with a side carry strap!
BabyBell bandana bibs are handmade with double layered with 100% cotton on the front side, micro fleece on the back side with extra stitches along the edges.The bibs are super soft with the touch of cotton and fleece. The cotton side makes the bibs extremely absorbent and the fleece on the back side prevents soaking through and keep the baby dry at all time. The stylish and trendy pattern makes the bib a great accessory to all your baby's outfits. They are oh so cute! Babybell bandana bibs has 2 sets of adjustable snaps and allow the bib to grow with the child from newborn to 3 years.