Bugaboo Bee5 Wheel Caps
Change your wheel caps with the seasons or just to give your stroller an update. It's easy to click them on and remove them from the wheels.
Features & specs
sold as a set of 6 - 2 rear wheels, 4 swivel wheels.
available in 4 selections.
Bugaboo Bee5 Mix & Match Option:
please follow the Box Guide Below and add all items to your cart separately to build a Color Combination that best suits your needs.
Box 1

(Sku: 19167) - Bugaboo Bee5 Stroller Base

Box 2

(Sku: 19168) - Bugaboo Bee5 Stroller Seat Fabric

Box 3

(Sku: 18793) - Bugaboo Bee5 Stroller Extendable Sun Canopy

Box 4

(Sku: 18802) - Bugaboo Bee5 Stroller Grips

Box 5

(Sku: 18923) - Bugaboo Bee5 Stroller Wheel Caps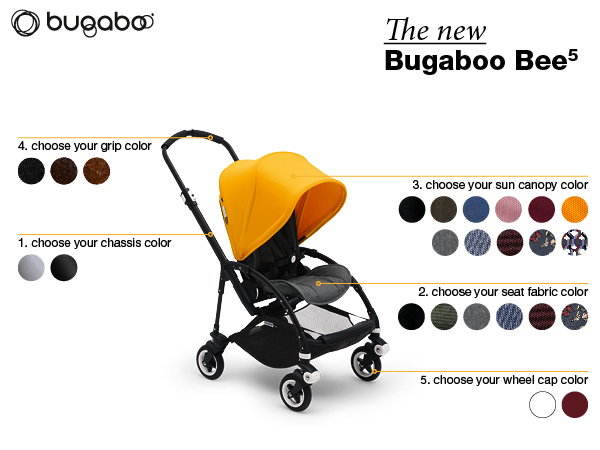 You also have an option to add a bassinet for New Born up to 6 months, that includes 2 items: Bugaboo Pram Body Base (Box 6) and Bugaboo Pram Body Fabric (Box 7)
Box 6

(Sku: 15763) - Bugaboo Pram Body Base

Box 7

(Sku: 16855) - Bugaboo Pram Body Fabric