Product Details
Baby Bjorn Play Yard Light - Black Mesh
The Baby Bjorn Play Yard Light is the ultimate travel companion for parents and their little ones. Weighing only 13 lbs, it's a lightweight and easy-to-carry pack-and-play option, perfect for all kinds of trips. Once set up, it's effortless to move around, and its smart design allows for easy storage and portability. This cleverly designed play yard is suitable for both short visits to friends' homes and longer journeys. With its removable and washable material, it's easy to keep clean and fresh. Suitable for babies and children aged 0–3 years, it ensures a safe and comfortable space for your child's adventures.
Easy set-up and fold up, the super lightweight Baby Bjorn Play Yard Lite is perfect for home and travel. Just open the bag, lift out the play yard and set it up in one simple movement. There are no loose parts to attach. The legs unfold automatically and once you have put the mattress in you have a stable play yard to use at home or on trips. When you are not using it, simply fold it up and store it in the practical bag.

Features:
Weighs only 13 lbs / 6 kg making it a perfect pack-and-play Play Yard option.
Easy to move around once set up, and the bag's smart design means that the play yard is easy to store, carry and stow in any baggage space – perfect for all kinds of trips.
The lightweight and cleverly designed play yard is perfect for both small and great adventures. It is as ideal for paying a short visit to a friend's home as it is for longer journeys.
Removable and washable play yard material
Can be used for babies and children aged 0–3 years
Tested and Safe:
The textiles closest to the child have been tested and approved in accordance with Oeko-Tex Standard 100, class 1 for baby products. They are guaranteed harmless to children's sensitive skin and will not trigger allergies.
Easy To Take Along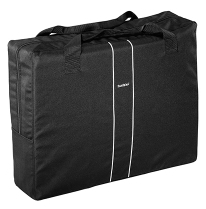 Simple Set Up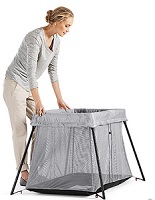 Unfortunately, due to the nature of this item, we cannot accept any returns or exchange on parts. This product is excluded from any coupons. We are only able to ship this item to Canadian customers. Shipping to remote areas may incur extra shipping charges
Baby Bjorn Play Yard Light - Black