Posted by Active Baby Canadian Online Baby Store on 2021 Dec 6th
Ever since 2006, UPPABaby has been making excellent products for babies, starting with the original Vista stroller. Over the years, their reputation and popularity have grown, along with their product line. Today, UPPABaby's lineup includes car seats of the same exacting quality as their strollers, making them a top choice for parents everywhere.
UPPABaby offers three car seats that cover different age ranges:
UPPAbaby Mesa Car Seat
This rear-facing seat is designed for infants up to 1 year of age, making it suitable for children weighing between 4 and 35 lbs (1.8 to 15.8 kg) and up to 32 inches/ 81 cm in height. It is designed to be as simple to install as possible so that it is quick and intuitive, but most of all, safe. Because the installation is effectively errorproof, you can rest assured that your child will be secure, and that is always the single most important consideration.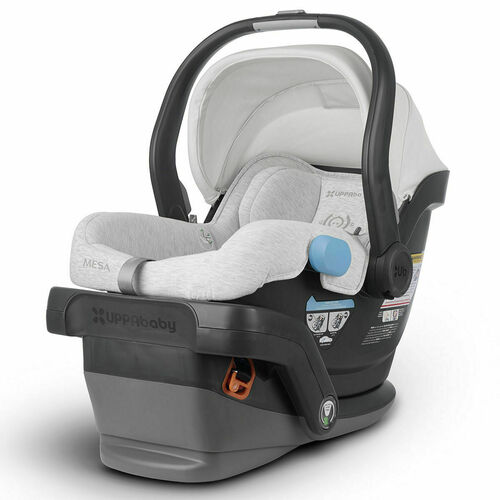 \
To protect your little one, the seat exceeds all Federal crash testing guidelines. It features side-impact foam and LATCH protectors that retract into the base when not in use. When attaching them to the car's anchors, they click audibly, letting you know you have connected them properly. When you attach the base, it ratchets tighter simply by pressing on it, with an indicator that switches from red to green to let you know when it is tight enough. The easy installation (with or without the base) makes it a great choice for those who travel a lot, using taxis and public transport.
The UPPAbaby Mesa Car Seat uses materials that are naturally fire resistant, which means there is no need for chemical flame retardants, a point of concern for many parents. Both the blue ("Henry") and grey ("Jordan") versions of the seat use merino wool, which passes federal safety standards for fire resistance. UPPABaby recommends washing them by hand and laying them flat to dry, though some customers have machine-washed them without incident.
All in all, the UPPAbaby Mesa Car Seat is a safe, secure, comfortable, easy-to-use seat for your little one.
UPPABaby KNOX Convertible Car Seat
With the KNOX, UPPABaby ventures into the convertible car seat market. Convertible seats are so named for their ability to switch from rear facing to forward facing.
The rear-facing option is ideal for younger children. Recognized as the safer option, it is recommended until the child reaches the limit of 45 lbs (20.4 kg). The forward-facing weight range is 25 to 65 lbs (11.3 kg to 29.4 kg). Given that kids grow at their own unique rate, you'll need to keep an eye on their height. The UPPABaby KNOX Convertible Car Seat has an overall height limit of 49 inches (124.5 cm).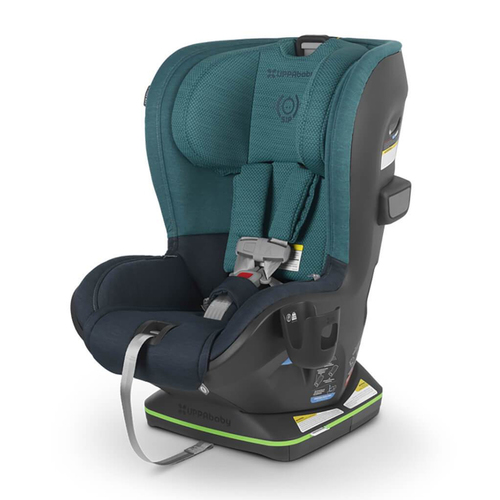 The seat's rear installation uses UPPABaby's Smart Secure system. This allows for seat belt installation and features tightness indicators to guide parents in ensuring a secure fit. The seat also makes use of a multi-directional tether to give additional stability that, in the event of an accident, can reduce crash force by 45%.
The UPPABaby KNOX offers great protection to your child in the form of a newly adjusted headrest, expanded polypropylene (EPP) foam between the inner and outer shells to absorb crash force, and protective side impact pods. Even more impressive is the inclusion of koroyd, a material created from tens of thousands of co-polymer extruded tubes, developed from safety research in the aerospace industry. Koroyd's welded tubes crumple instantly and in a consistent manner, giving highly advanced impact protection by absorbing the maximum amount of force, minimizing what is transferred to your child.
The UPPABaby KNOX Convertible Car Seat offers outstanding protection to your little one, making it a choice that is hard to match.
UPPABaby ALTA High Back Booster Seat
Once your child has outgrown the KNOX, their next step is the UPPABaby ALTA. This booster seat is designed for kids from about 6 to 10 years of age, weighing between 40 and 100 lbs (18 to 45 kg) and up to 57 inches (145 cm) in height.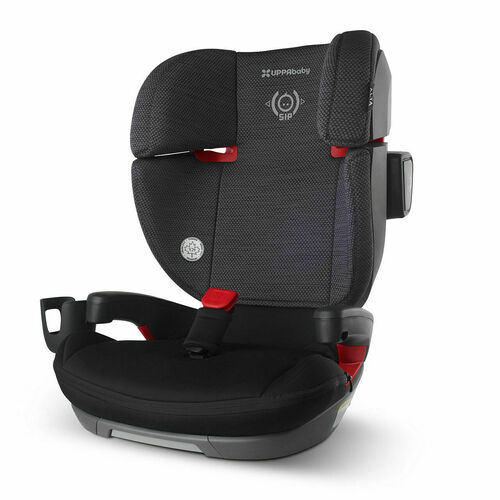 The UPPABaby ALTA High Back Booster Seat high-backed booster features an adjustable, 7-position headrest to protect the head and shoulders. It also has a wide shoulder space, helping to make this high-quality seat extra comfortable even for older kids. Side impact protection absorbs the majority of energy in the event of an accident, and the rigid LATCH system keeps the seat securely in place. The back itself is made of EPP memory foam, providing both comfort and safety.
An important and useful safety feature is the SECUREfit belt routing path and lap belt positioner. These ensure that the seat belt is put on the right way every time. The lap belt positioner goes between your child's legs to clip onto the seat belt, preventing them from sliding under the belt. Knowing that proper seat belt positioning can prevent neck and abdomen injuries in an accident, these features are an excellent addition.
The LATCH system, located at the back of the seat, connects to your vehicle's anchors. This both secures the seat and also positions it correctly. The easy-to-use system has green indicators to let you know when you have installed it correctly so that you can feel secure knowing that your child is safe during your travels.
UPPABaby car seats are a reliable, high-quality means of keeping your child safe while also letting them ride comfortably. It's no wonder that UPPABaby car seats are a top choice for so many parents with kids of any age.
Active Baby is your top Canadian Online Baby Store with store locations in Langley & North Vancouver.
The brands we love: Bugaboo, Uppababy, Clek, Diono, Babybjorn, Baby Jogger, Beaba, Thule, ERGObaby, Mountain Buggy, Peg Perego, Maxi Cosi, Chicco, 4moms, SkipHop, Vonbon, Little & Lively, Minimoc, North Face, Sorel, Stonz, Mymayu, Bogs, Yumbox, BabyZen Yoyo and more.