This holiday month, we are featuring Jax & Lennon as one of our proudly carried local brands. We love their soft bamboo fabric and their gender neutral design. Beside the top quality of their clothing, all the clothes from Jax & Lennon are locally stitched and hand made in lower mainland. We hope you, as we do, to support local business and local entrepreneur like Kelsie Power. We are also very excited to teamed up with them to give away some of their amazing clothing this holiday season. Below is the interview with Kelsie Power, the owner of Jax & Lennon.
What inspired you to create Jax & Lennon Co.? How was Jax & Lennon Co. created?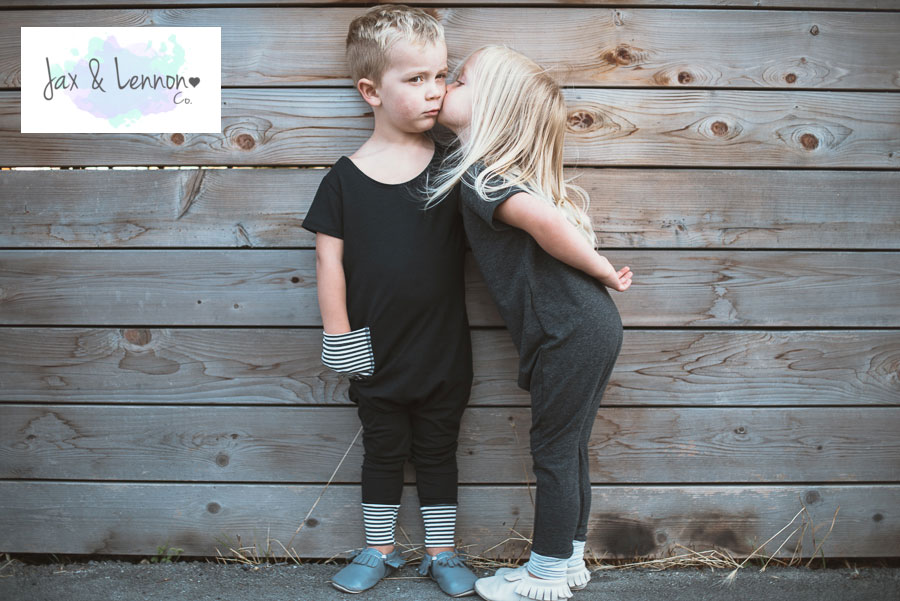 After my son Jax was born I had a very hard time finding modern, comfortable and fashionable clothing that fit his tiny waist. I had been sewing for years so I began to sew my own designs for him. My aesthetic leans toward gender neutral color and design. Quickly friends started to ask me to make clothing for their littles as well, it just exploded from there!
Where do you call home, and what is your favorite thing about that city/town?
Most people don't know this but my true home is Newfoundland, although I've lived here for 13 years I will always call that home. People are so friendly, so easy to talk to, and so very kind & I love that about Newfoundland! Of course Vancouver is such a beautiful, liveable city full of opportunity and fabulous people I couldn't imagine raising my family, and my business anywhere else!
What makes Jax & Lennon Co. different from other children's clothing lines?
We focus on modern basics, you will find everything you need for your little one from birth to six years old. We design many gender neutral items, when you visit our website you will not find a girls section and a boys section. Most items are interchangeable and encourage children to be individuals. We offer many different items in a variety of colors and styles making us a one stop shop which is definitely what sets us apart from other children's clothing lines!
Is Jax & Lennon Co. made in Canada?
Yes absolutely everything is sourced & designed by me and made right here in the lower mainland!
What type of fabric do you use?
We use predominantly bamboo fabric, ethically sourced and certified STANDARD 100 by OEKO-TEX® This is a worldwide consistent, independent testing and certification system for raw, semi-finished, and finished textile products at all processing levels, as well as accessory materials used. We also introduce limited edition styles and prints seasonally that are occasionally different fabrics but we always ensure our products are ethically sourced and use non-toxic dyes.
What is the benefit of bamboo over organic cotton fabric?
Bamboo fabric is light and strong, buttery soft, silky and luxurious to the touch (often compared to cashmere!). It is breathable and temperature regulating – allowing our littles to stay comfortable whatever the weather; keeps them cool in summer and warm in winter. Bamboo is hypoallergenic; it is a natural solution for those with sensitive skin or sensory challenges. It is more absorbent than cotton – helps to wick moisture away from the skin – a perfect layer for little athletes!
If that isn't enough, bamboo is:
-Anti-bacterial: 3 times more effective than Cotton Products.
-Anti-static: 12 times more effective than Cotton Products.
-Hygroscopic: 60% improvement in Comparison with Cotton Products.
-Deodorization: 30 % improvement in Comparison with Cotton Products.
Why is shopping local important to you and your family?
It is so important to me to support other entreprenures. I love meeting the people behind the brand & growing that personal connection. It feels so special to be able to support those hard working people! Local businesses employ local people, You aren't putting money into the pockets of a board of directors or shareholders in another country. The money you spend with a local business goes right back into the community in the form of employee wages, local activities & programs, education, and shopping at other local businesses. That money puts food on the table, puts kids through school & extra curricular activities, and creates even more opportunities for the businesses you shop at to grow and serve you better. There is such a wonderful diversity of unique products to choose from and it is very satisfying to know your purchase is encouraging the creative talent of your community!
What is your best seller and what sizes do you carry?
Our 2 best sellers every season are definitely our rompers and our universal covers, they're always a favorite!! We offer sizes NB up to 5/6 years and we also offer ladies sizes!
Please tell us about some of your new fall/winter products.
We are constantly bringing new items in! Right now one of our best sellers from our winter line is our crew neck pullovers, they're so thick and warm for this cool weather! We have also just released a limited edition floral long sleeve dress that has been flying off the shelves!
Is there anything new we can expect to have from Jax & Lennon Co. in the future?
Of course! We are constantly releasing new colors, playing with new ideas, and launching new products! As a matter of fact our J&L ladies line has been so successful and we are producing new designs as we speak!
Aside from Jax & Lennon Co., what is another local brand/company/product that you love?
How do I choose!? There are so many amazing local entrepreneurs! My favorites are definitely Minimoc Moccasins for my kiddos & K'Pure Naturals for the whole family!