Posted by Active Baby Canadian Online Baby Store on 2022 May 24th
Looking for a great highchair for when your little one arrives, but not sure which one is right for you? Whether you are seeking a budget-friendly chair or something higher end, there are many makes and models available to suit every need.
Your child's highchair is an indispensable piece of equipment that not only keeps them safe and secure while eating but also allows them to join the rest of the family at the table for mealtime. It should include a three- or five-point harness, stable legs to keep it from tipping when baby leans over the edge, and a post between baby's legs to help keep them in place.
Types of Highchair
At first glance, it might appear that all highchairs are essentially the same, but there are actually several different types, such as the standard stand-alone that parents have been using for decades, adaptable seats that adjust to accommodate babies and older children, compact highchairs, and foldable or lightweight portable ones.
While highchairs all serve the same basic purpose, these different types can add greater value, depending on your needs. An adjustable chair, for example, will serve you longer than a standard chair, meaning you are less likely to have to replace it as your child grows.
Choosing The Right Chair
There is no single right chair for every family. You should consider which features are must-haves and which are those you can live without. For example, how long do you anticipate using it? Will you leave it out when not in use or do you want one that can fold up for storage? Is style a consideration or are you only concerned with functionality?.
There are times when having too many options can make it difficult to decide. To help you narrow down your choices, here are some of the best baby chairs currently available.
Stokke Tripp Trap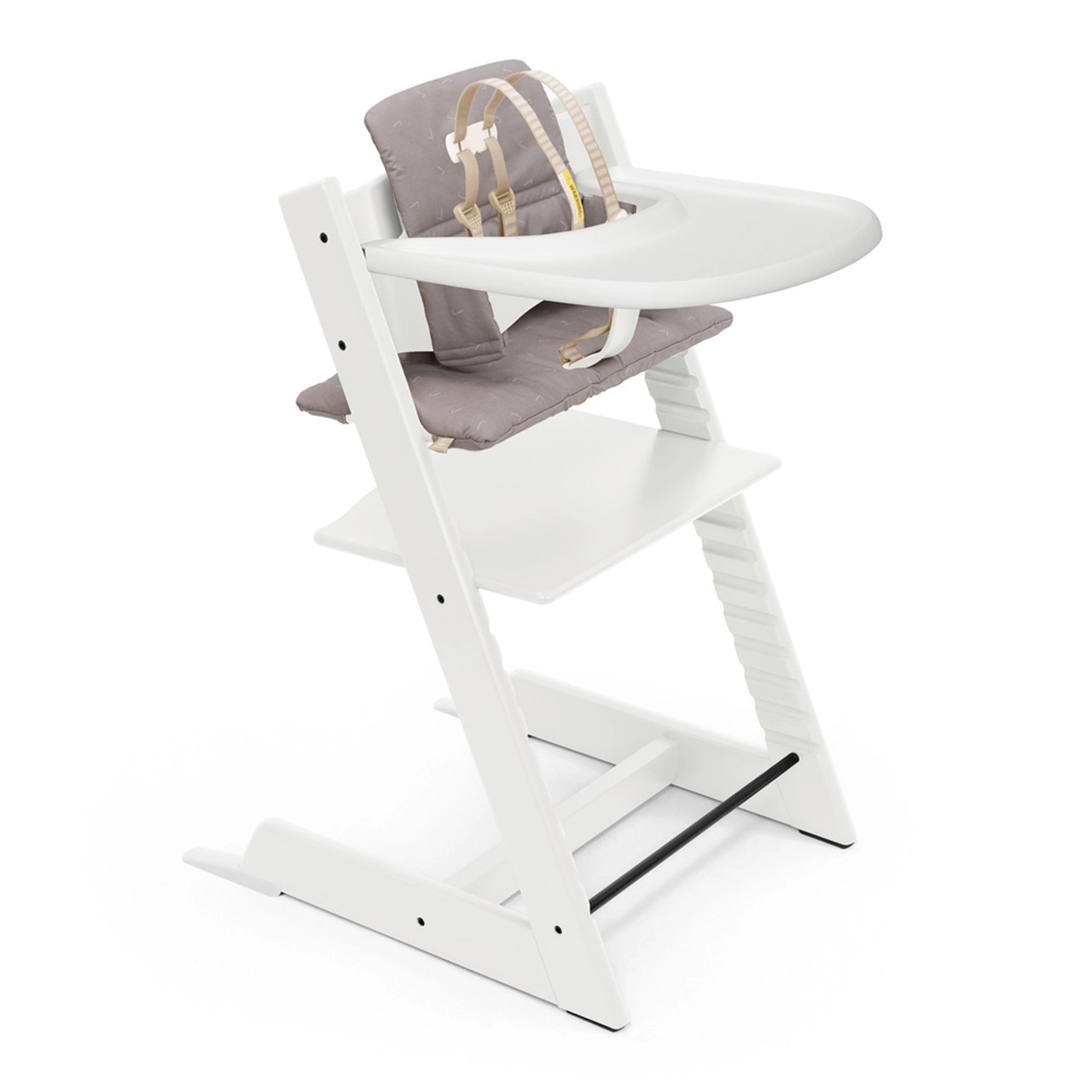 First launched in 1972 the Stokke Tripp Trapp is on the must-have list for many parents. With its modern and adjustable design, the Tripp Trapp is suitable from birth through childhood and is sturdy enough to support an 85 kg adult.
Made with European beech wood, it is easy to clean and free from bisphenol, phthalates, and other harmful substances. With an adjustable seat and footplate, it offers support for the back and feet at all ages. The included baby set and five-point harness ensure that your little one stays safe and comfortable.
Stokke Clikk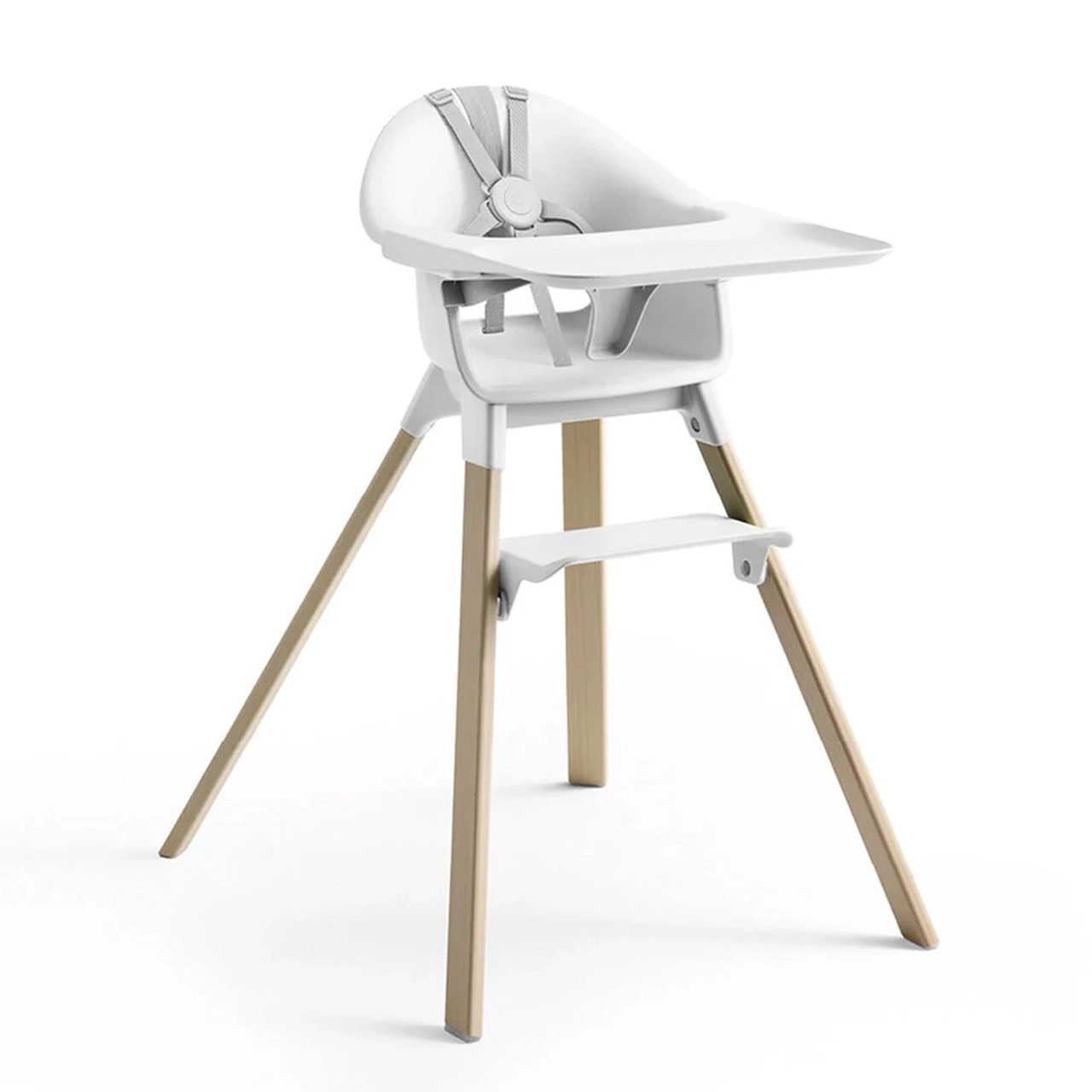 Another offering from Stokke, the Stokke Clikk is a light, travel-friendly highchair that is easy to put together and take apart. Featuring a dishwasher-safe tray and all the parts you need, the Clikk's assembly is quick and easy, requiring no tools.
The five-point harness is easy to remove for cleaning, and the entire chair has smooth surfaces that are easy to wipe clean. The Clikk is ergonomically designed to comfortably seat children between the ages of 6 months and 3 years, with three configurations and a two-position adjustable footrest.
As with the Tripp Trapp, there are no phthalates or harmful substances.
Nomi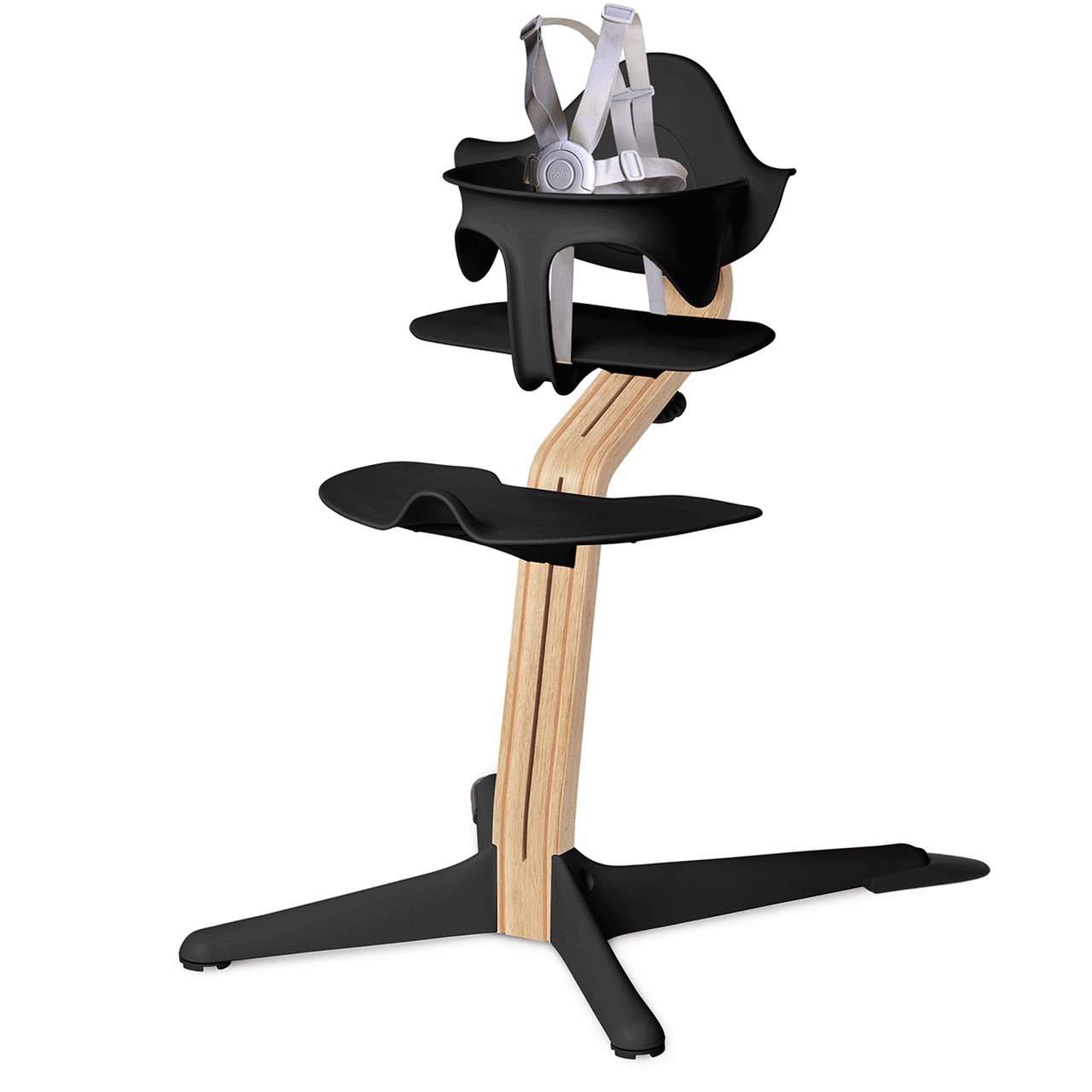 An incredibly adaptable chair, the Nomi serves multiple roles, from a raised bouncer for your newborn to a high chair and ultimately a chair usable by adults. This is truly a once-in-a-lifetime purchase. The Nomi adjusts without tools and adapts easily to your child's changing needs as they grow. With a sleek design that doesn't capture trap food, the Nomi is easy to clean.
The bouncer attachment allows you to bring even your youngest to the table because Nomi believes in the entire family eating together.
Tested to the highest safety standards, the Nomi can hold up to 150 kg, and its stem is manufactured from wood that is sustainably sourced.
Maxi-Cosi Minla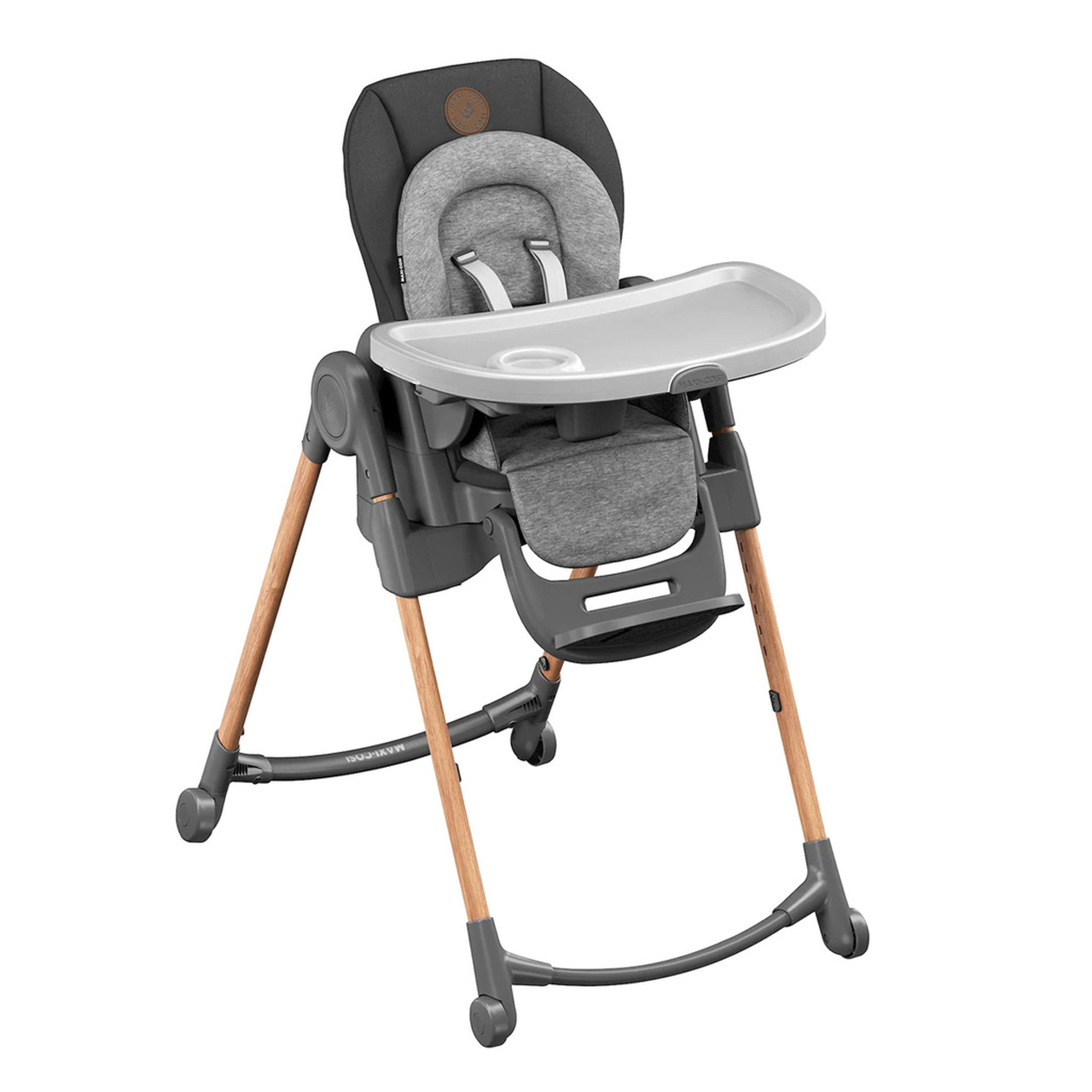 The Maxi-Cosi Minla is another excellent choice that can serve multiple purposes. With five recline positions, it can accommodate newborns and smaller babies, act as an infant seat with its comfy inlay, and even transition to a booster seat.
Adjustable to 9 heights and with 4 tray positions, the Minla is a great fit for virtually any child at any age. Easy to clean with a machine washable zip-off seat pad, this seat is a pleasure to use and easy to fold up for storage.
Perch Hanging Highchair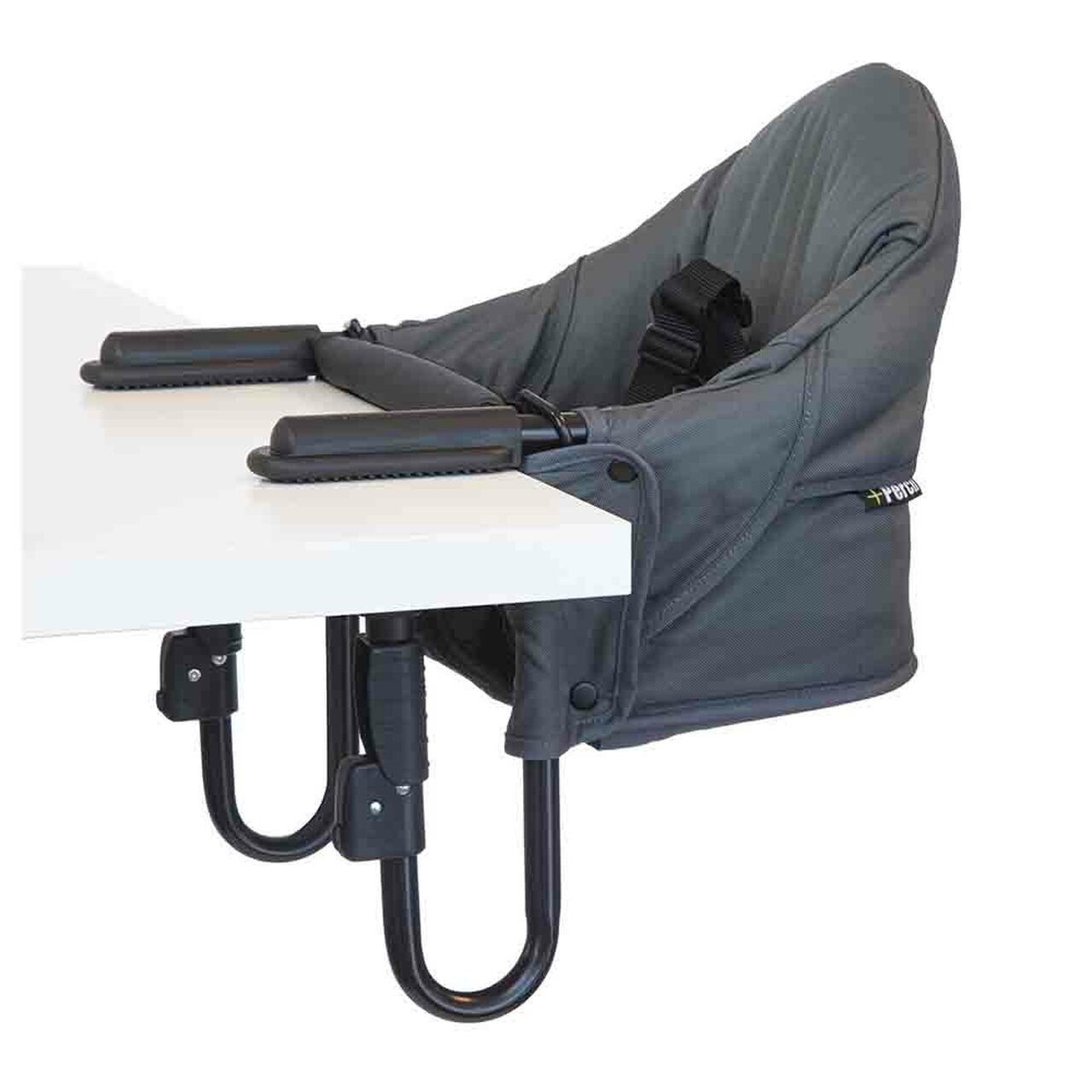 When you are out and about with your little one, the Perch Hanging Highchair lets them join you while you eat. Perfect for eating at a restaurant or a picnic at the park, The Perch can attach easily to most tables and comes with its own travel bag that can be stored under the seat. No tools are required for assembly.
Designed for children four months and up, it can hold a maximum of 16 kg. And while you may be nervous the first time you use it, the Perch attaches securely to the table, while the 5-point harness will hold your child in place. your child is staying put with its 5-point harness.
These are just a few of the many choices available. When you are looking for a new highchair, Active Baby has what you need. If you have any questions about these or other highchairs, please contact us or come see us in-store. We'll be happy to help!