Description
Bugaboo Bee5 Complete Stroller Set - Aluminum/Blue Melange
Item code:
Bugaboo Bee 5 is the most comfortable urban stroller that drives like a dream. The front wheels h ave been redesigned to provide additional stability and swivel maneuverability. Designed specifically for parents who live life on the go, the compact and light Bugaboo Bee5 is a smart choice for urban adventurers with a newborn or toddler.

Take city streets in stride with this maneuverable stroller's smooth steering and four-wheel suspension. Your child can enjoy the ride from the comfort of their padded seat that grows with them — reversing, reclining and extending all in just a few clicks. Need to hop into a train or car? The neat one-hand, one-piece fold makes it easy to hop into a taxi or out of a train, and takes up less space at home.
Includes:
Seat unit
Seat fabric - Blue Melange
Aluminum Chassis with wheels and underseat basket
Wheel caps in White

Grips - Cognac
Extendable sun canopy - Blue Melange
Bugaboo Bee Rain Cover
Bee5 wire Frame
Features:
Compact fold
Lightweight handling
One hand steering
One hand and piece fold
Excellent maneuverability
Four independent suspension
Reversible seat: parent facing or facing world
Comfortable, changeable faux leather grips
Comfortable seat design
Product Dimensions:
Weight: +/- 8.9 kg / 19.6 lbs
Folded lwh: 90 x 46.5 x 32 cm / 35.4 x 18.3 x 12.6"
Unfolded width 53 cm / 21"
Underseat basket: 22 liter / 5.8 gal. max weight: 4 kg / 8.8 lbs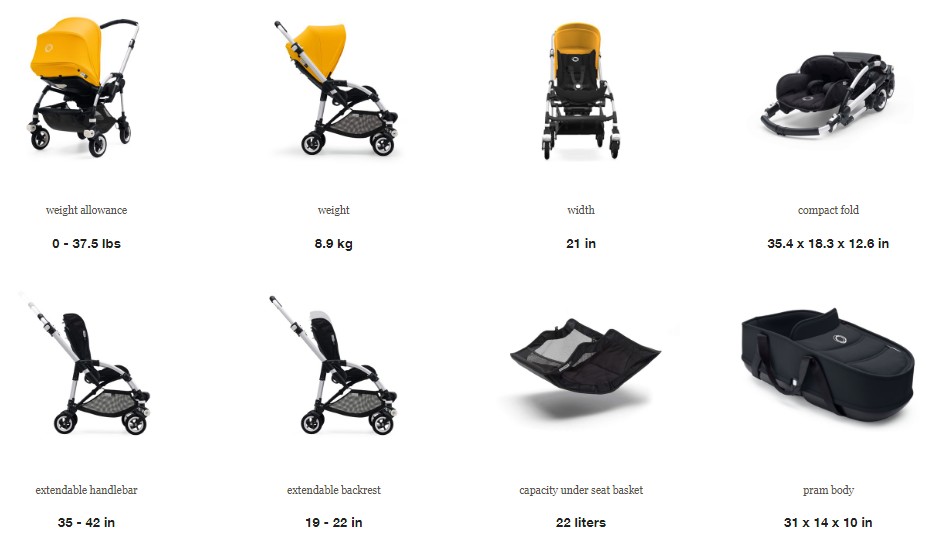 Bugaboo Bee5 Mix & Match Option:
you simply choose your base, Canopy and a style set - Less boxes which can be recycled.
Warranty: Please click for details
2 Years
+ 1 More Year: Make sure to register your Bee5 on the Bugaboo website to receive an extra year of warranty
Car seat compatibility for Bugaboo Bee5: