Free

THULE Tune-up & Save up to

30%

on Thule products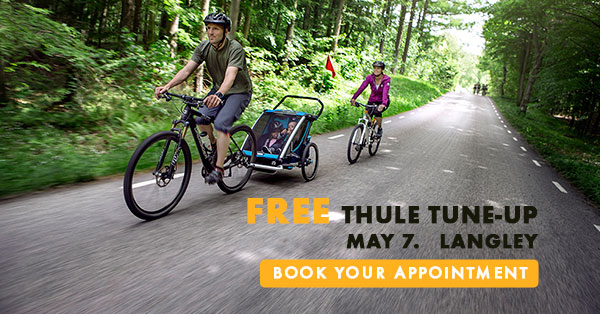 Keep your bike trailer and stroller rolling and swiveling smoothly when you go outdoors with your baby this Spring. We are now offering an exclusive stroller maintenance service to all Thule trailer and stroller owners at both our Langley & North Vancouver locations.
Our Thule technician
is coming to Active Baby to give your bike trailers a professional one-on-one check and make sure they fit to optimize performance and comfort.
He will also be sharing tips and tricks to keep you strolling happily and recommend gear that suits your family's needs.
Not sure if your bike trailer needs work? Bring it for a Free tune-up!
FREE Thule Tune-up at Langley location
Time: 10am - 3pm, May 7th, Sunday.
Book your appointments now with phone or email.
Call us: 604-427-4788
Email us: info@activebaby.ca
Spots are limited. Book your appointments NOW!
What you'll get out of the tune-up? Take a look at our tune-up checklist below for details.
• Visual Inspection of Frame & Components for Damage
• Tighten All Nuts and Bolts
• Check Air Pressure and Tire damage
• Remove, Lube and Clean Wheels
• Check Folding Mechanism
• Check Harness and Straps
• Check Weather Cover and Sun Shade
• Check Versa-Wing, if applicable
• Check Bike Arm, if applicable
• Check Jog Kit, if applicable
Interested in purchasing a Thule multi-sport trailer or an Thule Urban Glide stroller? We will be offering up to 30% off Thule products on the event day!
All Thule products will be

10%

off!
All Thule accessories of previous year models will be

30%

off!

All offers are available in store only on Tune-up event day!

No price adjustment on this one-day Sale.
Be sure to add this date on your schedule and come into the store to get your Thule trailers checked and take adantage of these amazing deals!