Description
Thule Sapling Elite Child Carrier
Thule Sapling Elite baby carrier lets you bring your infant hiking. Includes a removable backpack, oversized hip pockets, a 3-liter reservoir sleeve, a child-viewing mirror, and a sun shade. Adjustable straps make it easy to switch off carrying duty.
Features:
Sturdy technical backpack and child carrier combo holds your child comfortably on your back as you hike
Easy access loading and unloading place your child in from the top or the side

Side belt unbuckles to open the seat
Aluminum kickstands prop up the pack

Ergonomic child seat with padded inner thigh support and foot stirrups
3-Liter water reservoir pocket (water bottle sold separately)
Child-viewing mirror lets you monitor your baby
Sunshade shields your child
Comfortable to carry

Lightweight aluminum frame distributes weight evenly
Padded back panel, shoulder straps, and hip belt
Breathable mesh back panel for air circulation
Adjustable straps make it easy to transfer the carrier to another hiker

Maximum storage space

Small, removable backpack holds baby items
Oversized hip pockets hold small items within reach

Light gray and dark gray fabric
Specs:
For children who weigh at least 16 lbs

Child must be able to sit up without assistance

Weight capacity: 48 lbs
Backpack weight: 8 lbs
25-Year limited warranty
The Thule Sapling Elite infant carrier allows you to carry your child on all your hiking adventures. This hiking carrier is padded for comfort, and it's easy to transfer the pack from one person to another. Deluxe features include a small removable backpack, extra-large hip belt storage pockets, a child-viewing mirror, a sunshade, and a breathable back panel for air circulation.
Easy Loading
You also have 2 options for putting your child in the carrier. You can lift your baby and place her in from the top or undo the cross strap to load her in from the side.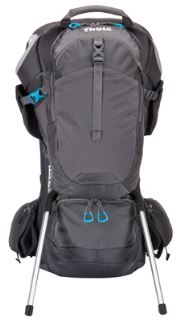 The aluminum kickstand legs keep the child carrier propped up off the dirty ground and ready to load your child.
Comfortable for Your Child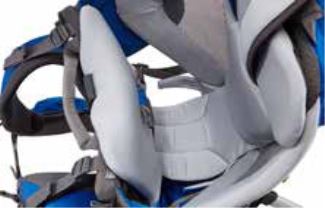 The baby seat has padded inner thigh support for a more comfortable ride for your child. The infant seat also adjusts according to your baby's height, so it grows with your child and lasts beyond one hiking season.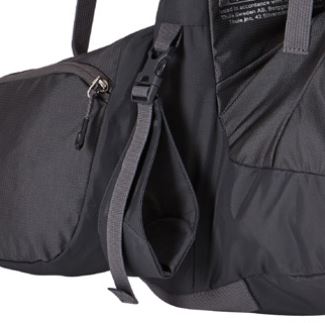 Foot stirrups keep your baby's feet from dangling and help your child readjust his or her weight as needed.
Special Child-Friendly Features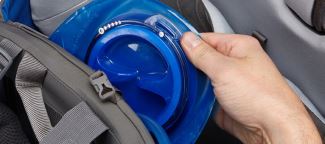 A water reservoir sleeve provides a place to store your water container (sold separately) and helps keep you and your child happy and hydrated. A portable mirror allows you to check on your child without stopping to remove the carrier.
A sunshade keeps the sunlight off your baby's head and has mesh panels at the front and sides to allow air flow.
Adjusts to Fit Different Hikers
With a few small adjustments, you can easily transfer the child carrier to another hiker and customize the fit.
The hip belt and back frame are marked with sizing guidelines in small, medium, large, and extra-large. The back panel can be adjusted to fit different torso lengths so each hiker gets the most comfortable fit.
Extra Storage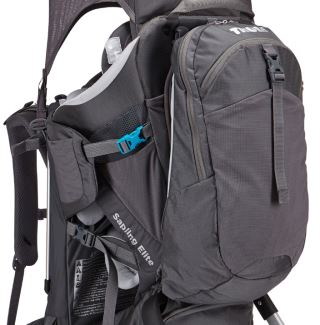 The small, removable backpack is great for diapers, bottles, and wipes.
This backpack also has oversized hip belt pockets for storing items you need to access frequently like a map, camera, or pacifier.