Description
Thule RideAlong MINI - Child Bike Seat Front Mount, 3 colors available,
Light Gray - Reversible orange and gray seat liner, water repellent, can be removed and machine washed
Dary Gray - Reversible purple and gray seat liner, water repellent, can be removed and machine washed
Zinnia - Reversible purple and gray seat liner, water repellent, can be removed and machine washed
Features:
Child bicycle seat allows your baby to ride in front of you on bike trips
5-Point harness and sturdy foot strap
Childproof buckleLeg shields prevent contact with spokesAdjustable harness straps, foot straps, and footrests allow bike seat to grow with your child
Soft handlebar for child to hold onto
Safety harness and water-repellent seat liner are removable and machine washable
One-handed adjustment of footrests and foot straps
Reversible seat liner
Easy installation and removal
Specs:
For children ages: 9 months to 3 years
Weight capacity: 33 lbs (15 kg)
Seat weight: 5.5 lbs
Meets DIN EN 14344 requirements for child bike seat safety
5-Year warranty
Bike Fits:
Threaded (quill) and threadless bike handlebar stems from 3/4" to 1" (20 mm to 28 mm) in diameter
The Thule RideAlong Mini child bike seat allows you to take your child along on all your biking adventures. This bike seat keeps your baby in front of you so you can see him as you bike. The seat adjusts as your child grows, and the quick-release bracket can stay on your bike, making it easy to attach and remove the seat.
Easy Installation and Removal for Stress-Free Biking
The bracket can also be secured to your bike using a built-in lock that is compatible with the Thule One-Key System. This locking system allows you to change out the lock cores on multiple accessories to make them all keyed alike. So if you have 2 different seat brackets on separate bikes and want them keyed alike, you can replace the existing lock cores with 2 Thule One-Key System lock cores (sold separately).
Thule RideAlong Mini Bike Seat Grows with Your Child
The adjustable seat harness straps and footrests allow you to customize the bike seat's fit for your child. The harness straps can be lengthened easily to fit over a bike helmet and raised as your child grows taller.
The footrests raise or lower depending on the height of the passenger, and the foot straps adjust to fit growing feet. This flexibility means that the seat will work for more than one biking season. The footrest and foot strap adjustments can be made with one hand, making it easier to put your child in the seat and adjust the fit while holding the bike upright.
Safe Child Bike Seat Design
The seat's 5-point harness has a childproof buckle, so your child can't accidentally undo the harness.
The foot straps secure your child's feet and shielding around the legs keeps little feet and legs away from your bike's wheel spokes.
Comfortable Child Bike Seat Keeps Your Toddler Happy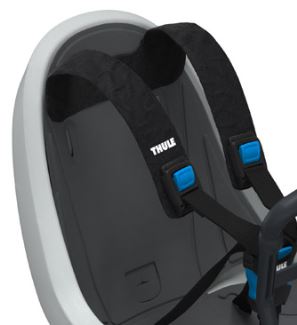 TThe shoulder harness is padded to prevent the straps from cutting into your child's neck and shoulders, and the seat liner has cushioning to ensure that your little one has a softer ride.
A padded handlebar gives your child a place to hold on and helps them balance as you travel on the bike.