Description
Bugaboo Bee5 Complete Stroller Set - Black/Grey Melange/Sunrise Yellow
Item code: 510300GS01
Bugaboo Bee 5 is the most comfortable urban stroller that drives like a dream. The front wheels h ave been redesigned to provide additional stability and swivel maneuverability. Designed specifically for parents who live life on the go, the compact and light Bugaboo Bee5 is a smart choice for urban adventurers with a newborn or toddler.

Take city streets in stride with this maneuverable stroller's smooth steering and four-wheel suspension. Your child can enjoy the ride from the comfort of their padded seat that grows with them — reversing, reclining and extending all in just a few clicks. Need to hop into a train or car? The neat one-hand, one-piece fold makes it easy to hop into a taxi or out of a train, and takes up less space at home.
Includes:
Seat unit
Seat fabric - Grey Melange
Black Chassis with wheels and underseat basket
Wheel caps in White
Grips - Black
Extendable sun canopy - SunRise Yellow
Bugaboo Bee Rain Cover
Wire Frame
Features:
Compact fold
Lightweight handling
One-hand steering
One-hand fold
One-piece fold
Easily attach accessories
Excellent maneuverability
Excellent suspension
Reversible seat, facing parent or facing world
Reclinable seat
Extendable seat
Comfortable, changeable faux leather grips (patent pending)
Comfortable newborn solutions
Comfortable seat design
Extendable sun canopy
Long lasting quality
Suitable from birth up to 17 kg / 37.5 lbs
Light chassis, easy one-hand, one-piece, compact fold
Independent four-wheel suspension
6" swivel wheels and 6" rear wheels with durable foam-filled rubber tires
Reversible seat, facing parent or facing world
Comfortable, padded seat
Comfortable faux leather grips (patent pending)
Five-point harness with height-adjustable shoulder straps
Changeable seat fabric, sun canopy, grips, and wheel caps
Attach accessories easily by integrated attachment points
All fabrics washable
Product Dimensions:
Weight: +/- 8.9 kg / 19.6 lbs
Folded lwh: 90 x 46.5 x 32 cm / 35.4 x 18.3 x 12.6"
Unfolded width 53 cm / 21"
Underseat basket: 22 liter / 5.8 gal. max weight: 4 kg / 8.8 lbs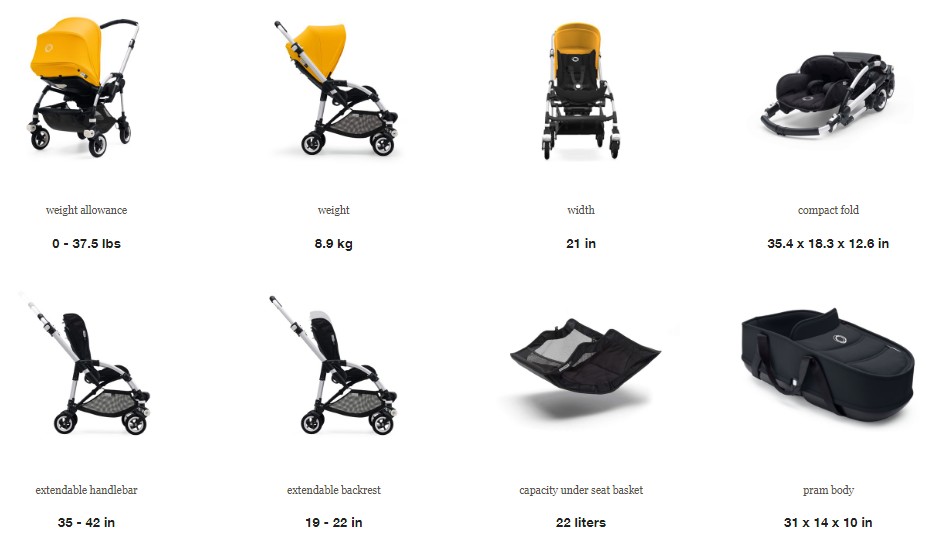 Bugaboo Bee5 Mix & Match Option:
you simply choose your base, Canopy and a style set - Less boxes which can be recycled.
Warranty: Please click for details
2 Years
+ 1 More Year: Make sure to register your Bee5 on the Bugaboo website to receive an extra year of warranty
Car seat compatibility for Bugaboo Bee5: