Description
Bee5 Complete Stroller - Alu/Mineral Taupe
Simple, refined, pure and minimal — introducing the new Bugaboo Mineral collection. Thoughtfully crafted by our in-house stylists, the collection draws inspiration from nature with a calming color palette inside and out.
The collection's contemporary design aesthetic is centered around tranquil tones, featuring exquisite outer mélange fabrics in Taupe complemented by a muted linen-look fabric on the lining.
We've paid attention to the details to add a touch of luxury to your stroller, including subtle chain stitching on the sun canopy. The collection features a completely cohesive look thanks to the coordinating underseat basket in the same understated colorway and leather-look handlebars in complementary natural shades.
Designed specifically for parents who live life on the go, the compact Bugaboo Bee5 is a smart choice for urban adventurers with a newborn or toddler. Take city streets in your stride with this maneuverable stroller's smooth steering and four-wheel suspension. Your child can enjoy the ride from the comfort of their padded seat that grows with them - reversing, reclining, and extending in just a few clicks. Need to hop on a train or in a car? The neat one-hand, one-piece fold makes it easily and takes up less space at home. Be inspired by the non-stop whirl of life in the city and use the colourful fabric sets to creatively restyle your Bugaboo Bee5. Extra colours, plus changeable wheel caps and grips now give you even more colour options.
What's in the box?
Seat unit
Seat fabric

Chassis

with wheels and underseat basket
Wheel caps
Grips
Extendable sun canopy
Bugaboo Bee Rain Cover
Bee5 wire Frame
Features:
Compact fold
Lightweight handling
One hand steering
One hand and piece fold
Excellent maneuverability
Four independent suspension
Reversible seat: parent facing or facing world
Comfortable, changeable faux leather grips
Comfortable seat design
Product Dimensions:
Weight: +/- 8.9 kg / 19.6 lbs
Folded lwh: 90 x 46.5 x 32 cm / 35.4 x 18.3 x 12.6"
Unfolded width 53 cm / 21"
Underseat basket: 22 liter / 5.8 gal. max weight: 4 kg / 8.8 lbs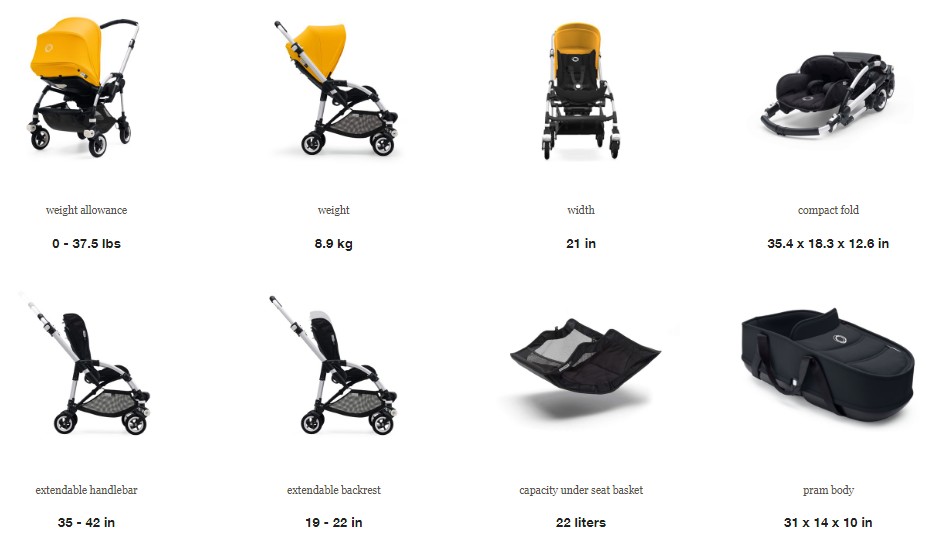 Warranty: Please click for details
2 Years
+ 1 More Year: Make sure to register your Bee5 on the Bugaboo website to receive an extra year of warranty
Car seat compatibility for Bugaboo Bee5:
To Custom a full Bee5 stroller
you simply choose your base, Canopy and a style set - Less boxes which can be recycled.