Description
Bugaboo Bee5 Classic Complete Stroller - Grey Melange
Originally inspired by 2001's Bugaboo Frog, this Bugaboo Bee5 Classic Collection offers you a timeless palette of muted shades, sophisticated patterns and soft fabrics. The Classic Collection has always been a favourite among parents who value style as well as performance.
The Bugaboo Bee5 Classic+ has been designed specifically for parents who live life on the go. The compact, light Bugaboo Bee5 is a smart choice for urban adventurers with a newborn or toddler. Avoid the hustle and bustle of rush hour with the nifty Bee5, which is one of the main reasons why we love it. You'll want to take your little one with you anywhere and everywhere!
With smooth steering and four-wheel suspension, getting around will be a breeze. Your child can enjoy the ride from the comfort of their padded seat that grows with them - reversing, reclining and extending in just a few clicks. Need to hop into a train or car? The neat one-hand, one-piece fold makes it easy, and takes up less space at home.
Classic+ Collection: The collection features an off-white quilted microfleece interior lining and luxurious hand-stitched leather-look handlebars to complete the elegant look.
What's in the box?
Seat unit
Seat fabric
Chassis with wheels and underseat basket
Wheel caps
Grips
Extendable sun canopy
Bugaboo Bee Rain Cover
Bee5 wire Frame
Features:
Compact fold
Lightweight handling
One hand steering
One hand and piece fold
Excellent maneuverability
Four independent suspension
Reversible seat: parent facing or facing world
Comfortable, changeable faux leather grips
Comfortable seat design
Product Dimensions:
Weight: +/- 8.9 kg / 19.6 lbs
Folded lwh: 90 x 46.5 x 32 cm / 35.4 x 18.3 x 12.6"
Unfolded width 53 cm / 21"
Underseat basket: 22 liter / 5.8 gal. max weight: 4 kg / 8.8 lbs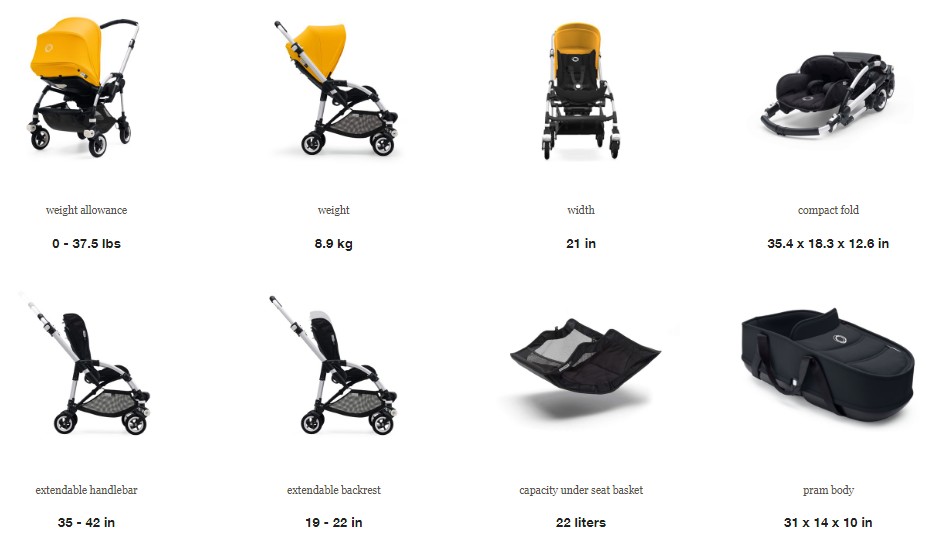 Bugaboo Bee5 Mix & Match Option:
you simply choose your base, Canopy and a style set - Less boxes which can be recycled.
Warranty: Please click for details
2 Years
+ 1 More Year: Make sure to register your Bee5 on the Bugaboo website to receive an extra year of warranty
Car seat compatibility for Bugaboo Bee5:
Bugaboo accessories
View Bugaboo accessories for added convenience and more flexibility with your walks and outings.
Active Baby has a variety of baby items at the baby stores and the online baby store. Active Baby offers competitive pricing on infant car seats, Bugaboo bee strollers, convertible car seats, and a variety of popular baby strollers, compact strollers, and double strollers to meet your families needs.