Description
Thule RideAlong Child Bike Seat - Rear Mount - 9M to 6Y
Thule RideAlong delivers on smart design innovations resulting in an intuitive, safe and easy-to-use rear child bike seat, taking your daily commutes or family bike adventures to the next level.
There are 3 colors available:
Light Gray - Reversible orange and gray seat liner, water repellent, can be removed and machine washed
Dary Gray - Reversible purple and gray seat liner, water repellent, can be removed and machine washed
Zinnia - Reversible purple and gray seat liner, water repellent, can be removed and machine washed
Features
Adjustable padded harness to provide maximum child comfort and a safe, custom fit.
DualBeam suspension system absorbs road shock to ensure a smooth, comfortable ride for the child.
One-hand tilt function of up to 20 degrees, allows for five different reclining options.
Single-hand adjustable foot straps and foot rests allow for convenience and flexibility as a child grows.
Universal quick release bracket allows seat to mount/dismount from bike in seconds and is compatible with most bike frames (27.2-40mm diameter round frames and maximum 40x55mm oval frames).
Childproof safety buckle with large buttons quickly secures child
Detachable, water-repellent padding is machine washable and reversible, offering two color options.
Built-in reflector and safety light attachment point provides added visibility.
Lockable with Thule One-Key System (lock included).
Meets international safety standards.
Specs:
For children ages: 9 months to 6 years
Passenger weight capacity: 48.5 lbs (22 kg)
Seat weight: 10 lbs
Distance between seat mounting spokes: 3"
Meets DIN EN 14344 requirements for child bike seat safety
5-Year warranty
Bike Fits:
Bike style

Most mountain bikes with 26" - 29" wheels (without full suspensions)
Road bikes and hybrid bikes

Bike frame size

Round tubes with a circumference of 1.10" - 1.57" (28 - 40 mm)
Oval tubes with a circumference of 1.57" - 2.16" (40 - 55 mm)
The Thule RideAlong child bike seat allows you to take your toddler along on all your biking adventures. This bike seat adjusts as your child grows, and the quick-release bracket makes it easy to attach or remove.
Thule RideAlong Bike Seat Grows with Your Child
The adjustable seat harness straps and footrests allow you to customize the fit for your child. The harness straps can be lengthened easily to fit over a bike helmet and raised as your child grows taller. The footrests raise or lower depending on the height of the passenger. This flexibility means that the seat will work for more than one biking season. All of these adjustments can be made with one hand, making it easier to put your child into the seat while holding the bike upright.
Safe Child Bike Seat Gives You Peace of Mind
The Thule RideAlong bike seat is designed with your child's safety in mind. The seats 3-point harness buckle is childproof, so your little one can't accidentally undo the belt. Foot straps secure your child's feet so they stay protected in the carrier, and shielding around the legs keeps little feet away from your bike's spokes.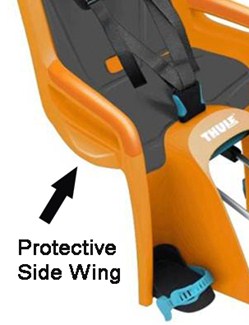 Protective side wings on each side of the carrier extend from the bottom of the seat. These wings maintain space between the carrier and objects next to it. So if you lean your bike against a wall, it helps prevent your child's hands from getting pinched between the wall and the seat.
The wide, built-in reflector on the back of the seat increases visibility in low-light conditions so that drivers, pedestrians, and other bike riders can see you better.
Comfortable Child Bike Seat Keeps Your Toddler Happy
Thules thoughtful design details make this one of the most comfortable child bike seats. The DualBeam suspension system has curved metal bars that flex to absorb bumps and shocks, giving your child a smoother, more comfortable ride.
The shoulder belt is padded to prevent the straps from cutting into your child's neck and shoulders, and the seat liner has cushioning to ensure that your little one has a softer ride.
The bike seat also reclines for napping, and you can select from 5 different tilting angles with up to a 20-degree recline.
Easy Installation and Removal Means More Biking Fun
The bike seat can be installed and removed in less than a minute, which makes it easy to transition between biking with your child and going solo. To attach the seat to your bike, insert the 2 DualBeam suspension bars into the quick-release bracket until they click into place. To remove the bike seat, just press the large blue button on the bracket. When the button is pressed, the bracket releases the curved suspension bars so you can quickly remove the seat from the bike.
Parent-Friendly Design Makes Life Easier
Leave the quick-release bracket on your bike so you can easily attach the child seat the next time you take your toddler for a ride. An additional quick-release bracket (TH100200 sold separately) can be installed on a second bike so 2 people can switch back and forth to share carrying duty. The bracket can also be locked to your bike using the included Thule One-Key System lock to help prevent theft of your bike seat.
The seat liner is water repellent in case of spills, and both the liner and the seat belt harness can be removed and machine washed. Reverse the seat liner and you can change the look of the seat. The liner has a different color on each side - gray on one side and orange on the other.
Accessories for Thule RideAlong