Posted by Active Baby on 2020 Dec 11th
Being a parent is one of the best things in the world. Buying all your baby care items and accessories should be on the short list when falling pregnant.
After you have purchased your Bugaboo stroller it's important to know when you can move your newborn from the bassinet to the seat without causing harm or switching them before they're ready.
For those in this predicament, here's a guide on when to switch from the bassinet to seat with the Bugaboo stroller. But first why is the Bugaboo stroller so popular amongst parents?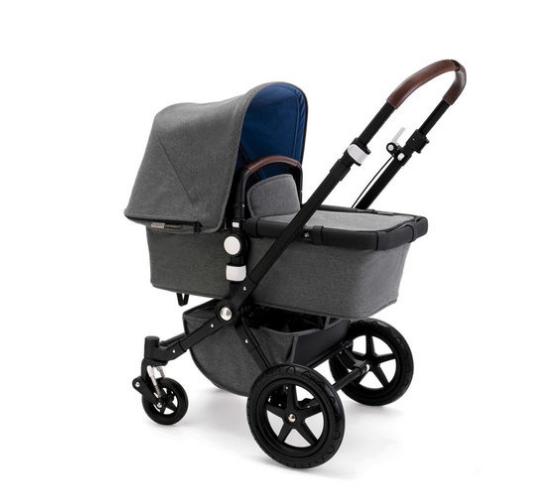 Why The Bugaboo Stroller Is A Top Choice Amongst Parents
The Bugaboo stroller is a top choice for parents across the world because of its amazing features. Let's take a look at these features in more detail.
Bugaboo Bassinet
The bassinet of the Bugaboo is designed to promote optimal comfort for newborns for better sleeping.
The bassinet provides a level of padding which enables for a softer, yet supporting sleeping platform for your newborn. Your newborn will have better nap times throughout the day when you're out and about.
The Bugaboo stroller has Switchable Handlebars
The switchable handlebars provide more versatility overall for parents when pushing the stroller.
The handlebars can move from the front position to the back position meaning you can be looking at your child when they're newborn or have your child facing outwards when they're older.
Customizable Fabric Color
This is one feature that many parents love. They get to have the stroller color they prefer.
The customizable fabric color allows for parents to easily choose what color they want their stroller to be. Great for those who have a boy or girl and want a color to match.
Four Level Front Wheel Suspension
The four level front wheel suspension can absorb the bumps of rocky terrain without your baby feeling it. This is ideal for parents who may need to travel through rocky areas or over pavement dips in the road.
The wheel suspension promotes a smoother ride overall keeping your child comfortable and happy when riding in the stroller.
Terrain Function
The all-terrain function gives more stability when pushing your stroller over bumpy or uneven ground. The adjustable suspension helps to take any impacts and bumps making the ride smooth, even when it's bumpy.
The larger wheels can withstand vigorous changes in terrain making it suitable for all terrains from wet, rocky, or smooth surface areas.
Bugaboo Accessories
One of the best things about the Bugaboo stroller that parents love is the different baby travel accessories that come with it.
Some of the accessories that you gain with this stroller include, but isn't limited to, a sun canopy, wheeled board, under seat basket, rain cover, carry handle and more! You don't get all these with other types of strollers.
Best Ways To Know When To Switch From The Bassinet To The Seat Position
1. Good Head Control
With any type of baby strollers, it's important for your baby to have good head control when moving them into the seat position. This is due to the incline the seat position has over the bassinet position.
The bassinet doesn't require any initial head movement because the baby is lying flat. When moving into the seat position the head has the potential to tilt forward or to the side which may cause problems with your child being uncomfortable.
2. When Sitting Well By Themselves
Another indication that your baby may be able to move from the bassinet to the seat position is when they can sit up somewhat themselves.
Children that can sit up have more strength in their back, neck, and legs which allows them to easily reframe from moving around when pushing the baby stroller over a lot of bumps.
Having the ability to sit up also allows your baby to see the world in a much better way. When they're ready to sit up their eyes are developed enough to be able to see longer distances.
Having the ability to sit is a good indication your baby is ready for the seat.
3. When They Become Too Long or Big For The Bassinet
For children that are larger than others it's a good idea to move them to the seat position once they've outgrown the bassinet.
While the bassinet may be good for smaller babies, babies that are in the higher growth percentage may require additional room to stretch.
This is where you may want to consider moving them into the seat instead of the bassinet. If their legs and head are touching the ends, then try the seat.
4. 4-6 Months Of Age
When your baby reaches 4 to 6 months of age, you can try to change them into the seat position. At this age their muscles are generally getting stronger and their curiosity to see the world is also starting to peak.
Babies tend to be more restless at this time when in the bassinet position because they tend to get bored easier and want to see new things, even though they may not see too far in front of themselves.
If 4 months isn't quite right, wait until they're six months of age. There's no age limit on when you should move them, it's about when the baby feels right and sits right in the position.
Don't be afraid to try it at different age intervals in their growth and development.
Bugaboo Stroller overview
Owning Bugaboo strollers is one of the best decision parents can make for their baby.
If you own one of these elite strollers and you're curious about whether to move your child from the bassinet to the seat then why not consider a few of these tips.
You may find your baby might be ready or might not be. Remember each child is different and should be treated as individuals. So have you moved your baby into the seat position?
Bugaboo Accessories
_______________________________________________________________________
Active Baby offers competitive pricing on infant car seats, Bugaboo bee strollers, convertible car seats, Uppababy strollers to a variety of popular baby strollers, compact strollers, co sleeping cradles, cribs, nursing chairs, and double strollers to meet your families needs.
Active Baby has a variety of baby items at the baby stores and the online baby store.