Posted by Active Baby on 2017 Nov 9th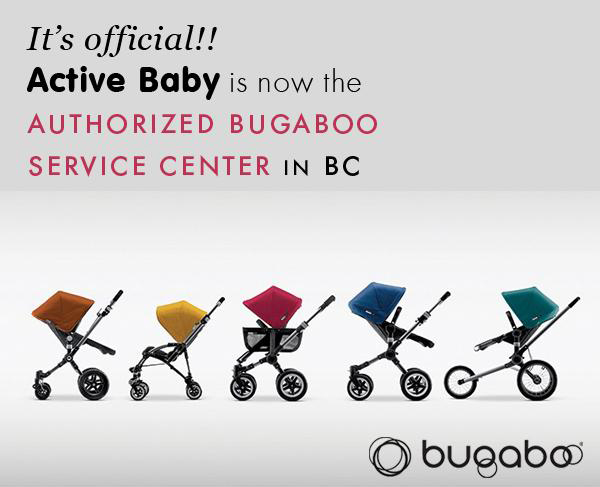 Strollers sure do take a lot of abuse. Aside from being smeared with applesauce and saliva-soaked animal crackers, they get hauled up and down stairs, lugged across potholes, and dragged though muddy parks and grimy streets. To make matters worse, your trusty stroller also doubles as a grocery cart, a coat rack, and even a diaper changing station.
With so much wear-and-tear on strollers, it's easy to see how parts can break down. But what are you going to do when your expensive stroller eventually needs some repair? Toss it out? We didn't think so. But unless you're a whiz at repairing baby gear, you'll have to take your stroller to a service centre.
Up until now, if you needed parts for your Bugaboo stroller, you had to deal directly with the company. And seeing as how theirheadquarters are in Amsterdam, getting some stroller TLC can be a bit of a challenge for busy moms and dads. But that's all about to change…
We are so proud to announce that we are now officially one of Three Bugaboo Service Centres in Canada!
We're walking on air, jumping for joy, and if you don't mind, patting ourselves on the back a little these days. Why are we so happy? We have some great news for Bugaboo stroller owners living in the Lower Mainland. Active Baby is delighted and honoured to announce that we have become one of three official Bugaboo service centres in Canada—and the only one in B.C. So, if you're looking to get your hands on Bugaboo stroller parts, things are about to get a whole lot easier.
How does it work?
Foam replacement, fabric changes, worn-out wheels, snapped cables, lost bearings, whether your Bugaboo stroller is under warranty or not, bring it in to Active Baby. We'll gather up all the essential information, fill out the necessary forms, and send everything off to Bugaboo—saving you the hassles and the time of having to do it yourself. When the parts arrive, we will contact you and arrange a time for you to come in and pick them up. It's that easy.
We also stock a wide rage of popular Bugaboo stroller parts right here in our stores. And if we don't have what you need, we do everything we can to get it for you.
Bugaboo strollers are built to last. But even toughest ones can only take so much before things break down. If your baby stroller has seen better days and needs some upgrades, bring it by our service centre. It's our job and joy to get you rolling again.
Active Baby also sells Bugaboo stroller accessories and parts to make life easier for you parents and babies.
Bugaboo stroller accessories and parts can include:
Bugaboo stroller wheels
Tailored fabric set
Breezy sun canopy
Wheely board
car seat adapters
etc..
For all your Bugaboo stroller repair needs, contact Active Baby today!
** Special Note: We are not allowed in Canada to change brake cables. If the brake is broken and can not be fixed, then the whole chassis need to be replaced.